Tourist train aids poverty-relief in China's Tibet
Share - WeChat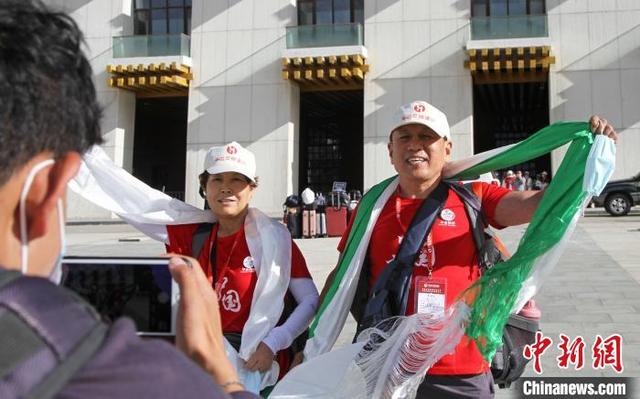 LHASA -- More than 360 tourists have begun a week-long trip in Southwest China's Tibet autonomous region, as a tourist train brought them to Lhasa, the regional capital, on Wednesday.
A welcoming ceremony was held at Lhasa's railway station for the tourists from the Yangtze River Delta in East China.
In January 2019, cultural and tourism authorities of several areas formed an alliance to promote a "big, round tourism route" to tap tourism resources and aid poverty-relief efforts in Gansu, Sichuan, Yunnan, Tibet, Qinghai, Xinjiang, and at the Xinjiang Production and Construction Corps.
Tibet held a promotion campaign for the tourist route in 2019. The route began operation this year.
The train that arrived in Lhasa on Wednesday departed from Xining, capital of Northwest China's Qinghai province, on Tuesday.
During the tourists' stay, they will visit places like Lhasa and Nyingchi and experience the unique landscape and culture there.
The tourist train project will help more poverty-stricken people along the route overcome poverty by developing tourism, according to Huang Yongqing, deputy head of the regional department of tourism and development.
Tibet plans to come up with more tourism products along the train route to help with anti-poverty efforts.