Xi speech boosts confidence in recovery
Share - WeChat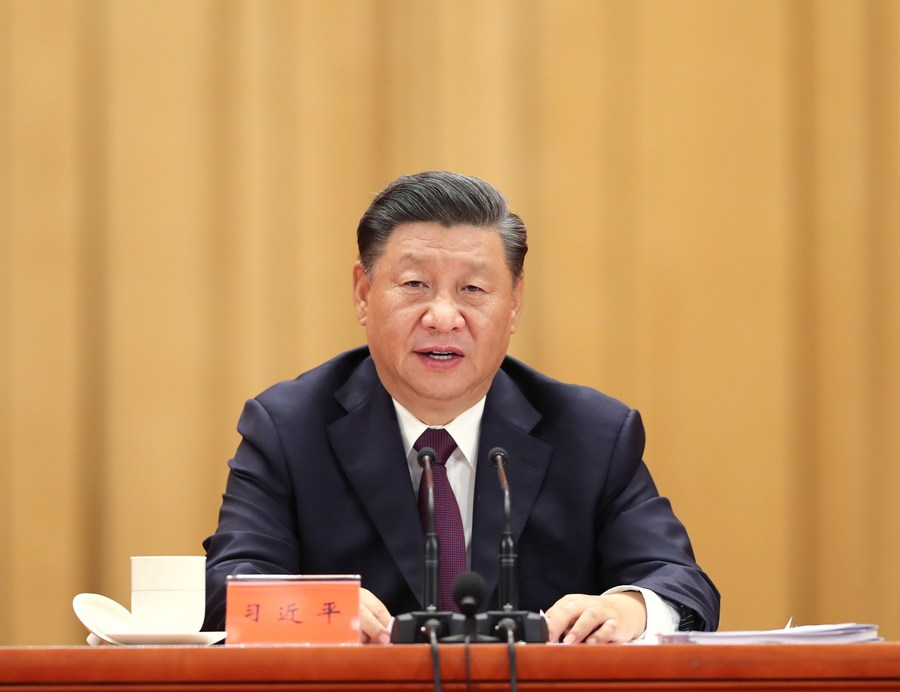 A call by President Xi Jinping for joint efforts to boost the global economic recovery could inject momentum into post-pandemic efforts, analysts said of the speech.
"Today, with COVID-19 yet to be brought under full control at the global level, all countries face the formidable task to defeat the virus, stabilize the economy, and protect livelihoods," Xi said, while addressing the Global Trade in Services Summit of the 2020 China International Fair for Trade in Services, or CIFTIS, via video on Friday.
"It is against such a backdrop that China decided to hold this important international trade event despite many difficulties in preparation. It shows China's willingness to join hands with all of you in this trying time and work together to enable global trade in services to thrive and the world economy to recover at an early date," he said.
Dennis Munene, executive director of the China-Africa Center at the Africa Policy Institute, said the speech is a call for unity and cooperation at a time when the global community is combating the COVID-19 pandemic that has destabilized its economy and affected the livelihoods of all its citizenry.
He said that there are two points that stood out in Xi's speech, which will act as an antidote that the world needs to spur its economy back to the recovery path. "First, the world needs to embrace multilateralism and shun policies of protectionism and unilateralism."
"Second, the global community needs to embrace innovation through factors such as the digital economy that will serve as a platform and a bridge for people from across the world to fully showcase the new progress and breakthroughs in the services trade and share in the new technologies and benefits of human progress," he said.
Greater synergy
Further, Xi urged countries to forge greater synergy in growing their trade in services, seeking new ways and more areas of cooperation.
Africa needs to fully activate and utilize its African Continental Free Trade Area agreement to promote growth, and to foster diverse partnerships to support regionalism and multilateralism, leading to "a shared progress and mutual cooperation for all civilizations", he said.
Hisham AbuBakr Metwally, a researcher at the Egyptian Ministry of Foreign Trade and Industry, said that in light of the pandemic, trade in services had slowed down significantly, which had greatly affected the generation of new jobs.
"China's hosting of the CIFTIS is a major boost in the direction of increasing trade in services and strengthening communication between countries," he said.
He was also impressed by Xi's speech which stressed joint efforts to ensure a global recovery.
"Efforts must be combined that depend on the policy of pluralism, openness, and distance from unilateral and protectionist policies to meet the great challenges the world faces now," he said.
Nasser Bouchiba, the president of the Africa-China Cooperation Association for Development in Morocco, said that the opening-up of trade in services had become increasingly important.
"The holding of the fair is conducive to the global sharing of scientific and technological achievements, the establishment of global trade in a services alliance, and the long-term development of global trade in the services sector in the post-pandemic era," he said.
Yukio Kajita, a professor at Japan's Chuo University, said the global demand for trade in services has continued to increase in recent years, and China choosing to hold the CIFTIS at this moment is of great practical significance.
Siriwan Chutikamoltham, senior lecturer at Nanyang Business School at Nanyang Technological University in Singapore, said the step-up and opening-up of the Chinese services sector could help upgrade China's service sector, and also offer benefits to foreign companies.
Wang Xu in Tokyo, Prime Sarmiento in Hong Kong and Xinhua contributed to this story.