Guangzhou Pharmaceutical and PepsiCo to promote healthy oatmeal products
Share - WeChat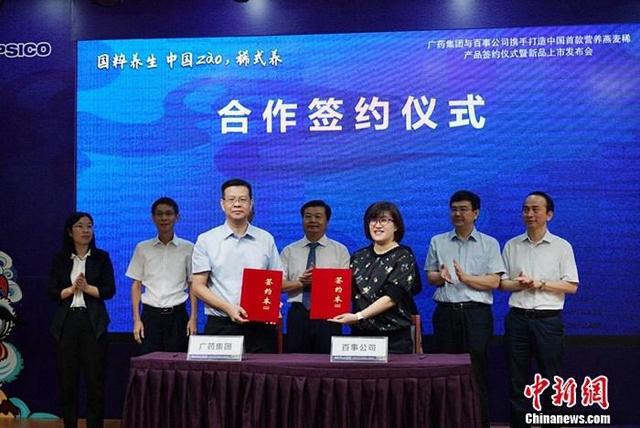 Guangzhou Pharmaceutical Holdings Limited, one of China's largest drug makers, signed a cooperative agreement with global food and beverage giant PepsiCo on Thursday to jointly develop healthy and trendy instant oatmeal products.
The first two new products are houtougu flavor and ejiao flavor instant oatmeal. In traditional Chinese medicine, houtougu, or hericium erinaceus, helps digestion by benefiting the five internal organs — heart, liver, spleen, lungs and kidneys. Ejiao, or colla corri asini, helps improve nourishment for vitality.
The products, which incorporate Chinese traditional ingredients, are under research and development by Guangzhou Baiyunshan Pangaoshou Pharmaceutical Co Ltd, a subsidiary of Guangzhou Pharmaceutical Holdings, and Pepsico's oat brand Quaker.
"We are making the most of resources and advantages of both sides to develop healthy products that meet the demand of Chinese consumers," said Anne Tse, general manager and senior vice-president of PepsiCo Greater China Foods.
Both companies would jointly develop more healthy food products by integrating traditional Chinese medicine, according to Tse.
According to Li Chuyuan, chairman of Guangzhou Pharmaceutical Holdings, the nutritious instant oatmeal is one of the company's first fast moving consumer goods, representing its philosophy of developing more trendy traditional Chinese medicine goods.
"The products follow a surging demand from young consumers in domestic brands and products that incorporate Chinese traditional style and cultural elements," he said.