Despite floods, casualties half 5-year average
Share - WeChat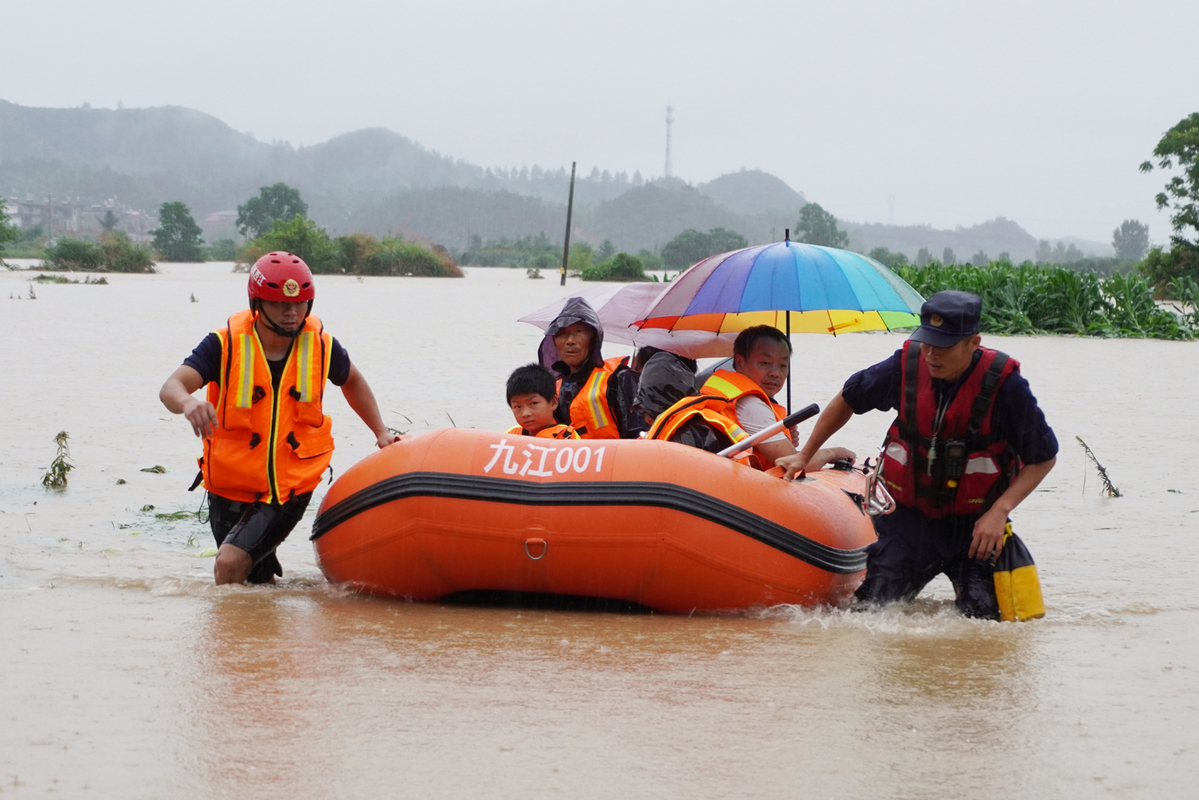 Ministry's evacuation efforts connected with decline in deaths, disappearances
China's flood-related casualties this year are almost half the average of the past five years, despite the wider impact of flooding on people's lives and the economy amid a grim flood control situation, according to the Ministry of Emergency Management.
"China this year has suffered the most severe floods since 1998," said Zhou Xuewen, vice-minister of both emergency management and water resources, at a news conference organized by the State Council Information Office on Thursday.
On average, the country has received 555.6 millimeters of precipitation so far this year, almost 10.6 percent more than the average over the past five years.
This year's precipitation is the second-worst since 1961, exceeded only by the rainfall in 1998 that resulted in floods ravaging many areas in the country, especially the Yangtze River Basin, the country's longest watercourse, Zhou noted.
Alert-triggering floods have occurred this year in 751 major rivers in 25 provincial regions, and 72 of those waterways experienced record flooding, he added.
Zhou said the wide-ranging, long-lasting floods have affected 70.4 million people in 28 provincial regions, up 17 percent from the five-year average. Direct economic losses caused by the disasters have increased by 27 percent from the five-year average to almost 214 billion yuan ($31.3 billion).
Thanks to the ministry's increased evacuation efforts, the country experienced a sharp decrease in casualties.
The number of people left dead or missing in floods decreased 49.8 percent from the five-year average to 271. About 4.7 million people have been evacuated so far this year, 47.3 percent more than the average of the past five years, he noted.
"Adhering to the principle of 'people first, life first', departments at different levels in the ministry have enhanced monitoring and early warning and intensified patrolling and flood-control preparations. Once we find signs of risks, we decisively evacuate people under threat in advance," he said.
Li Xiaodong, head of the disaster relief and material logistics department with the Ministry of Emergency Management, said the ministry has been holding special daily consultations to enhance timely distribution of disaster relief materials to flood-stricken areas.
He said his ministry, together with the Ministry of Finance, has distributed almost 1.5 billion yuan of disaster relief funds to help people affected by floods get back on their feet. About 195,000 disaster-relief materials have also been dispatched to the affected regions by his ministry and the National Food and Strategic Reserves Administration.
"We have given priority to poverty-stricken areas when distributing funds and materials," he noted.
Zhou warned that the flood control situation remains grim in western parts of the country, especially Shaanxi and Gansu provinces and Ningxia Hui autonomous region, as they are forecast to see their annual autumn precipitation increase and arrive earlier.
"As for flood control in autumn, it cannot be taken lightly, and we should by no means be slack in our preparation," he stressed.