It's best for public to stay on high alert
Share - WeChat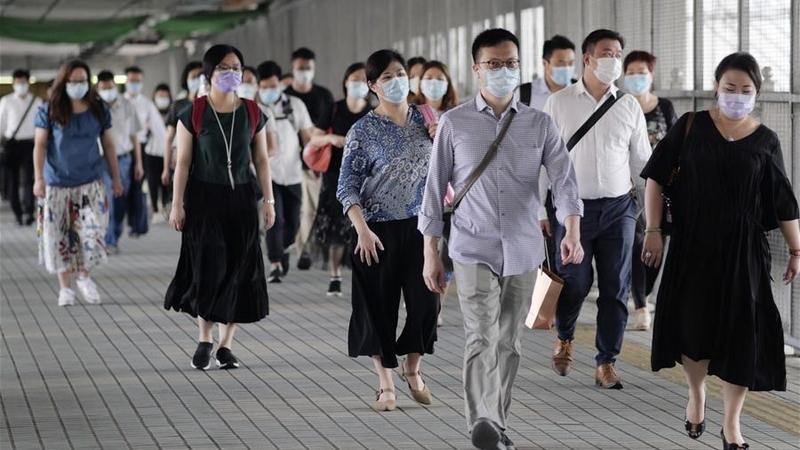 Hong Kong Chief Executive Carrie Lam Cheng Yuet-ngor last week called on the public once again to participate in the universal community testing program, which is set to begin citywide on Tuesday.
Her plea is justified, given the latest findings on how the COVID-19 pathogen is evolving and mutating, as well as threats of cluster infection among certain high-risk professions and threats posed by asymptomatic virus carriers.
Meanwhile, loopholes found in unauthorized "nongovernment testing services" offered by some private clinics are posing new risks to the public rather than an alternative to universal testing.
Even more dangerous than those potential sources of infection are politically motivated activities organized by opposition groups to disrupt and hinder anti-pandemic efforts of the government. All these twists and turns in the battle to contain COVID-19 in Hong Kong make universal testing, combined with the "health code" mobile phone app, a must.
Hong Kong appeared in headlines around the world last week after a 33-year-old man, who had been infected a few months ago and consequently treated in isolation and recovered, tested positive for COVID-19 a second time after visiting Europe earlier this month.
His nucleic acid test showed that the coronavirus he hosted this time is nearly 100 percent different from the strain found in Hong Kong, prompting most, if not, all experts around the world to warn against blind faith in "herd immunity" and urge relevant authorities to step up extensive testing.
Compounding the new challenge is the fact that an increasing number of confirmed cases are asymptomatic, another strong reason universal testing is crucial to effective, early quarantine measures to protect the public from new outbreaks.
Not surprisingly, universal testing has been met with opposition left and right, from the protectionist medical sector to anxious political fanatics, also known as the "burn together faction".
The excuses used by those parties are baseless accusations and/or pure scaremongering; while the private medical profession has again bared its dated prejudice against the Chinese mainland.
They have ignored well-documented facts proving mainland-trained nucleic acid testing technicians are among, if not, the best in the world today, as far as fast mass testing in response to outbreaks is concerned.
As for "worries" about privacy and personal bio-information security, none of the accusations relating to the "surveillance "myth is backed by evidence. They all resemble lies told by anti-China forces as part of the ongoing smear campaign against China.
If one compares them with the claims made by United States President Donald Trump since the global pandemic started, he or she will find that they all have one thing in common: absurdity.
Such groundless "concerns "are even more ridiculous when people realize all coronavirus testing facilities around the world, including in the US, the United Kingdom and other Western countries, employ the same process and have analyzed hundreds of millions of samples so far.
Can anyone in Hong Kong believe those mainland detractors would raise the same "concerns "with Washington, London or any other Western government? No way.
Apart from managing universal testing according to the technical guidelines issued by the World Health Organization and in close cooperation with the mainland supporting team, the SAR government should step up efforts to raise public awareness and understanding of the nucleic acid testing process-not only why it is key to preventing outbreaks and containing the spread of COVID-19, but how it works as well.
It is important to let Hong Kong residents know that the fast nucleic acid testing process is designed only to discover the presence of the novel coronavirus in the mucous membrane samples collected from one's nasal cavity, and the samples will be destroyed after the process is completed.
And it is not designed to build DNA profiles of individuals for bioengineering or commercial purposes, because bioprofiling is a much more sophisticated and time-consuming process than coronavirus screening, which only needs to be clinically accurate and as fast as possible.
Although the number of new confirmed cases, reported by the government daily, has fallen from more than a hundred to around 20 in recent days, there is no indication the third wave of the COVID-19 infections has gone in Hong Kong.
That is why all members of the public should remain on high alert against accidental infection by keenly observing anti-epidemic rules, especially personal hygiene and social distancing regulations.
The government is to relax some restrictions on indoor public venues such as eateries by allowing indoor dining from 5 am to 8:59 pm, mainly to revive the consumer service economy as much as possible, but whether that can last depends very much on the success of universal testing.
Those who cannot wait to travel outside Hong Kong again are better off assured to do so by obtaining an authentic "health code" for border crossing and flight boarding procedures.
Getting one's own "health code "by taking the voluntary universal testing is in the best interest of not only every Hong Kong resident but Hong Kong society as a whole, particularly in facilitating efforts to revive the city's economy as soon as possible.
Of course, it will go a long way in helping improve stability and prosperity of the HKSAR.
The author is a current affairs commentator. The views do not necessarily reflect those of China Daily.