Has China set up concentration camps in Xinjiang?
Share - WeChat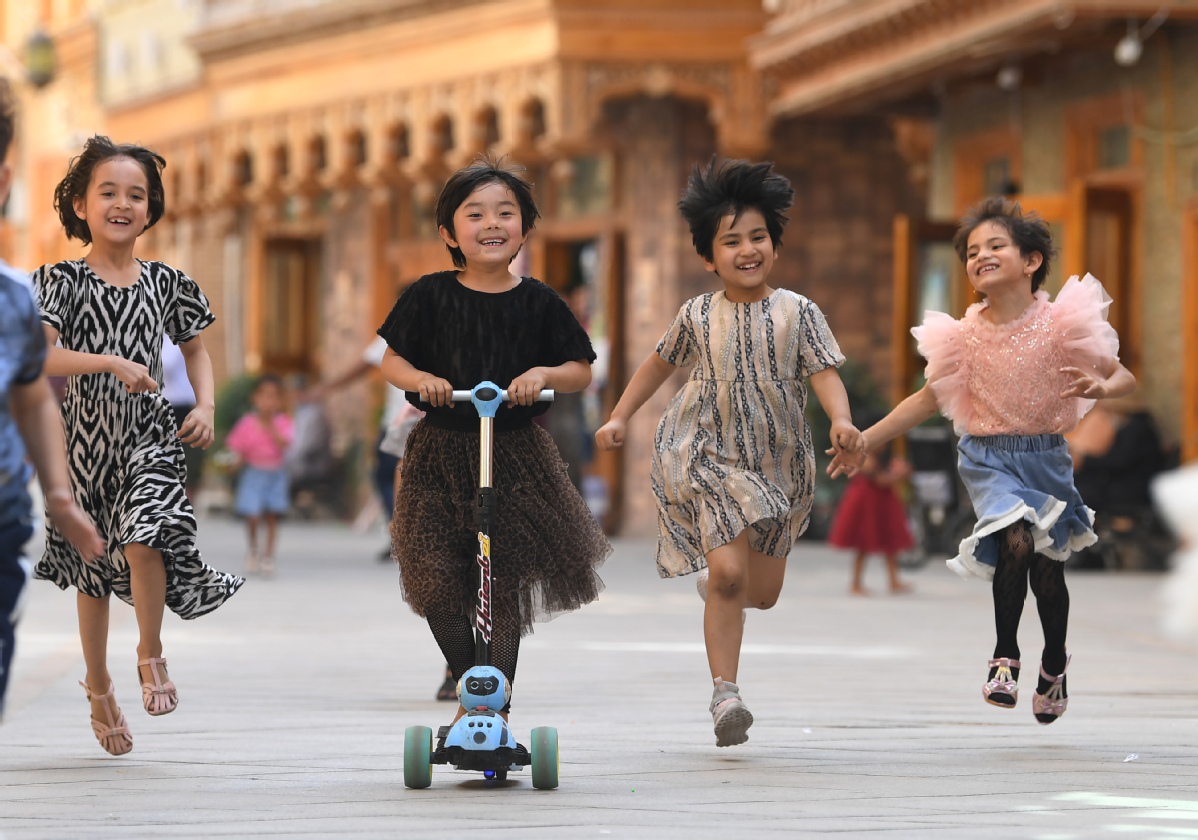 US Secretary of State Mike Pompeo, in his recent speech at the Richard Nixon Presidential Library, negated every aspect of China-US relations, maliciously attacked the leadership of the Communist Party of China (CPC) and China's political system, and attempted to drive a wedge between the CPC and the Chinese people. He also wantonly criticized China's domestic and foreign policies, spread the so-called "China threat", and called for an anti-China alliance to contain China's development.
Pompeo's baseless, fact-distorting speech misrepresents history and the reality. It is full of ideological prejudice and driven by a Cold-War mentality. His remarks have not only been condemned by the Chinese people, but also criticized and opposed by sensible people in the United States as well as the international community.
To debunk the lies fabricated by Pompeo, let the facts speak for themselves.
Rumor:
Mike Pompeo: China has set up concentration camps in Xinjiang.
Fact:
There are no so-called "concentration camps" in Xinjiang, and its vocational education and training centers were established in accordance with the law. The centers are similar in nature to community correction programs of the United States, the Desistance and Disengagement Programme (DDP) of the UK, and the deradicalization center of France, all beneficial attempts and positive explorations for preventive counter-terrorism and de-extremism. They are consistent with the principles and spirit of a series of counter-terrorism resolutions, including the UN Global Counter-Terrorism Strategy.
-- It is a practice with ulterior motives for some US politicians and media to call Xinjiang vocational education and training centers "concentration camps". The Network of Chinese Human Rights Defenders, a non-governmental organization supported by the US government, has come to the absurd conclusion that 10 percent of Xinjiang's 20 million population are detained in the so-called "concentration camps", simply based on its interviews with eight people and rough estimates.
A survey by Grayzone, a US news website, revealed that Adrian Zenz, a pseudo scholar, had fabricated the rumor that the total of detainees in Xinjiang exceeded 1 million based on a report by Istiqlal TV, a Turkey-based exile media organization. According to Grayzone, rather than being an impartial news organization, Istiqlal TV has advocated separatism and received all kinds of extremists. Even Adrian Zenz himself admitted that he was uncertain with his estimate.
-- For some years, Xinjiang has been a victim of terrorism and extremism. According to preliminary statistics, between 1990 and the end of 2016, ethnic separatists, religious extremists and violent terrorists have plotted and carried out several thousand acts of terrorism, resulting in the death of a large number of innocent civilians, the killing of several hundred police officers, and huge property losses.
Thanks to the law-based anti-terrorism, deradicalization and vocational education and training in Xinjiang, there have been no violent terrorist cases in the region for more than three years, and people of all ethnic groups have acquired a notably stronger sense of fulfillment, happiness and security.
-- Vocational education and training centers in Xinjiang have focused on the main problems facing the trainees, such as low proficiency in spoken and written Mandarin, lack of understanding in the law and occupational skills, and influence by religious extremism to various degrees. A curriculum that includes standard spoken and written Mandarin, legal courses, vocational skills and deradicalization has been developed, aiming at eliminating the root causes of terrorism and religious extremism.
The centers strictly implement the basic principles of respecting and protecting human rights enshrined in China's Constitution and laws, fully respect and guarantee the trainees' personal freedom and freedom of religious belief, the right to use their spoken and written languages, and the customs of different ethnic groups. There are access to various living facilities, and legal and mental counseling rooms. All trainees are covered by public pension and medical insurance schemes, and are entitled to free health examination.
So far, all the trainees involved in the courses of standard spoken and written Mandarin, legal courses, vocational skills and deradicalization have graduated, and been employed with the help of the government. They are living a much-improved and happier life.
-- In October 2019, more than 60 countries, including over 30 Islamic countries, addressed the UN General Assembly in support of China's policy in Xinjiang. None of the few countries that criticized China's policies was an Islamic country.
Since the end of December 2018, Xinjiang has been visited by more than 70 groups of UN officials, foreign diplomats in China, representatives of relevant countries to the UN Office at Geneva, media reporters and religious groups. The number of these visitors, who come from over 90 countries, exceeded 1,000. They noted that Xinjiang's anti-terrorism and deradicalization efforts were consistent with the purposes and principles of the UN in fighting terrorism and safeguarding basic human rights, and should be fully recognized and learned from.
-- Many foreign diplomats, experts, scholars and media reporters, after a personal visit to the vocational education and training centers, said the Chinese government had introduced a number of preferential policies and measures to improve people's livelihoods in Xinjiang in line with local conditions, benefiting the people of all ethnic groups with prosperity and vitality. Before visiting Xinjiang, they had thought that the centers were "concentration camps". However, after seeing with their own eyes how the trainees studied and lived at the centers, receiving skills training and attending various activities based on their interests, they realized that the so-called "concentration camps" were all lies maliciously spread by Western politicians and media.