China's soybean imports will keep increasing
Share - WeChat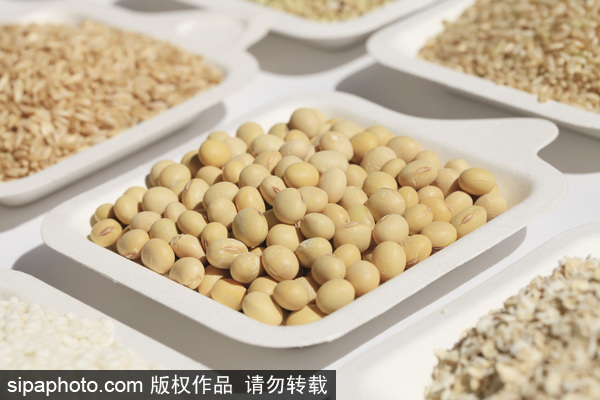 With the virus' impact on trade limited, nation will boost purchases from the US
China's soybean imports will continue to rise in the coming months as the impact of the COVID-19 pandemic on trade is limited, and the purchases of soybeans from the United States will be ramped up, the Ministry of Agriculture and Rural Affairs said on Wednesday.
The country imported over 55.1 million metric tons of soybeans from January to July, up 17.6 percent year-on-year.
In July alone, 10.1 million tons of soybeans were imported, a 16.8 percent increase from last July, according to Tang Ke, head of the ministry's market and economic information department, who cited data from the General Administration of Customs during a news conference.
Disruptions caused by the pandemic on supply chains and port operations have been limited so far. On the contrary, the spread of the novel coronavirus and low oil prices have dampened global demand for soybeans, thus creating a favorable environment for expanding soybean imports, according to Tang.
"Global supplies of soybeans are sufficient to meet demand, and overall prices for soybeans on the international market are stable, both of which bode well for soybean imports into China," Tang said.
"In the future, soybeans produced in North America will be released into the market. With the implementation of the Phase 1 trade deal between China and the United States, imports of soybeans, including shipments from the US, are expected to rise, contributing to stable prices and sufficient supplies of soybean meal and oil in China," he said.
In addition, domestic soybean stocks and newly harvested soybeans will gradually enter the market, further securing supplies and helping drag down prices recently buoyed by rising demand, according to Tang.
Monitoring data show that in July, purchase prices for domestic edible soybeans in Heilongjiang province-a major soybean-planting region-stood at 5.5 yuan (80 cents) per kilogram, up 51.2 percent year-on-year.
In China, imported soybeans are mainly used to make vegetable oil and soybean meal for livestock feeding. Brazil, the United States and Argentina are the top three exporters.
The country buys about 80 million to 90 million tons of soybeans annually, which would otherwise take up over 40 million hectares of fields if being produced domestically, according to Pan Wenbo, head of the ministry's plantation department.
"Among all major grains in China, the largest supply gap exists in the soybean sector," Tang said.
"Though areas growing soybeans have increased from 6.7 million hectares to 9.3 million hectares in recent years, the gap between production and demand continues to widen. Maintaining a moderate amount of soybean imports has now become part of efforts to ensure food security."
Meanwhile, ministry officials stressed that China will remain largely self-sufficient in supplies of rice, wheat and corn.
Though the disease outbreak, regional drought and flooding this year have cast uncertainties over grain production, China is set to see a bumper harvest in the absence of major disasters for the rest of the year, according to Tang.
Grain reserves are also abundant, with current stockpiles of rice and wheat equaling the total consumption amounts of urban and rural residents in one year, he said.
Corn reserves are being consumed at a rapid pace, and the purchase prices for corn in northeastern and northern regions have soared by 30 percent compared to the beginning of this year.
Tang said the price increases are reasonable and will soon stabilize thanks to new harvests and expanding imports.
He also appealed to consumers, farmers and traders to refrain from hoarding or panicking due to uncertainties triggered by the COVID-19 pandemic.
"In the first half of this year, China has seen sufficient grain stocks, strong processing capacity, powerful market regulation, an emergency response mechanism and a well-developed logistics system," he said.
"There is no need to be overly anxious or resort to panic buying."