Does Chinese trade suck supply chains away from America?
Share - WeChat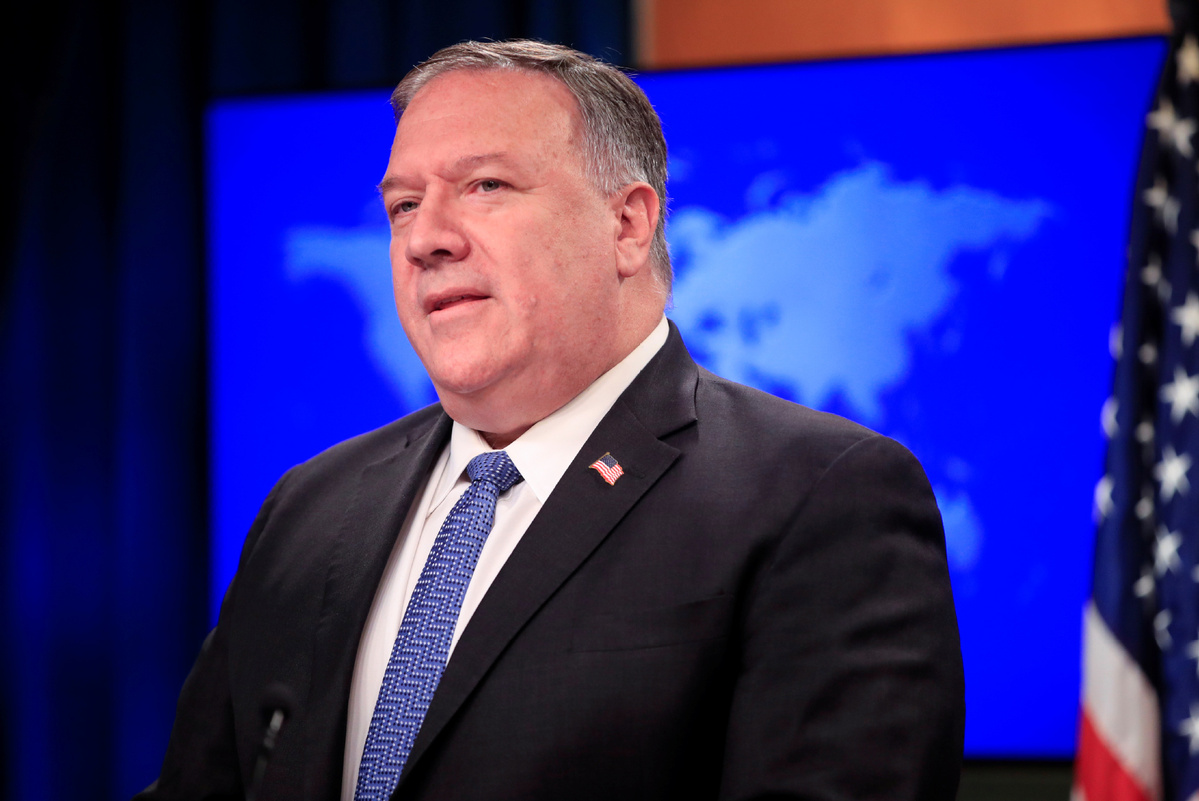 US Secretary of State Mike Pompeo, in his recent speech at the Richard Nixon Presidential Library, negated every aspect of China-US relations, maliciously attacked the leadership of the Communist Party of China (CPC) and China's political system, and attempted to drive a wedge between the CPC and the Chinese people. He also wantonly criticized China's domestic and foreign policies, spread the so-called "China threat", and called for an anti-China alliance to contain China's development.
Pompeo's baseless, fact-distorting speech misrepresents history and the reality. It is full of ideological prejudice and driven by a Cold-War mentality. His remarks have not only been condemned by the Chinese people, but also criticized and opposed by sensible people in the United States as well as the international community.
To debunk the lies fabricated by Pompeo, let the facts speak for themselves.
Rumor:
Mike Pompeo: The massive imbalances in the US-China relationship have built up over decades. Chinese trade abuses sucked supply chains away from America, cost American jobs and strike enormous blows to the economies all across America.
Fact:
In today's era of globalization, the interests of all countries are deeply intertwined. The formation and development of the global industrial chain and supply chain is the result of the joint work of market rule and the choice of enterprises. China and the United States have become each other's most important trading partner and investment destination, as well as a community of shared interests deeply connected by industrial, supply and service chains.
-- The Sino-US relationship is defined by equality, mutual benefit and win-win cooperation. It has been based on mutual benefit from the very beginning. China owes nothing to the United States. In Sino-US economic and trade cooperation, China receives capital, technology and management experience from the United States, while the United States has gained market share in China and occupied the high end of the global industrial chain and value chain. Both countries have benefited greatly from their cooperation with each other. Through complementary and mutually beneficial cooperation with China, the US economy has achieved faster growth, American families have saved significant costs of living, and American companies have gained handsome profits. Both China and the United States have achieved remarkable development and progress through cooperation, bringing tangible benefits to the two countries and their peoples.
-- Sino-US economic and trade cooperation is essentially mutually beneficial and win-win. China and the United States are each other's largest trading partner and important source of investment. In 2018, their bilateral trade exceeded $630 billion and the stock of two-way investment exceeded $240 billion. Statistics of the US-China Business Council in May 2019 showed that between 2009 and 2018, China was one of the fastest-growing markets for US goods exports, with an average annual growth rate of 6.3 percent and a cumulative growth rate of 73.2 percent, much higher than the average growth rate of 56.9 percent to the rest of the world. By the end of 2018, Chinese enterprises had invested $73.17 billion in the United States. Chinese investment in the United States has made positive contribution to the development of local communities, and the increase in jobs and tax revenue. During COVID-19, China once again became the largest trading partner of the United States. In May 2020, bilateral trade rose to $46.5 billion, and China's holding of US Treasury bonds exceeded $1.08 trillion.
-- American enterprises have invested in more than 70,000 businesses in China, with annual sales of $700 billion, and 97 percent of them are profitable. There are only two single markets that account for more than 10 percent of Apple's global revenue. One is the US market, with a total revenue of $96.6 billion, and the other is the Chinese market. In 2017, General Motors' sales in the Chinese market accounted for 42 percent of its global sales, and were 1 million units more than the sales in the US market. Qualcomm's chip sales and patent license fees in China accounted for 57 percent of its total revenue. According to a survey conducted by the American Chamber of Commerce in China in May 2020, 84 percent of American enterprises are unwilling to withdraw from China, 38 percent of American enterprises will maintain or increase their investment in China, and China is still the most favored market for American enterprises.
-- Sino-US economic and trade cooperation has brought tangible benefits to the American people. For more than 40 years, bilateral trade in goods between China and the United States has increased by more than 250 times, supporting about 2.6 million jobs in the United States. About 72,500 US enterprises have invested in China and most of them have benefited a lot.
According to the 2019 State Export Report released by the US-China Business Council on May 1, 2019, US exports to China supported more than 1.1 million jobs in the United States from 2009 to 2018 and 97 percent of the US companies surveyed said doing business with China was profitable. Chinese investment in America had spread across 46 states, directly creating more than 140,000 jobs in America. Trade between China and the United States saved each American family an average cost of $850 per year, equivalent to 1.5 percent of the household income in America. According to the US Travel Association, Chinese tourists spend an average of $7,000 per trip to the United States, including air tickets and accommodation.
-- The main causes of unemployment among certain groups in the American society are the mistakes of US economic policies and the lack of redistributive and reemployment mechanisms in the context of technological progress and economic restructuring. Arthur R. Kroeber, a member of the National Committee on United States-China Relations, told the Asia Society that the problem with the hit to American employment over the past few decades was the failure of the United States to adjust its domestic policies in a timely manner. A report by the Cato Institute, a US think tank, noted that US manufacturing job losses and worker losses had little to do with Chinese imports.
-- According to a Cato Institute report, American consumers have benefited greatly from Sino-US trade. From 2004 to 2015, due to imports from China, US consumer price index dropped by an average 0.19 percent annually, effectively easing inflation in the United States. Sino-US trade helps, not hurts, American manufacturers and workers. It is estimated that out of every US dollar Americans spend on "made in China" products in 2018, 56 cents went to American companies and workers, and importing Chinese products has helped American manufacturing become more competitive, invest more and innovate more.
-- The United States unilaterally provoked a trade war with China, and this will ultimately damage its own interests. The Peterson Institute for International Economics projected that raising tariffs on imported automobiles would cause about 195,000 US workers to lose their jobs. The Federal Reserve Bank of New York estimated that due to the additional tariffs imposed on $250 billion of Chinese exports in 2018, US consumers would have to spend an extra $52.8 billion every year. That is $414 more in expenditure for every American family.
Recently, 160 American companies submitted a joint letter to the US Congress, demanding the cancellation of the additional tariffs on China, saying that in 2019, due to the additional tariffs, the US public paid an extra $50 billion, which is $1,277 on average for each household, and the market value of US listed companies shrank by $1.7 trillion.
-- The US attempt to forcibly "decouple" the Chinese and American economies, cut off the global industrial, supply and value chains, and disrupt the global economic and trade pattern poses the biggest threat to the safety of the industrial and supply chains of the two countries and the world at large. Former US Deputy Secretary of State James B. Steinberg and former Assistant Secretary of State Phil Gordon argued that the Trump administration has overlooked the benefits that two generations of Americans have reaped from importing affordable consumer goods, low-cost inputs for high-end manufacturing exports, and growing US export surpluses in services and agricultural products. The trade war or "decoupling" pursued by the Trump administration would hurt American workers, farmers and consumers. According to a study by Moody's Analytics, Trump's trade war with China has already cost the United States an estimated 300,000 jobs and an average of around $600 per household from higher prices.