Report: China's pet industry bullish despite epidemic
Share - WeChat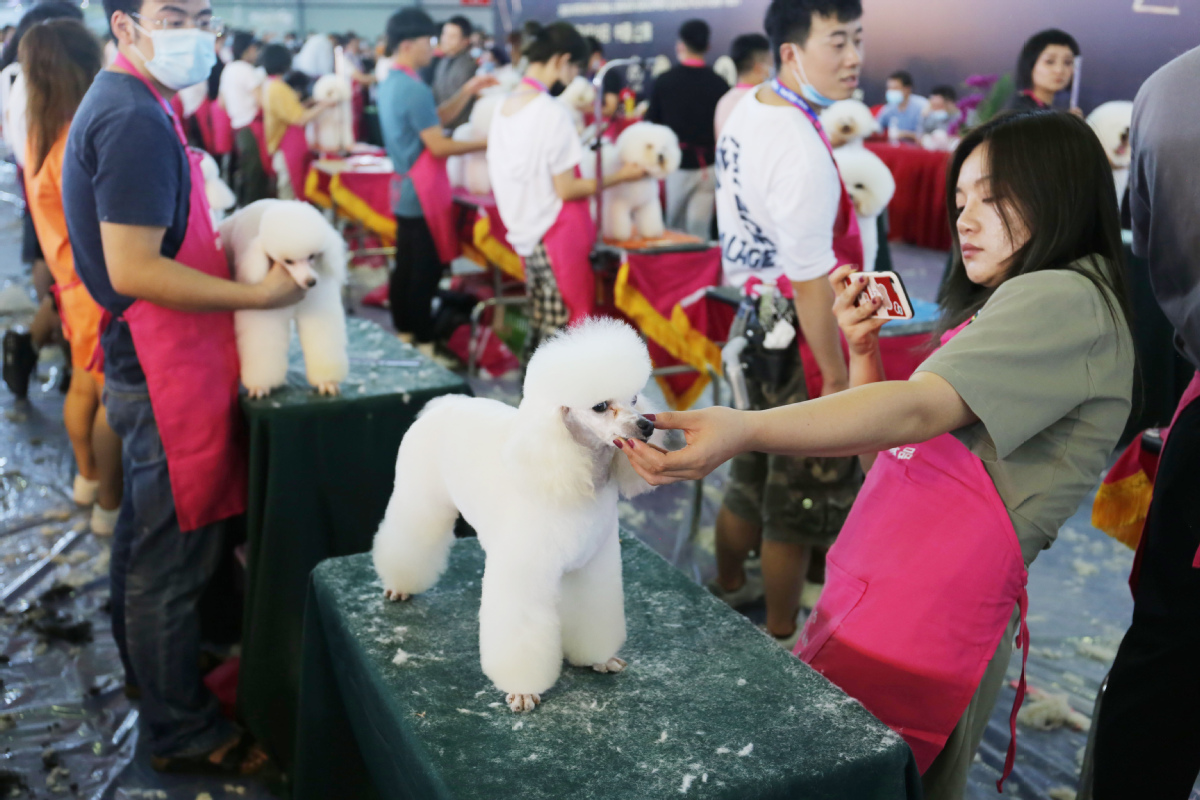 Online sales of the pet industry exceeded 30 billion yuan ($4.3 billion) in 2019, with e-commerce giants like Tmall and Taobao accounting for more than 70 percent of total sales, according to a report released this week at the Pet Fair Asia 2020 in Shanghai.
The most influential pet industry exhibition in the Asia-Pacific region, the fair occupied an exhibition area of 220,000 square meters at the Shanghai New International Expo Centre and drew about 2,000 exhibitors, 80,000 professional visitors and 220,000 pet lovers.
The report was jointly released by the Pet Fair Asia, Tmall and Alibaba's online marketing technology platform Alimama. It stated that online sales of the pet industry have recovered rapidly and even showed accelerated growth despite COVID-19.
The number of pet brands on Tmall has increased by over 60 percent year-on-year, while the growth rate of products for cats has doubled over that of dogs.
"The online market for pet products is booming mainly because of the vigorous development of the internet and the increasing enthusiasm that consumers have for online shopping," said Yang Qiqing, director of the Shanghai Pet Trade Association.
"In addition, the selection of online products has become richer and platforms including short-video app Douyin make online products more attractive. As the most active group online, millennials have a positive attitude toward pets and this has also promoted consumption," he said.
In another report, the 2019 Chinese Pet Industry White Paper Consumer Report said the market size for dog and cat products reached 202.4 billion yuan in 2019, a year-on-year increase of 18.5 percent. Pet food accounted for the largest proportion of consumption, reaching 61.4 percent, an increase of 9.2 percent compared with the previous year.
One of the reasons behind the rapid development of the Chinese pet industry is the growing per capita GDP of the country, which has exceeded $10,000, as well as the fact that pets are now seen as important members of the family, Guosheng Securities reported.
Statistics from information provider Tianyancha showed that nearly 115,000 pet-related enterprises were launched in the first half year of 2020, a year-on-year increase of 50.09 percent.
Online delivery platforms have also seen a spike in the sales of pet products. Eleme revealed that the number of pet-related products being purchased on their platform in the first half of this year increased by 300 percent compared with the same period last year.
"When offline business was at its best, our revenue was between 40,000 yuan and 50,000 yuan per month. After making our products available on the delivery platforms, our revenue has increased four to five times. In fact, 80 percent of our sales come from takeout orders," said Tan Shicong, a pet store owner in Shanghai.
He explained that customers prefer buying products online to take advantage of promotional activities.
Although the pet industry is booming, industry players note that there are serious issues that need to be tackled. Determining the legitimacy and safety of pet health products and medical supplies is one of them. Yang said that establishing unified standards would be key to addressing those problems.
Dang Min, the corporate affairs director of Mars Royal Canin China, pointed out that the nation also needs more professionals such as veterinarians and pet health experts in the industry.
Despite the challenges, Dang believes the pet industry in China is full of potential.
"With more enterprises joining the industry, the prosperity of China's pet market will be boosted through benign competition," she said.
Guosheng Securities pointed out that leading pet companies with a sales scale of more than 20 billion yuan may appear within the next five years.