Oldest captive giant panda celebrates 38th birthday
Share - WeChat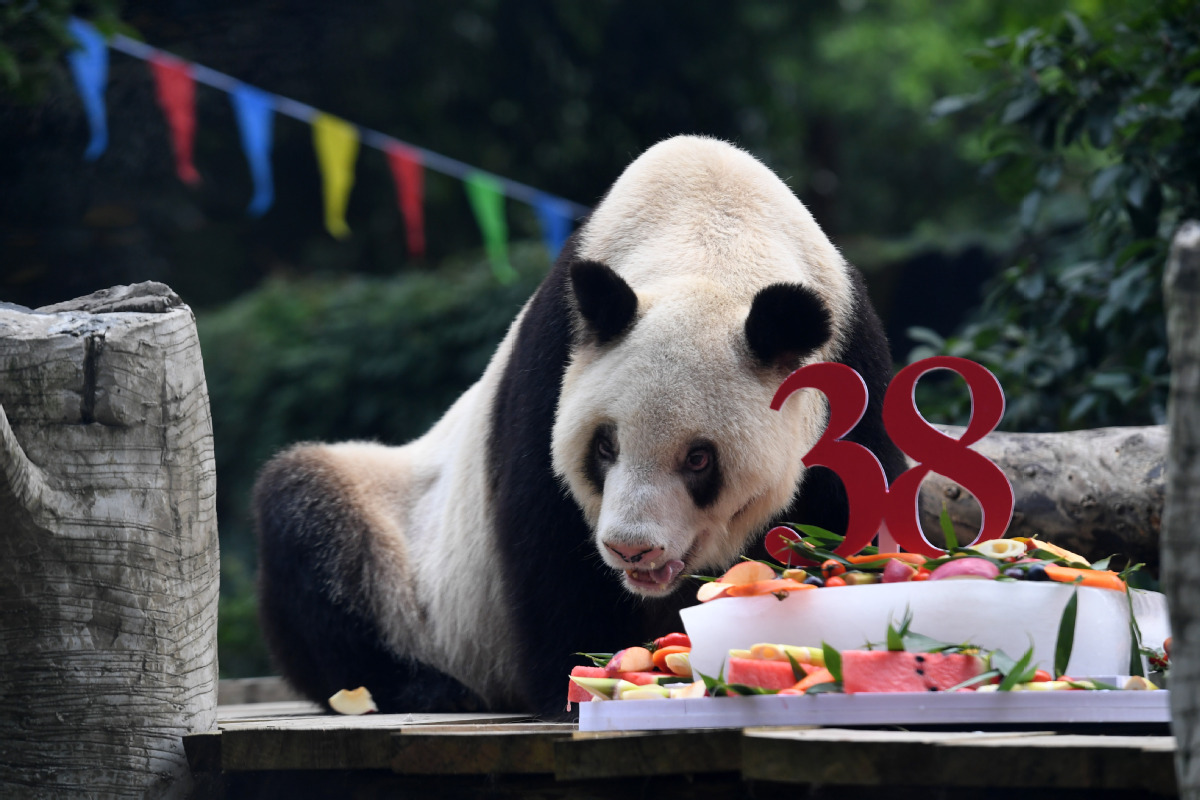 Over 100 panda fans sang Happy Birthday and enjoyed cake as they celebrated the 38th birthday of Xin Xing, the world's oldest giant panda living in captivity on Sunday morning at Chongqing Zoo.
This female panda is expected to break the Guinness world record for the longest living giant panda ever. The record is held by a panda named Jia Jia that passed away on Oct 16,2016, at Ocean Park Hong Kong about two months after she turned 38.
"At 38, Xin Xing has reached the equivalent of about 110 to 130 in human years," said Yin Yanqiang, the zoo's panda expert. "There are less than 30 giant pandas in the world that have lived longer than the age of 30."
Despite the hot weather, Xin Xing came out of her air-conditioned panda house and enjoyed a cake made of ice covered by her favorite foods, including bamboo leaves and shoots, apples, carrots and watermelon, in the outdoor playground.
Mario Gutierrez, a panda fan from the United States, said he had seen Xin Xing before, "but this is my first time celebrating her birthday. I wish she will have a long, healthy, good life for another 30 years."
The celebrity panda is in good physical condition and maintains a weight of 90 to 100 kilograms. She eats seven meals a day, including 30 kg of bamboo shoots, 1 kg of bamboo leaves and some fruit.
"Xin Xing always has a good appetite. When she was younger, she ate faster and much more than other pandas," said Zhang Naicheng, the head of the zoo's panda house, who has looked after Xin Xing for 28 years.
In recent years, Zhang has spent most of his nights staying in Xin Xing's panda house in case she needed him. His night-shift room is only 20 meters away from hers.
"We spend so much time together, and she is like a family member to me," said Zhang, 56.
Now that her teeth are loosening as she ages, the zookeepers peel the hard skin off the bamboo shoots and choose tender bamboo leaves that they can cut into small pieces.
Tang Jiagui, the director of the zoo's animal management department, said that good genes and scientific animal management are probably the secrets to Xin Xing's longevity.
"She has been quite healthy for the past 38 years with no major illnesses, only occasional high blood pressure," he said. "We monitor her health closely, including daily blood pressure checks and two overall physical checks a year. All her major organs are in good condition."
Xin Xing, born in Sichuan province in 1982, was rescued in the wild and sent to Chongqing Zoo in 1983. From July to September is the period during which mother pandas give birth, so it is estimated that Xin Xing was born in August.
She visited Calgary, Canada, during the 1988 Winter Olympics, where she attracted over 1 million visitors.
In addition to her longevity, she is also a "hero mom", having given birth to 10 cubs and serving as the matriarch of a huge family of 153 pandas.
Her offspring are spread across the globe in more than 20 countries and regions, including the United States, Canada and Japan.
There are many star pandas in Xin Xing's family, such as granddaughter Er Shun, who gave birth to twins Jia Panpan (male) and Jia Yueyue (female) in 2015, the first giant pandas born in Canada.
A panda's average life span in the wild is 14-20 years, but they can live up to 30 years in captivity, according to the World Wide Fund for Nature.
The latest census in 2014 found there were 1,864 giant pandas alive in the wild. There were 600 in captivity by November last year.
"Xin Xing's 38th birthday is a big encouragement for those of us who dedicate ourselves to protecting the precious species," Yin said. "We have more confidence in our work."