Caterers echo call to curb food waste
Share - WeChat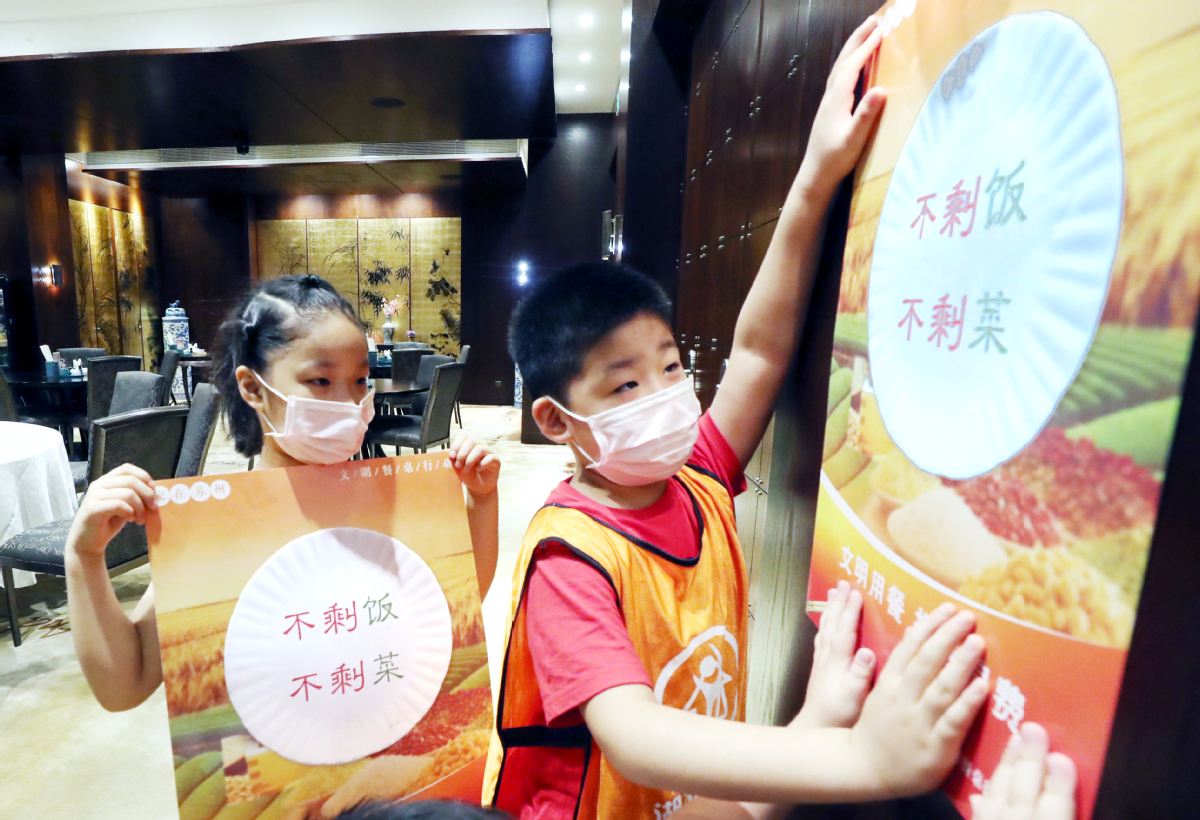 Associations suggest adoption of 'N-1 mode' to avoid leftovers in restaurants
Catering associations across China are calling for efforts to stop the wasting of food and promote thrift among the public.
The Wuhan Catering Association in Hubei province has suggested people adopt an "N-1 mode "when they order at restaurants, which means that if people have food together, they should order dishes as if there were one fewer person to avoid wasting food.
It also suggested that restaurants should provide small-sized dishes, half-portioned dishes and to-go boxes for customers.
Some cities in Jiangsu, Henan and Hubei provinces have also promoted the N-1 or similar measures to stop the wasting of food, including marking the net contents of the dishes' main ingredients on the menu.
On Wednesday, some national associations, including the China General Chamber of Commerce, the China Cuisine Association and the China Hotel Association, jointly proposed that the catering industry should curb food waste and promote thrift.
The associations made the proposal after President Xi Jinping underlined the need for greater awareness of the risks posed to China's food security and called for efforts to curb the wasting of food.
The hashtag "N-1 mode" was trending on the social networking platform Sina Weibo on Wednesday. While some people doubt the effects of the campaign, it has been welcomed by many Chinese netizens.
"I cannot lose weight easily because I cannot help but eat up all the food on the plate," said a netizen named "Among endless stars" on Weibo.
"I like the idea that restaurants will provide small-sized and half-portioned dishes."
Liu Guoliang, president of Wuhan Catering Association, said that traditional Chinese culture contributes to the wasting of food in the country.
"People used to think that ordering more than enough food for guests could show their respect for the guests," Liu said. "That tradition should be changed. We suggest that people should order less food at first, and then add some dishes later if needed."
He said that since 2013 the association has suggested local people order less food and pack leftovers at restaurants, which has greatly reduced the wasting of food in the city.
"Both serving chopsticks at each plate for customers and ordering less food have become common sense in Wuhan," Liu said.
According to the Beijing Catering Association, the city's kitchen waste has fallen by 25 percent since it started suggesting people order less.
It has asked restaurant workers to remind customers to order less and even take their opened bottled water with them when they leave the restaurants. Some restaurants have also provided discounts and coupons for customers who finish all their food.