Heavy downpours hit Beijing on Wednesday night
Share - WeChat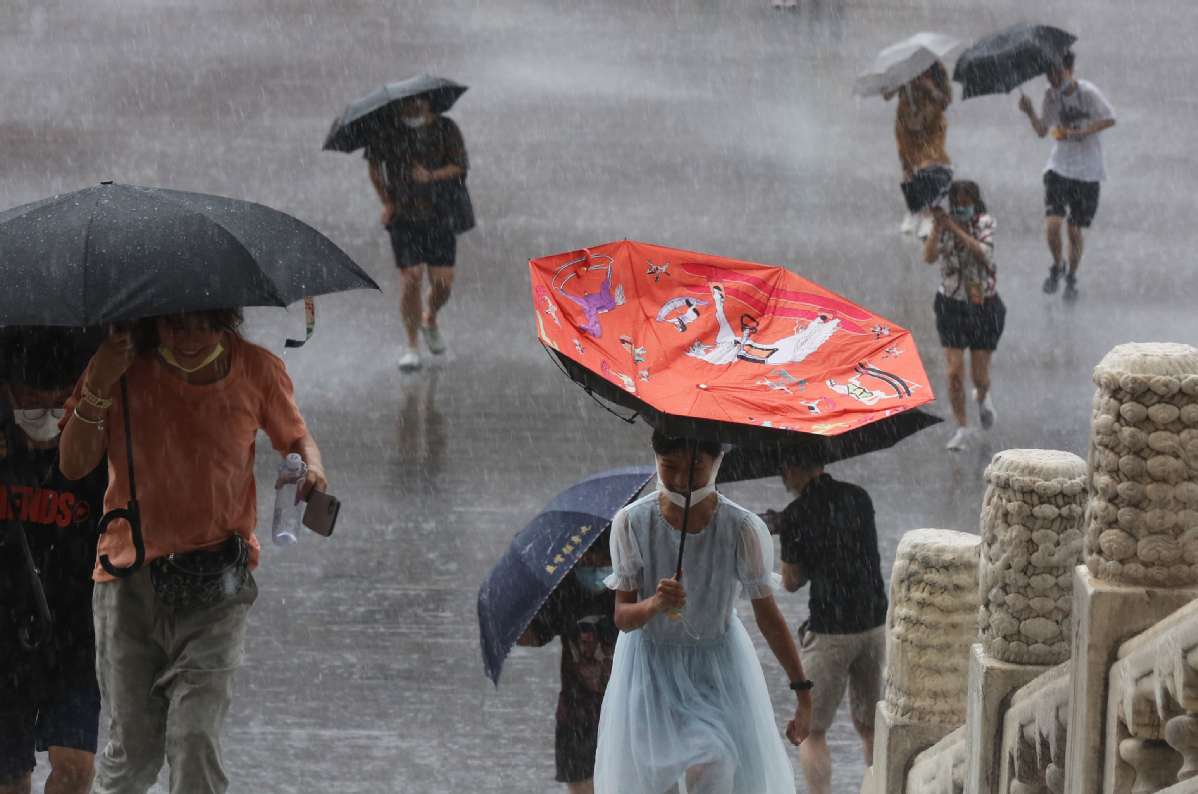 Beijing experienced very heavy rains on Wednesday evening after a day of on-again, off-again downpours that saw flights canceled, parks closed, homestay hotels shut and city workers on standby for floods and other emergencies.
At 11 pm, the municipal meteorological station issued an orange alert-the second-highest level in the four-tiered warning system-up from yellow, the third-highest, which was declared as the storm approached.
By 5 am on Thursday, total rainfall in four districts-Haidian, Fengtai, Shijingshan and Changping-could exceed 100 millimeters, as measured starting at 11 am on Wednesday, according to the municipal meteorological station.
The average amount of rain in the city's downtown area reached 49 millimeters between 11 am and 10 pm on Wednesday, with the Yungang area in Fengtai district recording 98.3 mm, the highest for the downtown area, municipal officials said.
Qianhekou village in Beijing's southwestern suburban Fangshan district saw 108.4 mm of rainfall, the highest in the Chinese capital, during that period. Rainfall above 50 mm in 24 hours is categorized as a downpour, meteorologists said.
China has a four-tier, color-coded weather warning system, with red representing the most severe, followed by orange, yellow, and blue.
By 4 pm Wednesday, 199 flights had been canceled at Beijing Capital International Airport.
Up to 191 sightseeing areas in Beijing's mountain districts were closed to the public on Wednesday and 5,490 homestay hotels were told to stop taking in guests, according to the city's flood control office.
Beijing authorities also took other measures to cope with the storms on Wednesday.
The Beijing Water Authority lowered the levels of key waterways and put 100 emergency squads totaling 4,000 workers on standby, Beijing Daily reported.
Some 110,000 staff members in different departments in Beijing were on standby for any problems arising from the rainstorms.
In order to be prepared for heavy downpours, authorities in Beijing have been inspecting pump stations, closing parks and working closely with the water authority in Hebei province.
Huo Fenglin, an official in charge of flood control and drought relief at the city water authority, said: "Usually, heavy rain in Beijing comes in the afternoon and during the night. It comes very fast during a short period of time, which increases the difficulties of accurate prediction."
On July 21, 2012, sudden torrential rains left 79 dead in Beijing and damaged 10,660 residential buildings in the city. Since then, Beijing has strengthened its emergency response capability and improved its infrastructure as well as its overall flood prevention system, officials said.
A daily briefing by the National Meteorological Center said that heavy rains would move toward the northeast on Thursday. Huo said that while a chance of rain still exists for Thursday in Beijing, the weather should clear up by Friday.
Forecasters say chances for rain in Beijing increase again over the weekend, with storms again expected on Sunday.
Residents of Hebei saw heavy rains and, in some cases, flooding on Wednesday morning.
Around 9:30 am, Zhou Jinli, a resident of Handan, Hebei, said that after heavy rainfall, flooding caused cars to look like "dumplings in the boiling pot". "The rain started tapering off after 11 am," he said.
Heavy rain also lashed the western part of the Sichuan Basin and the eastern part of the Western Sichuan Plateau in Sichuan province from 8 am Tuesday to 10 am Wednesday.
According to preliminary reports, 107,000 people in the cities of Chengdu, Deyang, Mianyang, Guangyuan, Ya'an and Meishan were affected and more than 40,000 had to be relocated, the Sichuan Provincial Flood Control and Drought Relief Headquarters said on Wednesday.
In Ya'an, six people died and five were reported missing.
In Mianyang, 27,000 people were affected and 7,000 were resettled. In Meishan, 21,000 people were affected and 15,000 were resettled, with 140 meters of riverbank and 96 channels reported as being damaged.
Zhang Yu contributed to this story.