Yuan building major momentum
Share - WeChat In-form Chinese has US Open in sights after string of impressive performances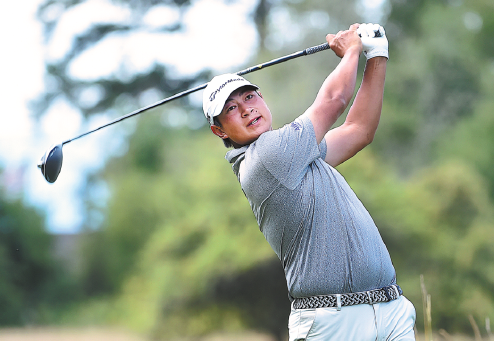 Carl Yuan Yechun is exhausted. And he wouldn't have it any other way.
The Dalian native has played a lot of golf lately-competing for seven consecutive weeks on the Korn Ferry Tour and making the cut in all but two of those events.
And that steady play continued on Sunday at the Portland Open, where Yuan posted a final-round 66 to finish in a tie for second for the second straight week.
"I've been hitting the ball OK, I guess, just a little fatigue," he said afterward. "This has been my seventh week on the road and I've made pretty much all the cuts. So that's a lot of golf for me."
Not that Yuan couldn't have used the work.
The former University of Washington standout spent most of the tour's three-month hiatus at home, so the extra time on the golf course lately has been welcome.
"I didn't really do much, but I think that was a good thing," Yuan said. "That was probably the longest break I've ever taken since I started playing golf. I think that helped. I kind of reset my life and now I'm hungrier coming back playing again. I've been working on the short game a lot, and it's great to see it pay off."
That hunger-and those recent practice sessions around the greens-have begun to pay dividends. Yuan's performance this week comes on the heels of a tied-second-place finish in his last start at the Pinnacle Bank Championship, alongside fellow PGA Tour Series-China graduate Nick Voke and three others.
That was Yuan's best finish on the Korn Ferry Tour since a solo-third showing at the Panama Championship in February 2019.
"My short game and putting have improved a lot," he said. "I've been able to get up and down from a lot of spots where, even if I've short-sided myself, I've kept a positive attitude that I can get up and down from anywhere."
That was no more apparent on Sunday, when Yuan got stuck behind a tree with no clear angle at the flag. But he stuck with his gut and went one club longer, managing to clip the tree and have the ball come off straight.
"It came off perfect," Yuan said, laughing. "Five feet past the hole. I made birdie there and really rode the momentum into 17 and made another big birdie there.
"Unlucky to not have another on number 18, but I still thought it was a great round. On the 18th, I didn't make a birdie all week but made an albatross in my practice round.
"But overall, that was great to finish 5-under for the day on a pretty tough course in windy conditions."
With his early finish to the day, Yuan had plenty of time on Sunday to watch his good friend Li Haotong play the final round of the PGA Championship farther down the coast at San Francisco's TPC Harding Park.
Li, a native of Hunan province, grabbed global headlines on Friday when he took a two-shot overnight lead into the third round.
It was the first time a Chinese mainland player had ever topped the leaderboard at the end of a round at a major championship. However, the 25-year-old could not sustain his challenge and eventually finished seven shots back of winner Collin Morikawa.
"We're pretty good friends," Yuan said of Li. "We play a bunch together in China, played a lot at the World Golf Championships-HSBC Champions together, went to Japan and played the Olympic course together."
Li returned to the Harding Park course on Friday well after the completion of his second round to continue working on the range. That came as little surprise to Yuan, who knows Li's work ethic firsthand.
"It was awesome to see him leading after two rounds," Yuan said. "He's one of the hardest workers I know. I really respect that. You've got to really work hard at this game to be the greatest."
Yuan hopes to join Li at the sport's next major, the US Open at Winged Foot in Mamaroneck, New York, in mid-September.
With the COVID-19 pandemic impacting local and section qualifying, the top five players over the next three weeks-in what was originally the Korn Ferry Tour Finals-will earn spots in the field.
It begins next week at the Albertsons Boise Open and continues in Columbus, Ohio, and Newburgh, Indiana.
Solid play in those events could be Yuan's ticket to a start in New York.
"For sure I want to try to play in the US Open. I want to accomplish that, but I think it's just one tournament at a time," he said.
"I can't get too far ahead of myself. Just play a shot at a time and try to shoot a low score every day out here. If you can do that, it's going to turn out pretty good."
The PGA contributed to this story.