A marathon man continues to set the pace at age 71
Share - WeChat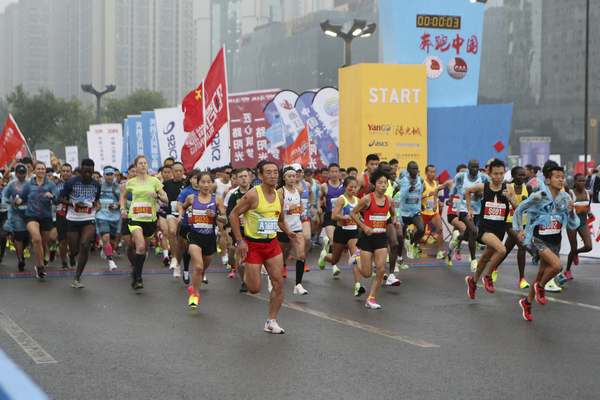 XI'AN-Wang Changsheng started running to relieve arthritis at the age of 15. Well over half a century later, the 71-year-old is still running.
And he doesn't just run but does so better than most people.
Affectionately known as "Chun Lao", a nickname that means rejuvenation, Wang is well known among the marathon runners in the northwestern Chinese city of Xi'an, Shaanxi province.
In his teens, Wang suffered from severe arthritis. Having tried all therapies he could find, he was told by a doctor that running might help.
And it did.
Wang has been on a runner's high for over five decades since.
"When I was a young man, everyone said that I was always energetic. I seldom felt tired. Running has not only shaped my body but also strengthened my will. As long as I set a goal, I must do my best to achieve it. That's how I'm able to finish a marathon," says Wang.
The seemingly ageless runner won the title of "Beijing Marathon Nine-Star Runner" by finishing this marathon in three hours and 34 minutes in 2017.
Later that year, he received an invitation from the Boston Marathon, one of the six major marathon events in the world. Running in this kind of event was a long-held dream for Wang.
But when the day came to finally realize his dream, it was rainy and windy in Boston. Wang didn't give up. He cheered himself up and started to sprint after he crossed the finish line.
He finished in three hours and 57 minutes, ranking 66th in the 700-plus-person group between ages 65 and 69, and took first place among the 12 Chinese competitors in that group.
Besides running, the septuagenarian can easily fling himself into a handstand on parallel bars, or perform dozens of pullups with just his middle fingers and pushups with his thumbs.
"Chun Lao" loves sharing his experience with young runners, especially since marathons have become popular in China in recent years. He always tells them to train hard and go easy on themselves.
"I have never got injured running, because I keep a healthy mentality-I run for my health, not for a medal," he says.
After finishing the Boston Marathon, Wang has set a new goal-to finish the other five major international marathons. So far, he has run in Berlin, Chicago and New York.
His preparation for the two remaining events in Tokyo and London was suspended due to the COVID-19 pandemic, but he still kept training at home, running more than 200 kilometers each month.
Wang says he's ready for the offline races to resume in Xi'an. He also plans to register for the nonprofessional group in the marathon event of the upcoming 14th National Games, which will be held in Shaanxi in 2021.
"I have never thought of stopping running ... I guess I will just keep running until the day I can't," he says.
Most Popular