Fighting COVID-19 on the ground
Share - WeChat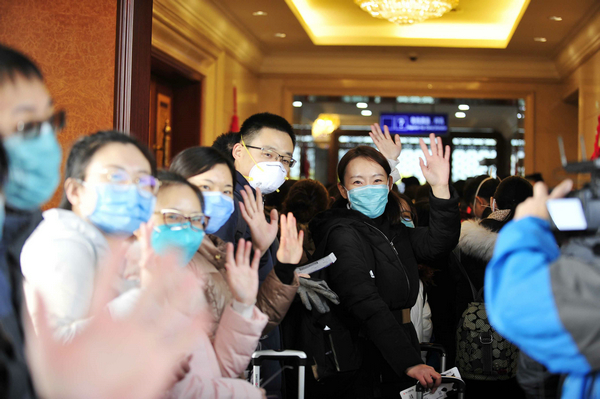 Li Haichao, vice-president of Peking University First Hospital, and his team have kept their habit of meeting daily at 7 pm since returning from Wuhan, Hubei province, in April.
However, these days, instead of discussing COVID-19 treatments, they hold online singing parties through video chats.
Li, 51, led a 135-member team from the Beijing hospital that was dispatched in three groups to help patients at Tongji Hospital's Zhongfa Xincheng branch in Wuhan at the height of the outbreak in February. When the team left Wuhan on April 4, 100 of their 115 COVID-19 patients had been discharged.
"Our job of helping the patients recover was only a part of the whole medical-treatment system," Li tells China Daily, adding that the teamwork was not just among the medical workers but also residents of the city, such as bus drivers and hotel staff.
Li and his team arrived in Wuhan on Feb 7, and there was only one day left for them to prepare to take over the west zone of the ninth floor of Building B in Tongji Hospital, which was originally designated for tumor patients.
Turning regular wards into special ones, setting the course for patients and medical staff, training all members on prevention and control of infection and arranging protective equipment-all these tasks had to be done within 24 hours.
On the night of Feb 8, 10 patients were transferred to the wards. Two days later, all 50 beds were filled.
The seriousness of the COVID-19 patients and the limitation of medical resources were the next challenges Li and his team faced.
Ventilators were significant in treating serious cases but there were only three for medical treatment and five home ventilators. Sometimes Li and his team had to borrow ventilators from other departments of the hospital or other hospitals in the city.
"We used oxygen carriers to fill the gap, and our rule was to maximize the use of resources to treat patients," Li says.
There was limited protective equipment. At first, they could only be assured of access to such protective equipment as facemasks and suits the night before they'd be used.
Most Popular