Vocational training to boost migrant workers' prospects
Share - WeChat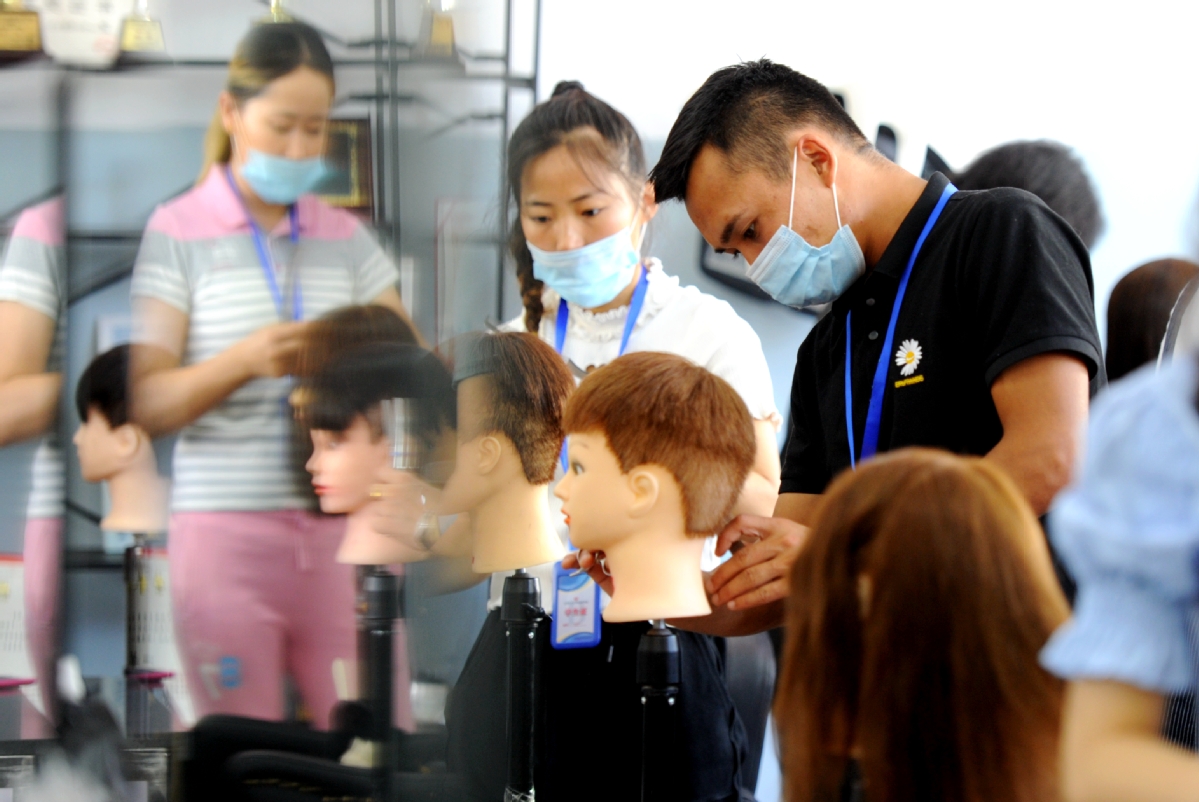 Vocational training is being offered to migrant workers to improve their workplace competitiveness and offset the impact of the COVID-19 pandemic.
According to the 2020 Government Work Report, the central authorities plan to provide such training for more than 35 million people this year and next, especially migrant workers who are highly vulnerable to the impact of the outbreak.
The aim is to improve expertise and provide new skills for members of disadvantaged groups so they can find jobs in all parts of the country.
In May, the Ministry of Human Resources and Social Security issued a guideline related to the training of migrant workers to ensure stable employment. It said the government will pay a monthly subsidy of 500 yuan ($70) per worker to small and medium-sized enterprises that recruit migrant workers and provide on-the-job training.
However, in industries that have been greatly affected by the pandemic-such as exports, hospitality, culture, tourism, transportation and retail-the subsidy will not be limited to small and medium-sized companies.
The guideline also encouraged local governments to arrange for migrant workers to find jobs in or near their hometowns.
"Local social security authorities should launch training that can meet urgent needs for certain occupations, including construction, maintenance, domestic service, logistics, livestreaming sales and other skills, that are suitable for migrant workers and easy for them to obtain," the guideline said.
A report in People's Daily focused on Xu Caiming, a 43-year-old in Kaiyuan, Liaoning province, who had been working odd jobs to cover family expenses.
In February, Xu signed up for an online course to learn the skills required to work as a maternity matron. After two months on the course, which was organized by the Kaiyuan Women's Federation, she was granted a license and found a job in Shenyang, Liaoning's capital.
"The course was easy for me to understand. Thanks to the federation and the skills it helped me obtain, I have no trouble finding work. Now, I can earn nearly 6,000 yuan a month-even more than my husband," Xu told the newspaper.
According to the ministry, about 7.5 million migrant workers nationwide received subsidized training last year. Since the novel coronavirus outbreak started, the ministry has launched free online training that matches the needs of local industries with the aspirations of job seekers. This year, more than 7.9 million migrant workers have signed up for online courses.
In June, the ministry's China Employment Training Technical Instruction Center joined with tech giant Alibaba to design a "new vocational online learning platform" that will focus on boosting the development of the Internet Plus sector through vocational training.
The platform has finished the first semester's training for digital managers, industrial robot system operators, e-sports operators and drone drivers, in addition to sessions for technicians in areas such as artificial intelligence, big data, the internet of things, agricultural management and cloud computing.