Gabonese doctor feels at home in Guangzhou
Share - WeChat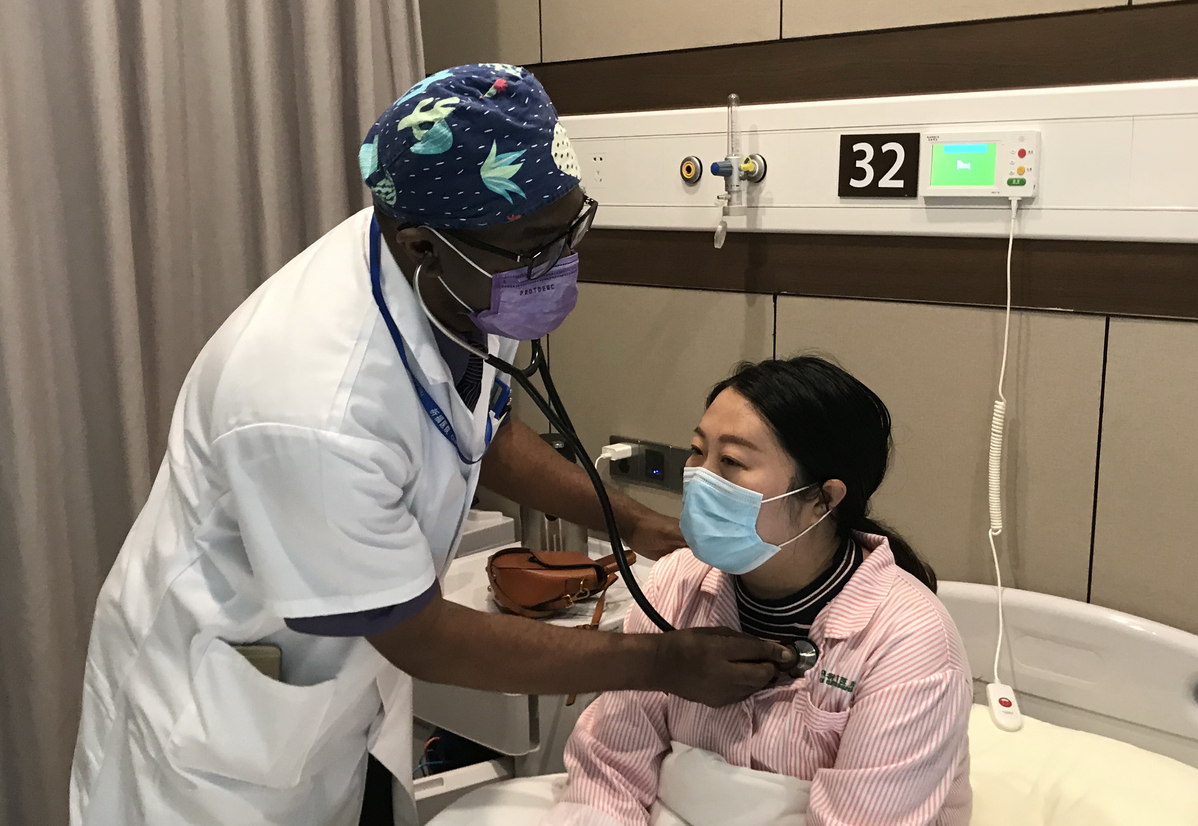 Jean Christian Nzengue was happy when his patients returned to see him after they had been cured.
The thoracic cardiac and breast surgeon from Clifford Hospital, located in the Panyu district of Guangzhou, capital of Guangdong province, said many patients he once treated have become his friends.
"I really thank them who recognize my work, and they make me feel more meaningful about my work," he said.
Nzengue, who is from Gabon, became a doctor in Clifford Hospital in 2003. He can speak English, French, Japanese, Mandarin and Cantonese.
"Local patients usually worried about their communication with me when they saw me at the first sight, but their concerns were immediately dispelled after I spoke to them with fluent and authentic Chinese," said Nzengue, 40.
He also often helps the hospital and doctors collect and translate English medical documents and materials with his good language skills.
Compared with his language talent, Nzengue's superb medical skills are more recognized by his colleagues and patients.
Peng Xiufan, a senior cardiothoracic surgeon from the hospital, said Nzengue has headed many complicated and large surgeries at the hospital.
"He frequently represents the hospital at medical seminars and academic exchanges," Peng added.
A female patient who Nzengue operated on in late July told China Daily that it was strange to see Nzengue at first.
"But after chatting, I found his Chinese is very standard, and he is very amiable and never puts on airs," said the patient, who did not want to be named.
"He gave me his phone number and encouraged me not to hesitate to contact him when I have questions."
Now Nzengue sees 20 patients a day, two days a week. Most of his patients are Chinese, but he also has many foreign patients.
On top of that, Nzengue frequently visits local schools, serving as a health instructor to teach students and local residents about epidemic prevention and health when he is not at work.
Since China was hit by the COVID-19 epidemic, Nzengue has strictly abided by prevention and control policies and measures introduced by the Guangdong provincial government. He goes out less, and when he does he wears masks and has his body temperature taken.
"China is now the safest place in the world, as the Chinese government has introduced very effective and concrete measures to prevent and control the pandemic," Nzengue said.
The Chinese government attaches great importance to every resident's life and health, he added. "Local government equally treats both domestic and foreign people in the city and takes the same prevention and control measures for all people regardless of their countries, nationality and race."
Many of Nzengue's foreign friends are now very envious of his living in China, as everyone is well protected in the country, he said.
Influenced by his brother, Nzengue came to Beijing to study Chinese when he was about 17. His brother is a martial arts actor who likes Chinese kung fu and kung fu legend Bruce Lee.
Nzengue was assigned to Guangzhou-based Sun Yat-sen University to study medical science due to his good performance in school. After Nzengue graduated, he became a doctor at Clifford Hospital thanks to his tutor's recommendation.
Though he has visited many other Chinese cities, Nzengue found he likes Guangzhou the most, as "the city has his schoolmates, friends, colleagues, family members and his favorite delicious Cantonese cuisines".
Nzengue said he also likes spicy food, but his wife does not allow him to eat too much due to concerns over internal heat. Therefore, Nzengue has to keep the chili paste his colleagues give him in his office and enjoys the spicy food for lunch in the hospital instead.
Nzengue deems himself as half Chinese. His foreign friends also like to joke with him, saying "a Chinese comes", when he goes to see them.
Wang Yuexia contributed to this story.