Cabinet ramps up COVID-19 testing
Share - WeChat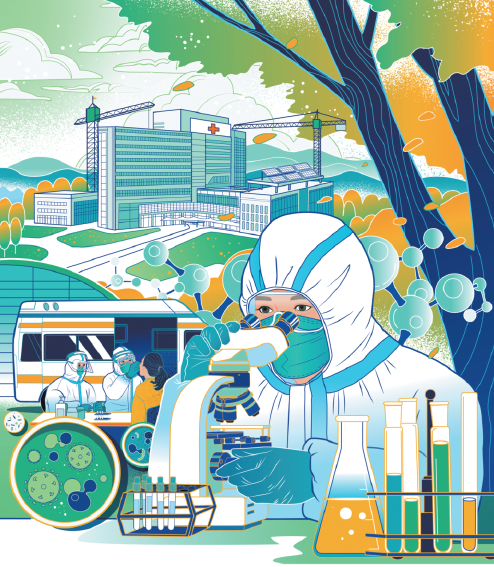 Premier says increasing capacity and speed are crucial measures in pandemic containment process
The State Council has pledged to bolster China's COVID-19 testing capacity and develop technologies that can produce more accurate results more quickly as the country braces for a possible spike in infections in autumn and winter.
Improving testing capacity will be a key measure in coordinating epidemic containment and socioeconomic development, the Cabinet said after its executive meeting on Wednesday.
It pledged to mobilize the strength of various sectors to speed up the development of testing kits, especially those that are easier to operate, and to accelerate training for staff at testing laboratories. It added that testing capacity must be reasonably distributed in different areas and the number of mobile labs must be increased.
The Cabinet has also set a target of ensuring that testing services can be offered at all top-tier hospitals and infectious diseases hospitals, saying that at least one public hospital in each county across the nation must be able to conduct tests. Authorities at all levels must beef up funding support for testing, it added.
Premier Li Keqiang said at the meeting that, in addition to mask wearing and social distancing, strengthening the country's testing capacity is a crucial measure in the pandemic containment process, and testing kits that can deliver more accurate and quicker results are essential for the early detection of infections.
Officials and experts have warned of a possible spike in the pandemic in autumn and winter, when respiratory infectious diseases are more prone to spreading in clusters.
Wang Hesheng, deputy head of the National Health Commission, told a news briefing on July 28 that the country is gearing up for a possible rebound of the pandemic, including steps to raise the capacity and quality of nucleic acid testing.
China has flattened the curve of the pandemic despite recent spikes in cases in the Xinjiang Uygur autonomous region and Dalian, Liaoning province.
The country increased the number of medical institutions offering nucleic acid tests from 2,081 in March to 4,804 by the end of June, when 3.78 million tests could be conducted a day, double the number in March, the National Health Commission said.