Canal steeped in history continues to charm
Share - WeChat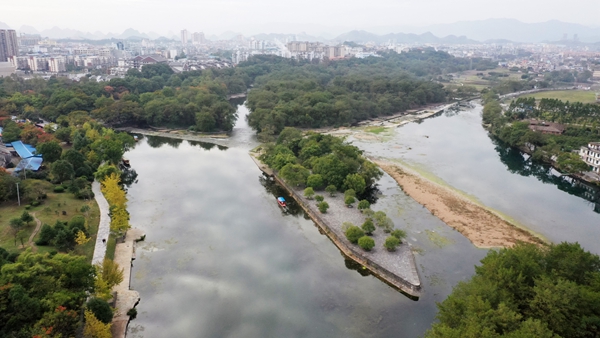 Thrusting a pole into the water, Ai Junming, 58, weaves his way through a lengthy canal on his aged wooden boat, framing a quaint tableau for throngs of nostalgic visitors.
Three decades on, though motorboats have taken hold of the tourist market, a punting tour, guided by punters like Ai on the Lingqu Canal in South China's Guangxi Zhuang autonomous region, has become an iconic experience not to be missed.
"To eschew any oil leakage of engines that could pollute the water, we abandoned the powerboats for the environmental good," Ai says.
Lingqu is one of the world's oldest and most well-preserved artificial canals and was built more than 2,000 years ago during the Qin Dynasty (221-206 BC) to serve the emperor's ambition of conquering the tribes dotted in mountainous South China. During the Song Dynasty (960-1279), local officials jerry-rigged dozens of water gates to retool the canal for better irrigation of the nearby farmlands.
The conduit, winding some 36.4 kilometers through the region, thus became a vital prop for Zheyuan village in Xing'an county where Ai was raised, making the area an agriculturally developed one in the following centuries.
"Before 1937, when the railway was being revamped in the region, the Lingqu Canal was still a bread-and-butter artery for transportation," Ai says. At that time, the generations of his grandfather and uncle used to ship salt for chartered merchants and Ai's father followed suit, running cargo for a living.
But as the 20th century drew to a close, growing towns in the wake of urbanization and the introduction of modern transport encroached on the surrounding farmland, and soon eclipsed the canal. To find their feet, villagers left their hometown and ditched their farmland for jobs in bigger cities.
In the early 1980s, the country fell back on tourism to help the ancient waterway make a comeback. In 2017, the surrounding region was listed as a national water conservancy scenic spot, and one year later, the Lingqu Canal was inscribed on the World Heritage Irrigation Structures.