'Smart' infrastructure key catalyst in Bay Area push
Share - WeChat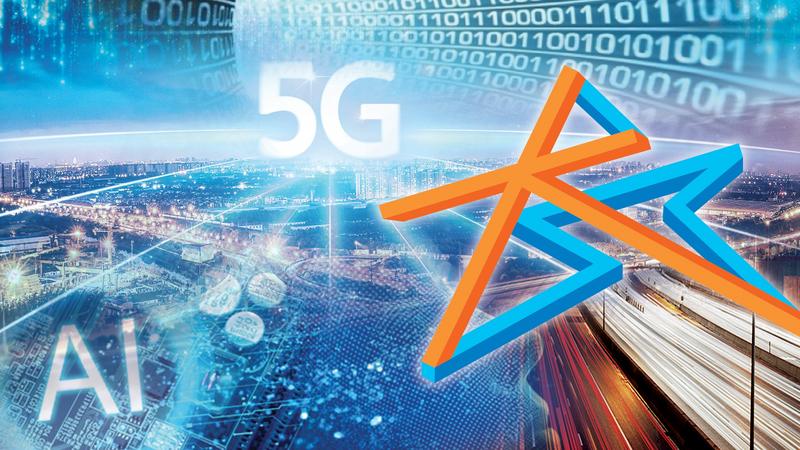 Technology-related infrastructure is seen as the way forward in driving economic transformation in the Bay Area and reviving the economy amid the COVID-19 outbreak. He Shusi reports from Hong Kong.
While the British government takes the drastic step to shut out Huawei Technologies from its 5G umbrella, at the same time in China's Guangdong province — the home turf of the Chinese tech giant — billions are flowing in for new technologies.
Since May, the Shenzhen and Guangzhou municipal governments have successively rolled out up to 600 billion yuan (US$85.8 billion) to ramp up high-tech infrastructure and expedite digital transformation in the Guangdong-Hong Kong-Macao Greater Bay Area.
Investments under the initial stage of the push include 5G, artificial intelligence, cloud computing, big-data centers, industrial internet, robotics, and smart charging piles.
Injecting money into infrastructure has long been a key strategy of the Chinese government to drive economic growth and create jobs.
Against the backdrop of a widening global recession under the shadow of COVID-19, Premier Li Keqiang, for the first time, placed investments in new technology-related infrastructure, or "new infrastructure", in the 2020 Government Work Report, presenting it as one of the central government's themes to revive the world's second-largest economy.
Economic experts say the relevant investments in the Bay Area in particular are aimed at upgrading the industrial chain, building a smart city cluster in China's southern gateway, facilitating the nation's digital transformation, and fostering emerging industries for the long term.
Many technology and internet titans have joined in the move, including Huawei, Tencent, Baidu and JD. Tencent said it will pump 500 billion yuan into new infrastructure projects over the next five years.
In interviews with China Daily, experts urged the Guangdong authorities to encourage private enterprises and capital to get involved, while ensuring a mature and forward-looking top-level design to avoid the misallocation of resources and overloaded fiscal burdens.
Key to the transformation
Cao Zhongxiong, executive director of the New Economy Research Institute at the China Development Institute, a Shenzhen-based think tank, said that besides stabilizing employment and stimulating economic growth, investment in new infrastructure is crucial to the transformation of competitive industries in the Bay Area — from upgrading industrial chains, to smart city, logistics and port development.
Instead of eyeing just the profitability of each project, the government needs to make a larger priority of ensuring these technologies can drive the region's sustainable and high-quality development in the long run, Cao said.
Stressing that infrastructures supporting new technologies often have high risks, which require massive investments in research and development as well as professionals, he said local governments should take a step back, encourage the participation of tech giants in the region, and let markets do the work.
Local governments, he said, should also provide as many application scenarios as possible for enterprises to test new technologies, such as space for unmanned vehicles.
The Bay Area has the potential to become an incubator for new technologies, and it's possible to incubate more "unicorn" companies with global competitiveness, especially in 5G development, he said.
Cao stressed it's also vital for governments to do well in administrative coordination in order to avoid political wrangling among cities over resources, making sure each city is deployed with the right resources to fit in local circumstances while having synergy with other cities.
For instance, Tencent has opened a cloud-computing data center in Qingyuan, a city in northern Guangdong, and the center is so far the largest new infrastructure project in the region. The move creates jobs in Qingyuan, while at the same time driving the overall new economic development in the Bay Area, Cao said.
Thomas Leung, managing partner for markets at PwC China, noted that a good innovation environment and talent pool in the Bay Area have increased the possibility of a considerable capital return for new infrastructure projects, which will encourage more investment and form a virtuous cycle, Leung said.
Technology giants in the Bay Area, like Huawei and Tencent, will play a vital role, using their big data and data analytics capacities to transform local industries through intelligent manufacturing technology, and to attract AI professionals and enterprises to create digital platforms in their cities, in order to accelerate the development of smart cities, Leung said.
Noting that Shenzhen will realize full coverage of 5G signals in late August, he believes Shenzhen will prioritize the development of 5G and AI. Guangzhou, with its advantages in automobiles, software and modern services, will be focusing on smart charging infrastructure and the creation of AI technologies, while Foshan, with a solid foundation in manufacturing, can develop industrial internet, Leung said.
Long-cycle projects
Because of the huge risks in new infrastructure projects, Leung called for the evaluation of various risk factors in the process of investment and project development. This includes low-end development of high-end industries due to shortsighted behavior and the neglect of soft attributes development.
The government should also consider the current downward pressure on the economy and the affordability of local finance. Moreover, the application of new technologies should not be limited to the domestic market, but should promote the connection with foreign countries, Leung said.
In terms of tax arrangements, he noted that China has successively issued a number of fiscal and tax policies to support enterprises and investments oriented to technological innovation.
PwC recommends investors use these policies as a basis, combined with common investment and trading patterns in the capital market, to consider how to optimize tax arrangements and be alert to risk points from the perspective of project operation, financing, investment and exit, he said.
Ivan Chung, associate managing director and head of Greater China credit research and analysis at Moody's Investors Service in Hong Kong, said that generally, governments in the Bay Area have deep pockets to carry forward new infrastructure projects and undertake risks, such as delays due to the coronavirus pandemic.
But he stressed that unlike traditional infrastructure projects, such as building railways and airports, which are concrete with a mature financing and management mode, new infrastructure comes with high-tech context of use, and its application is sometimes beyond imagination.
Given that new infrastructure projects carry a long cycle, Chung said the market should not be overly optimistic about its performance in driving economic growth in the short term.
It might take 20 to 30 years to see, he said. On the uncertainties brought by COVID-19, he thinks the Bay Area is relatively resilient, compared to European and North American countries, as the outbreak has been relatively under control in southern China, and local governments have the fiscal reserves to deal with uncertainties.
Noting that the Bay Area is a highly market-oriented economy, Chung said if governments can do well in top-level design, including urban planning and distribution of resources, the private sector will be more willing to participate.
Whether the business pattern is sustainable will depend on how well the public and the private sector can work together, and whether the proportion of public and private capital is reasonable, Chung said.
Ada Li, vice-president and senior credit officer of project and infrastructure finance at MIS, believes the Bay Area, as a national-level city cluster, will be planned as a whole in new infrastructure development, which can effectively avoid excess capacity, bad loans and supply-demand imbalance.
Min Wanli, founder and CEO of Shenzhen-based North Summit Capital and QuadTalent Technology, plans to invest up to US$150 million in new infrastructure projects in the Bay Area this year, focusing on industrial logistics, and optimizing supply chains in Shenzhen, Guangzhou and Dongguan.
Min, who is a former chief machine intelligence scientist at Alibaba Cloud, said the trading and manufacturing sectors in the region are in urgent need of informatization, automation and intellectualization to reduce costs and raise productivity.
He thinks the pandemic has made the issue more pressing. For instance, when offline business events, such as the China Import and Export Fair in Guangzhou, which was moved online this year, are off the table, the industry needs a virtual and electronic scenario to break the space limitation, and ensure block trade can be made without face-to-face meetings, he said.
Eyeing the great potential and value-added space in the region's new infrastructure development, Min hopes the authorities can demonstrate more flexibility and efficiency in policies, regulations, and examination and approval of private capital invested in new infrastructure projects.