Guizhou road projects a boon for villagers
Share - WeChat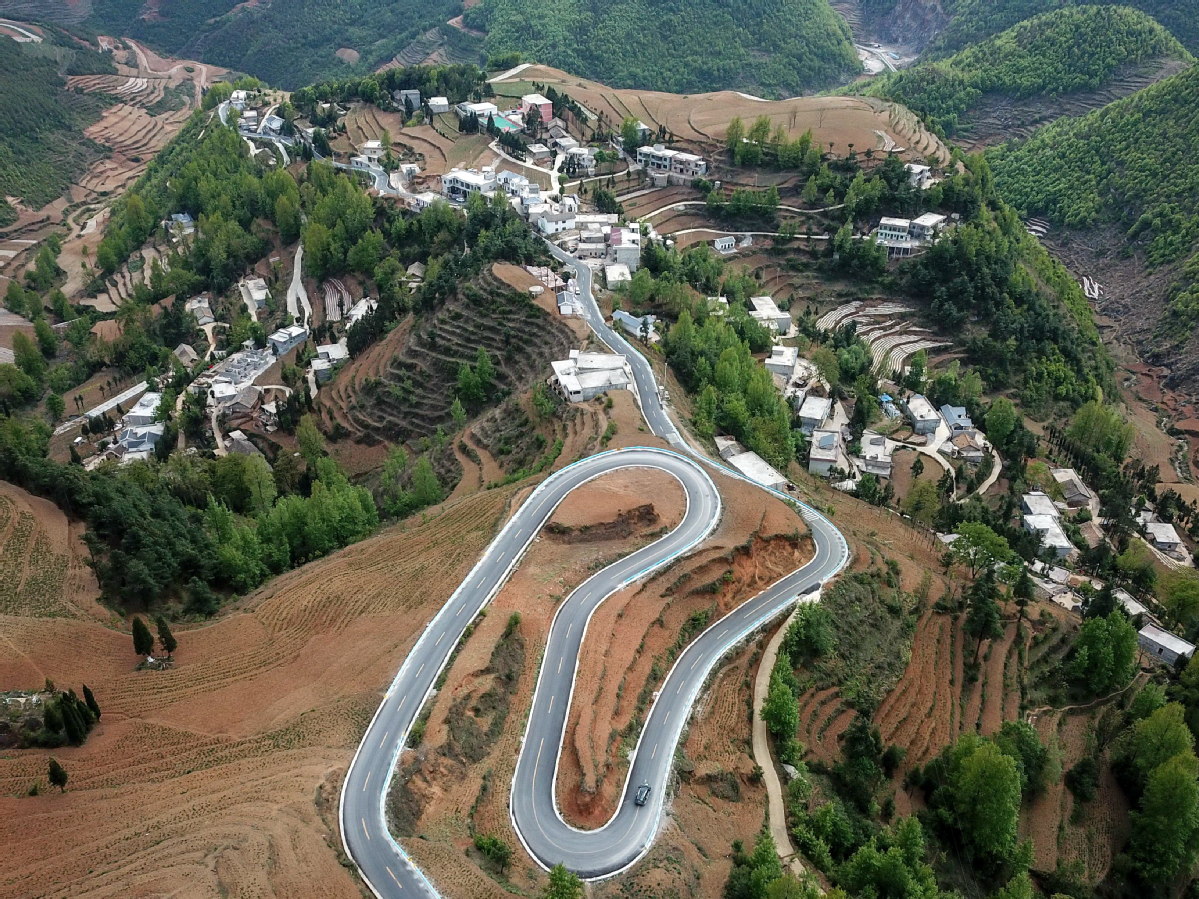 Every day before 7 am, Yao Wenqian, a 33-year-old native of Bijie city, Guizhou province, leaves home with his pickup truck loaded with fruit and vegetables to peddle in local villages.
After selling out of his produce by about 6 pm, he then drives to wholesale markets in town to refill his stock. Yao said he makes 7,000 to 8,000 yuan ($1,000 to $1,143) a month from the trade.
Compared to the years he spent as a migrant in other provinces, the father of four said his current job is "much better" as he doesn't have to make a living far from his family.
According to Deng Fen, Yao's wife, he is one of the many locals who took advantage of improved road conditions and started peddling vegetables over the past two years. Their professions were made possible by a project Guizhou initiated in August 2017 to build more roads with hard surfaces inside villages to facilitate traffic.
The project, completed in June 2019, saw 78,700 kilometers of road constructed, benefiting 11.6 million villagers.
Guizhou has an area of about 176,000 square kilometers, most of it mountains and valleys that once posed a prominent challenge for locals, separating people even living in the same village.
As a result, the province has made great efforts to create a web of roads and connect settlements scattered in the hilly terrain.
According to Zhang Jie, head of the department overseeing construction and maintenance of highways in rural areas under Guizhou's highway bureau, the province completed work to extend tar or concrete roads to every town in 2012.
Further, Guizhou managed to cover all its counties with expressways by 2015 and link all villages with tar or concrete roads by 2017, Zhang said.
The province then proceeded with the 2017 project so that as many villagers as possible could enjoy smooth roads at their doorsteps, which in turn encouraged more of them to start or expand their own businesses.
Yao and Deng remember the days when there were not enough roads to drive on in their hometown. Cars would get stuck on the bumpy and steep trails, which turned muddy and slippery when it rained, making it difficult to control the vehicles.
Now, Yao's vegetable truck travels more than 100 km a day, able to reach most local households, according to the couple.
For Zhang, road construction plays an indispensable role in poverty eradication by allowing villagers to make better use of the rich natural tourism resources of Guizhou and transport their agricultural produce to markets more quickly, thus furthering the development of tourism and farming industries.
In short, sound road infrastructure helps "turn resources into cash in the shortest time possible", Zhang said.
Guizhou's efforts to improve its road infrastructure continues. By the end of 2019, its expressway mileage exceeded 7,000 km. In a notice issued in July 2018, it set a goal of expanding it to more than 10,000 km by 2022.