Iconic tourist hotspot given an injection of youth
Share - WeChat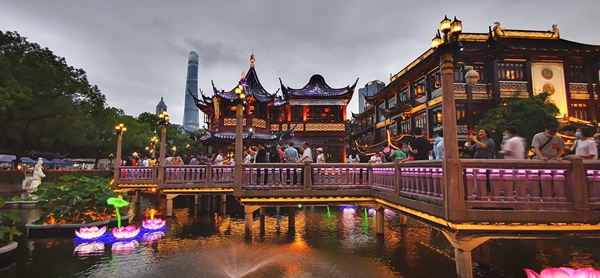 The famous Yu Garden is using pop-up stores and live performances to draw younger visitors, Xing Yi reports in Shanghai.
With a history spanning more than 400 years, Yu Garden has always been a popular international destination in Shanghai.
But many Shanghai residents, especially those from the younger generation, view the place as a tourist trap that is best avoided.
But this summer, the garden space has been given a jolt of youthful vitality after the introduction of pop-up markets and cultural performances.
In July, Yuyuan Inc, the company that manages the property, launched a summer festival to imbue the historical site with a modern twist that is more palatable to young people.
Colorful carts selling food and souvenirs have popped up in the main shopping area and young adults who have embraced the hanfu trend-wearing traditional Han clothing from centuries ago-can be seen roaming around the premises.
"I have been to Yu Garden countless times since college with friends who came to tour Shanghai, but this is the first time I am a part of the scene," says Zhang Danqing, a hanfu enthusiast.
"Unlike nearby Suzhou and Hangzhou, which have many traditional Chinese parks and gardens, Shanghai is a modern metropolis-this makes such an experience more meaningful," she adds.
Despite its name, Yu Garden comprises not only a garden but also the neighboring City God Temple and a 20,000-square-meter shopping complex that used to be a bazaar during the Qing Dynasty (1644-1911).
The garden segment was originally built by the Ming Dynasty (1386-1644) government official Pan Yunduan, who had meant for the space to be an idyllic abode for his father to enjoy his twilight years.
Beside the garden is the City God Temple, an ancient structure from the Ming Dynasty that was dedicated to Qin Yubo, a scholar of the imperial academy who was venerated as the "city god", who oversaw the safety, health and wealth of its residents.