Iconic tourist hotspot given an injection of youth
Share - WeChat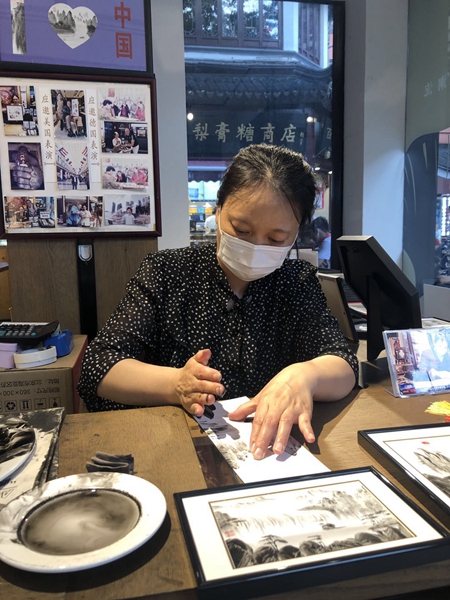 In the store LuShanghai, a wall of T-shirts with designs featuring Chinese and Shanghainese cultural symbols has been erected to draw customers. The store also has an ongoing exhibition featuring T-shirts with Chinese zodiac signs interpreted into different design styles like steampunk, tai chi moves and origami.
At China Craft for Design Life, a souvenir store that combines traditional handicrafts with modern design, artisans have been invited to set up studios and sell their works.
Palm painter Zhu Yongchun, one of the in-store artists, created a traditional Chinese black-and-white painting using only her palms, fingers and nails.
"I started out with ink-and-brush painting when I was 15, and later developed the palm-painting technique with my husband," Zhu says, adding that she has been working in Shanghai since 2005.
"Foreigners really like my work," she says."To better communicate with them, I've started learning English online in my spare time."
Xu Xiaoliang, chairman of the board of Yuyuan Inc, told National Business Daily in May that the company has accelerated the rebranding of the 16 time-honored brands in the garden to make them more appealing to young people.
"The Chinese aesthetic is undergoing a revival, and young people's growing interest in culture has provided us with a great opportunity to evolve," he says. "Old brands shall not only be preserved, but also reinvented into cool, fashionable and hip entities."