Documentary exposes county's costly vanity projects
Share - WeChat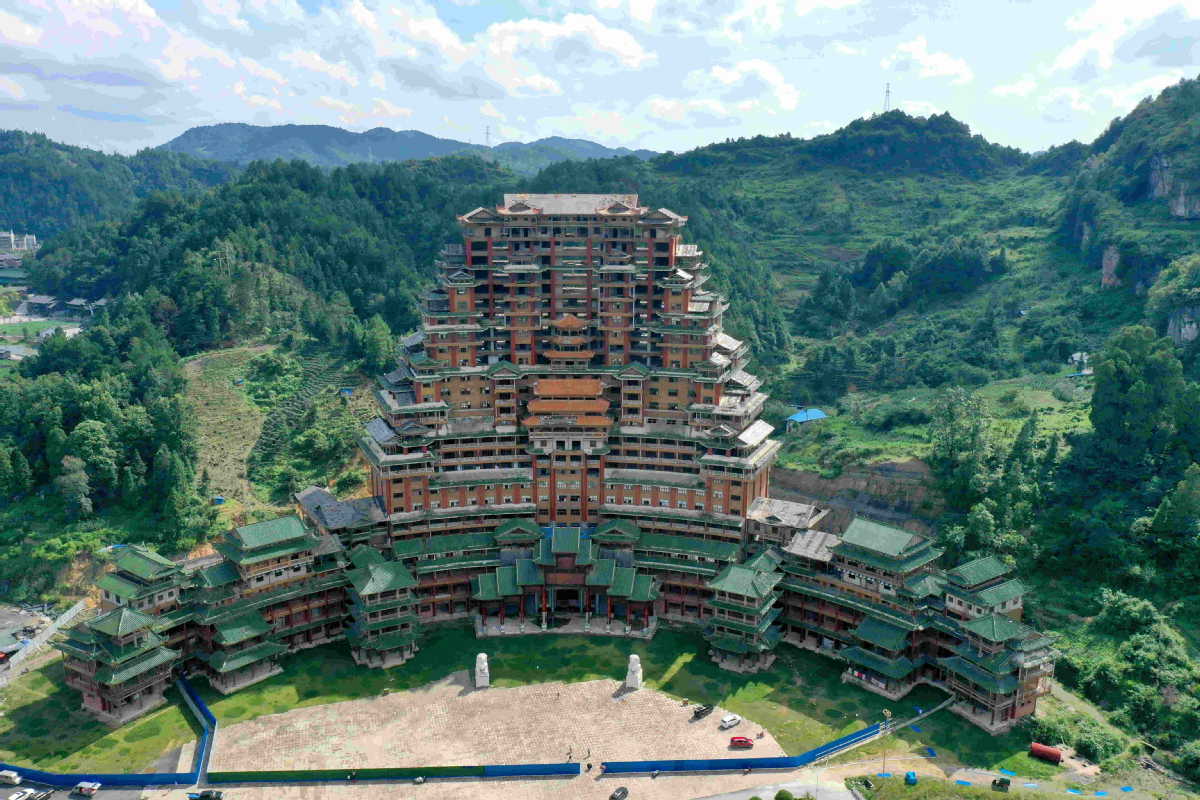 A county in Guizhou province is sparking public controversy after a recent documentary revealed that vanity construction projects in the region cost billions of yuan that the local government could not pay back.
In the 22-minute documentary posted by Guan, a short-video production studio, on its Sina Weibo account on Monday, dozens of construction projects in Dushan county, including man-made scenic sites and industrial parks that were part of an official push to develop the local economy, were discovered to be mostly unfinished, standing idle and desolate, with few visitors in sight.
The documentary claimed that these extravagant and half-baked projects have plunged Dushan into more than 40 billion yuan ($5.7 billion) in debt, questioning the logic of squandering so much money in a county that consists of just eight townships and a total population of 360,000.
The post quickly went viral on Chinese social media platforms, outraging many netizens.
For example, someone commented that, "with all this debt, the county could have easily built boats and infrastructure and boosted industries".
By Wednesday, the post had been forwarded more than 90,000 times, and the documentary had been viewed more than 27 million times.
On Tuesday, the county government issued a statement on its website, noting it has been taking measures since 2019 to solve problems with the previously established vanity projects.
So far, 18 of the projects have been completed, while 32 remain under construction and 17 are scheduled for redesign, it said.
After learning about the problems, it added it will strictly carry out local regulations on government investment and project management, purify the political environment, regulate the policymaking process and intensify project inspection to prevent similar vanity in the rectification.
But the government neither gave a clear response to the exact amount of its debts nor how the unfinished projects would be used.
The county's debt crisis hit media headlines last year when the official newspaper of the nation's top anti-graft watchdog reported Dushan's fiscal recklessness as an example of public officials misusing their authority and abusing their power.
In August, Pan Zhili, former Party secretary of Dushan, was placed under investigation for "serious violation of disciplines and laws", according to the provincial discipline inspection and supervisory commissions.
Pan was found to have refused to implement the central leadership's guidelines on land protection, causing lots of farmland to be illegally used or occupied.
Further, he blindly borrowed money to develop projects, leading to accumulation of the county's debt, the commissions said.
He was also suspected of making use of his post to help others earn profits and then accept bribes in return, the commissions added.
He has since been charged with taking bribes and abusing power, but a ruling has not been announced since his case was heard in the province in December.