Record new COVID-19 cases, surging hospitalizations, rising deaths hit US
Share - WeChat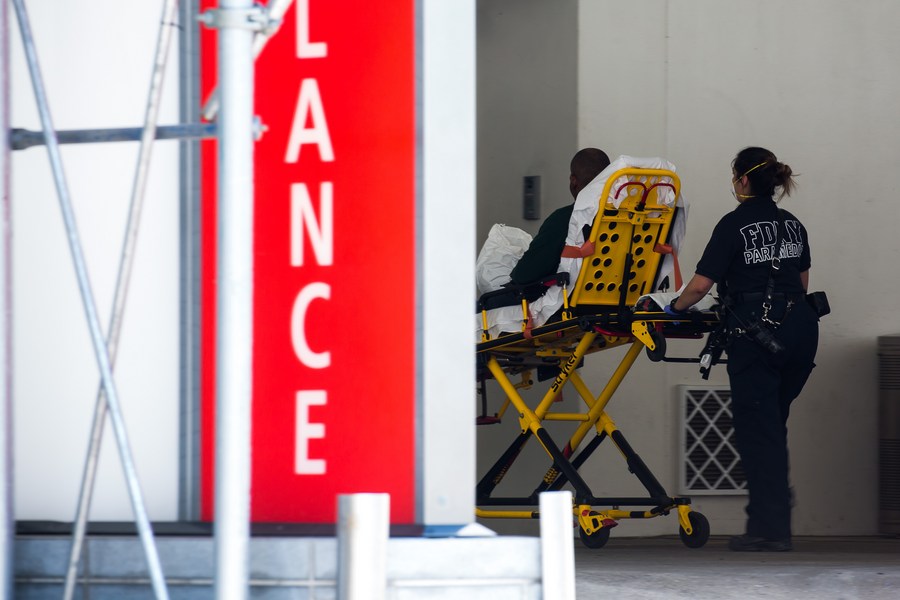 WASHINGTON — The United States has set an all-time record for new COVID-19 cases for the third week in a row, confirming more than 367,000 new infections this week, while the number of hospitalizations and deaths has also seen a rapid rise, according to the COVID Tracking Project.
The South continues to be the epicenter of surges in both cases and hospitalizations. In Arizona, Florida, South Carolina and Texas, COVID-19 deaths have begun to climb following jumps in new cases. For the first time since April, deaths are rising nationally, according to data of the tracking project.
The number of people hospitalized with COVID-19 grew 18 percent this week, nearly as rapidly as cases. For the first time since April, the number of deaths nationwide also rose week-over-week, driven by an increase in four southern and southwestern states, data showed.
The project combined figures from the five states with the worst outbreaks -- Arizona, California, Florida, South Carolina, and Texas -- and the seven-day average of reported deaths has risen 51 percent since June 8.
More than 43,000 people are currently reported to be hospitalized with COVID-19 in the United States, according to the tracking project.
As the worst outbreaks in the United States continue to heat up, issues with testing availability and access have once again arisen in nearly every aspect of the testing supply chain, according to a report of ABC News.
In California and Nebraska, some testing sites were forced to close down because of a shortage in testing kits, chemical reagents, and other supplies. Arizona and South Carolina reported slower turnaround times for test results from labs due to lack of capacity.
State, local and hospital officials at 13 states said they are experiencing some sort of issue with testing, and in all instances, the shortages and delays contribute to effectively limiting the number of Americans with access to coronavirus testing, which experts have long said is a first key step to stemming the spread of the virus, according to the ABC News report.
More than 3,144,000 COVID-19 cases have been reported in the United States with the fatalities surpassing 133,600 as of Friday afternoon, according to a tally by Johns Hopkins University.