Hard rock hotel Dalian takes center stage this summer
Share - WeChat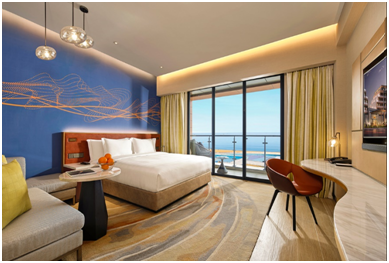 Globally recognized as a world-class entertainment and lifestyle brand, Hard Rock International announced the opening of Hard Rock Hotel Dalian at Dalian Golden Pebble Beach Tourist Resort in Northeast China's Liaoning province, on Wednesday. Seamlessly integrating its signature music-infused energy with innovative and authentic services, Hard Rock Hotel Dalian brings a fresh new breeze to this beautiful coastal city in China.
The hotel opened its doors with the unveiling of the iconic guitar sculpture on Golden Pebble Beach, followed by an electrifying performance from a hard rock band as the iconic grand finale. Distinguished guests from Hard Rock International, Luneng Group, Dalian municipal government, Dalian Golden Pebble Beach Administrative Committee and the media all gathered at the opening ceremony to witness and to celebrate this exciting new addition to the brand.
The health and safety of guests and team members remains the hotel's top priority; as such, the hotel will open in compliance with all local regulations, government guidelines and Hard Rock's new SAFE + SOUND program.
Developed by a team of hospitality experts in collaboration with worldwide health and sanitization specialists, the SAFE + SOUND program is a series of carefully developed protocols ensuring the highest standards of hygiene and cleanliness. These practices are being implemented across the brand's portfolio and includes a 272-point inspection upon opening.
Hard Rock Hotel Dalian is the brand's second hotel in China, after Hard Rock Hotel Shenzhen, opened in 2017. This new hotel is conveniently located in the Golden Pebble Beach Tourist Resort, within walking distance to Discoveryland Theme Park and Luneng Meilihui Commercial Complex. The hotel features 210 rooms and suites designed to provide an oasis of relaxation, complemented by balconies and stunning views of the beach and the Yellow Sea.