Elevating a mountain's magic
Share - WeChat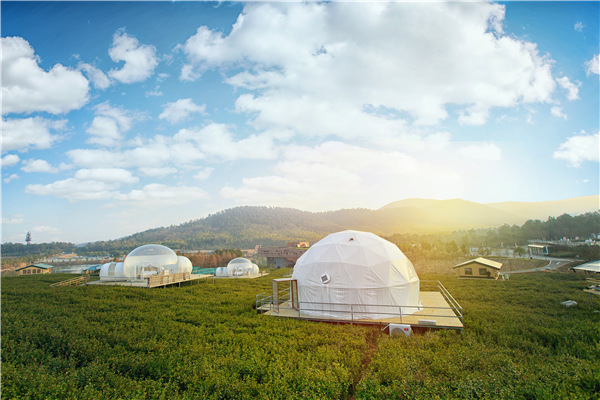 Improved development is bringing increased numbers of visitors to Maoshan to enjoy much more than just the holy Taoist peak.
Tourists are again flocking to Jiang Fangjun's farm since the COVID-19 epidemic was brought under control in April. About 2,000 tourists visited his place, the First Farm, during the May Day holiday, 20 percent more than during the holiday last year.
Jiang's farm sits in the Maoshan Mountain scenic area in Jiangsu province's Changzhou city. It offers immersion in nature and fresh air while guests are surrounded by forests and bodies of water.
"It seems like the result of a pentup desire to travel and spend," Jiang says.
Most visitors are from neighboring cities, including Jiangsu's capital, Nanjing, and Shanghai.
Programs featuring forest and farm experiences are especially popular with children, Jiang says. They can feed small animals, plant vegetables, grind soybeans to make soymilk and make paper the old fashion way.
"We added these programs to ensure tourists can enjoy a full vacation here," Jiang says.
Jiang founded the farm in 2011, with the idea of developing organic agriculture, growing vegetables, fruit, grain, tea and traditional Chinese herbs.
"Everything was clean, from the water to the air," he says.
However, transportation wasn't convenient then. So, few tourists passed through.