Domestic sales platforms may ease woes of exporters
Share - WeChat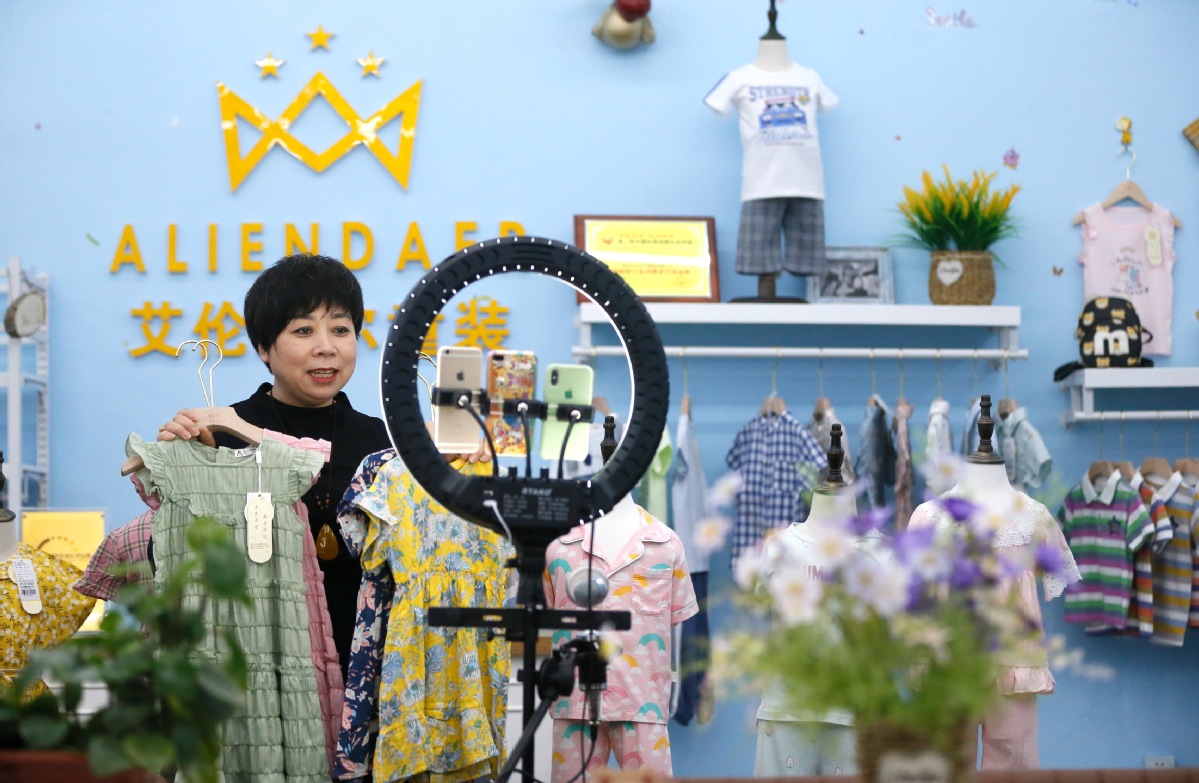 China will help export-oriented companies to set up platforms for domestic sales and encourage them to participate in the country's big-ticket investment projects to offset the shortfall in revenue from exports due to the COVID-19 epidemic and inject fresh momentum, officials said on Tuesday.
They made the remarks after the State Council (China's Cabinet) issued a circular in late June to introduce measures to help exporters sell products domestically and help the foreign trade sector overcome difficulties.
The government will support domestic exporters to better connect with e-commerce platforms focusing on domestic sales and offer them more access to take part in the country's "new infrastructure" and new urbanization initiatives, as well as other major projects to seek new growth points, said Yang Guoliang, deputy director-general of the department of foreign trade under the Ministry of Commerce.
He said there is great growth potential for export products to be sold domestically. The growing internal market demand will provide an attractive domestic market for exporters, such as agricultural products, electronic appliances, light industry, textiles and clothing.
Domestic manufacturers are encouraged to make products on one production line, using the same standards and the same quality requirements for both foreign and domestic markets, to cut costs and achieve the transformation from exports to domestic sales. The policy will be expanded to the fields of general consumer goods and industrial goods, according to a newly released government document.
He said China will not only guide foreign trade companies to participate in the construction of major industrial and communication projects to widen their sales channels via the leading role of effective investment, but also accurately meet consumer demand by encouraging them to develop the right products, create their own brands, make full use of new sales models, and promote the integration of online and offline businesses.
China's major investment projects in various regions will certainly create fresh opportunities to export sectors, such as precision instruments, mechanical and electrical equipment, said Li Danghui, deputy director-general of the ministry's department of market operations and consumption promotion.
The ministry will encourage foreign trade firms to meet the needs of consumption upgrade in the domestic market by developing readily marketable goods through big data, industrial internet and other technologies, she said.
To further restore the earnings strength of exporters, Li said the Ministry of Commerce will launch a number of nationwide consumption promotion activities in the second half of this year, to broaden Chinese exporters' domestic sales channels and further assist them in connecting with the nation's commercial enterprises and e-commerce platforms.
These moves will help China stabilize foreign trade, its expectations for economic growth, and maintain the employment rate and protect market players, said Lin Shaobin, deputy director-general of the department of enterprise management and audit-based control under the General Administration of Customs.
Under this new circumstance, experts said the competitive advantage of China's original design manufacturers, or ODMs, will be stronger than original equipment manufacturers, or OEMs, in terms of selling their products in the home market, because ODMs have capabilities in both production and design processes.
"ODMs with research and development capabilities usually rely on their own design teams to get orders from their foreign clients. Many Chinese firms' production research and development ability can even reach the global level, especially in China's Guangdong and Zhejiang provinces," said Sun Fuquan, a researcher at the Chinese Academy of Science and Technology for Development in Beijing.
Therefore, many Chinese players in this category have already gotten rid of the OEM status and become high-end production forces in the traditional market of industrial goods, said Zhuo Xian, a researcher at the Development Research Center of the State Council in Beijing.