Top wingsuit flyer sails carefully into success
Share - WeChat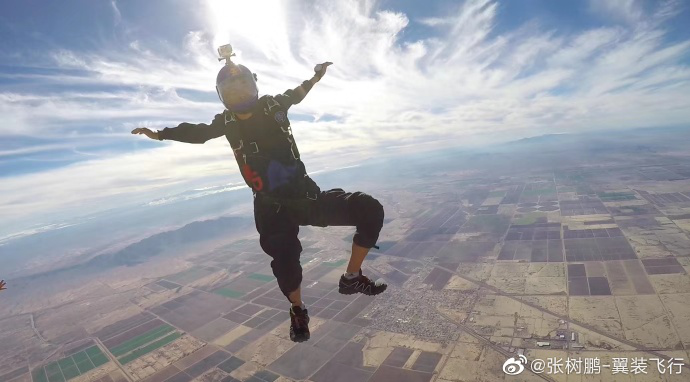 With tanned skin and strong muscles, Zhang Shupeng, 35, looks more mature than his real age due to his long sun exposure outdoors. Routinely leaping off the ground from high above and staying airborne for stunts, he has taken extreme sports as a career since he first practiced parasailing in 2004. Now, he is more frequently touted in headlines as the "No 1 wingsuit flyer in Asia".
"There are quite a few wingsuit daredevils in China, but I'm the only one who excels at the sport," Zhang jokingly said.
In mid May, a female flyer plunged from a helicopter in Tianmen Mountain in Zhangjiajie, Hunan province, but later was found dead after days of searching. The horrifying news catapulted the niche sport — previously little known to most Chinese but one that had gained popularity among younger generations in recent years — into the limelight, and also generated intense skepticism on social media.
In an interview with China Daily, Zhang Shupeng, the first Chinese wingsuit flyer to compete in the World Wingsuit Championships and win a silver medal for the target competition event, talked about his views on extreme sports safety and the booming landscape of the field in China.
An experienced wingsuit pilot, Zhang doesn't appear to be a typical adrenaline junkie, full of flamboyance. On the contrary, the taciturn skydiver comes across as particularly meticulous and serious through his each and every word. He loves challenges but, from his perspective, that's not necessarily equal to taking risks. And he never tries risky moves beyond his capabilities. "I always feel there is no dangerous sport, only dangerous people," he said.
The flyer follows his own rules: Only practice in an orderly manner.
Zhang was one of the early adopters of the sport in China. Back in 2011, American pilot Jeb Corliss winged his way through the giant Tianmen Hole in the Zhangjiajie mountains, marking the entrance of the sport into China. A year later, Zhang decided to try skydiving through wingsuit flying because he was enchanted on the spot by the thrill-seeking "batmen" in the first WWL China Grand Prix races. At that time, he was a member of China's national paragliding team, boasting eight years of flying experience. But the world record-holding paraglider chose to spread his arms and start from scratch.
To learn wingsuit flying, the pilot from North China's Inner Mongolia autonomous region flew to Arizona in the US for base jump lessons, learning parachuting to get a wingsuit flying license.
The learning process requires patience and comes with different stages. Two hundred skydives are a prerequisite. Then you can start learning high-altitude wingsuit flying. One can't practice low-altitude skydives until after completing 400 high-altitude wingsuit flights and skydives, or try low-altitude wingsuit flying until after making 100 low-altitude skydives. For Zhang Shupeng, he was finally able to do his maiden jump at Tianmen Mountain for the Championship in 2016, a learning curve regarded as the "fastest in the world" by his mentor.
"It could be a sport where, when you follow its rules to improve step by step, it can be safe for you," said Zhang.