Televised reality show break the mold
Share - WeChat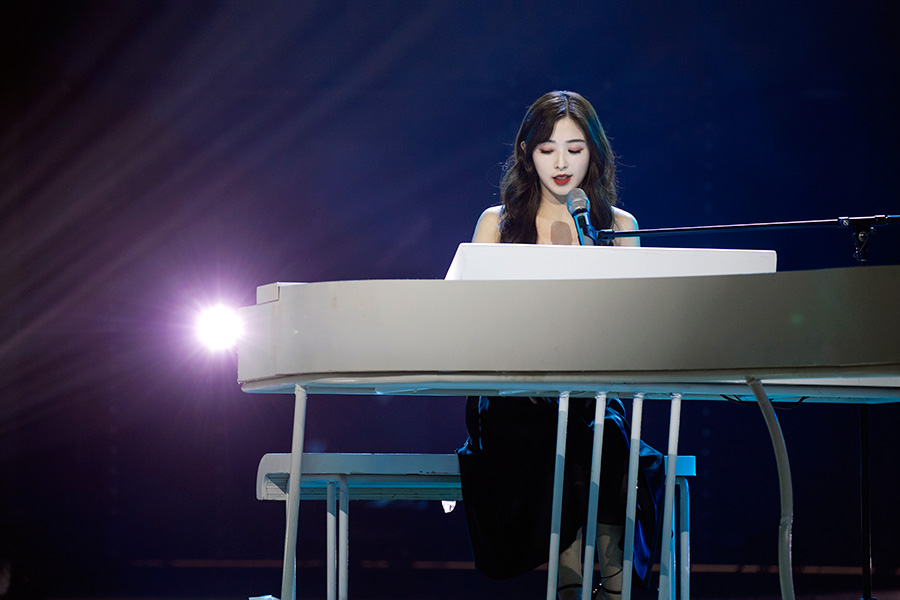 Before Sisters premiered, Youth With You Season 2 had just ended on the video streaming platform iQiyi on May 30, with the birth of The 9, a new girl pop group. Since premiering on March 12, topical news and articles relating to Youth With You Season 2 have been viewed more than 2 billion times.
The public voted for the nine finalists out of 109 contestants, including Liu Yuxin, the overall winner with 17 million votes, and Yu Shuxin, who finished second with 13 million votes.
The finalists were born from 1995 to 1997, and the average age of all the contestants was just 22.
Instead of a typical sweet-girl image, Liu Yuxin, 23, wears her hair short and dyed, rather than long, straight or curly. She also favors pantsuits rather than miniskirts, and is shy but aggressive onstage.
She learned street dance when she was 10 and stood out among her peers with her singing, dancing and rap performances.
Liu took part in Up! Juniors on Hunan TV in 2012, and the following year appeared on a dance reality show produced by Dragon TV in Shanghai. In 2015, she joined the seven-member girl group Lady Bees, releasing an album two years later, which failed to receive much attention.
Wu Han, producer of Youth With You Season 2, said: "The show focuses on the concept of creating infinite possibilities. We don't define. In auditions, we look for a contestant's personality and attitude.
"There is heightened awareness of women's independence in Chinese society. The show aims to present young Chinese women from different perspectives. They are more than cute or sexy, and we want to show their diversity," Wu said.
In recent years, major streaming platforms have produced male and female pop groups through reality shows, providing new blood for the entertainment industry.
For example, the 11-member female group Rocket Girls 101, fronted by Wu Xuanyi and Meng Meiqi, started life in 2018 on video platform Tencent's reality show Produce 101, in which 11 finalists were selected from 101 contestants.
Cai Xukun, who was born in 1999, shot to stardom after winning the iQiyi reality show Idol Producer in 2018. He now has more than 30 million followers on his Sina Weibo account and is a coach and judge on Youth With You Season 2.
When Wang Ju appeared on Produce 101 in 2018, she generated a huge buzz on social media platforms. Instead of looking like a typical female pop idol, with a slim figure and pale complexion, Wang, who was 25 at the time, was tanned and had a fuller figure.
Although she wasn't among the 11 finalists, she won a large fan base with her comments such as, "Being yourself is what makes a girl beautiful."
Jimmy Guo, founder of a cultural company in Beijing that trains aspiring pop stars, said: "Pop groups have the same dance moves. What helps them stand out is their personalities and distinctive features. The goal is to let people see you. You have to have something to be remembered by.