Handset makers look to make hay as demand for 5G phones surges
Share - WeChat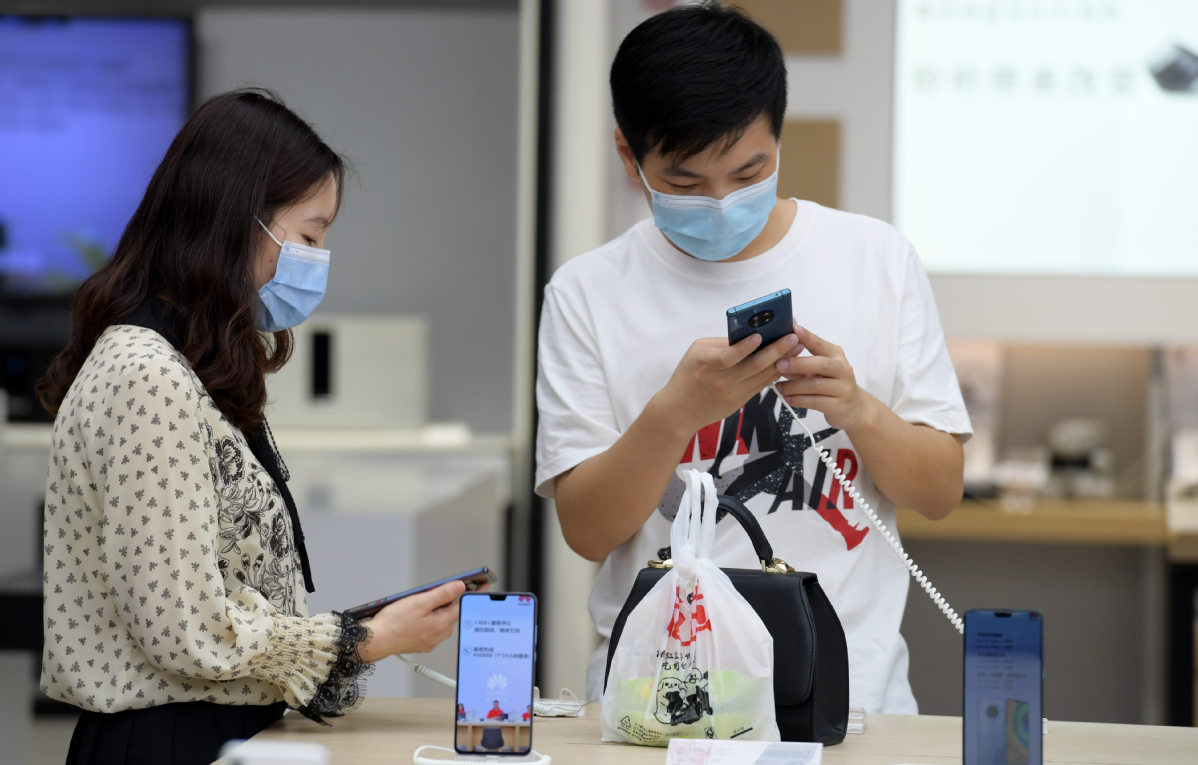 Competition among handset makers has intensified in China as the rising demand for 5G smartphones is prompting companies to attract users with price reductions and other incentives.
Indications that consumers are showing an inclination for 5G phones became evident after companies reported record sales on online platforms during the ongoing June 18 shopping carnival, which started on June 1.
E-commerce giant JD, which promoted the campaign, said iPhone sales surpassed 100 million yuan ($14 million) within five seconds after the clock struck midnight on June 1 and total revenue from smartphone sales stood at 1.5 billion yuan on that day.
Oppo, a leading handset maker, said it has launched 5G smartphones that can be used to record videos in dark conditions. The company's Reno 4 series features a wide lens which can produce stable clips and cameras that can take high-quality videos in darkness.
The move is part of Oppo's broader efforts to stand out during the transition from 4G to 5G. Liu Bo, head of Oppo's China business, said in April that all the smartphones launched by the company this year in the country will support 5G connectivity.
"We are determined to embrace the 5G era," Liu said, adding that the company will make more devoted efforts in product development and marketing resources to stay ahead of the competition.
In April, 5G smartphone shipments in China stood at 16.38 million units, up 164 percent on a monthly basis, and accounted for 39.3 percent of the total shipments, according to the China Academy of Information and Communications Technology, a government think tank.
Honor, one of the two signature smartphone brands of Huawei Technologies Co, unveiled its latest 5G smartphone earlier this month with features like infrared temperature detection. The company claims that the feature will enable consumers to better track their health status amid the COVID-19 outbreak. The Play 4 series can measure temperatures ranging from -20 C to 100 C, the company said.
The move came as Huawei, the world's second-largest smartphone maker, said it accounted for 55.4 percent of China's 5G market during the first quarter of this year.
In May, Redmi, a smartphone brand of Xiaomi, unveiled the lowest-priced 5G smartphones so far in China at 1,599 yuan. Experts had earlier said that 5G smartphones priced under 2,000 yuan won't hit the market until the end of this year.
Xiang Ligang, director-general of the Information Consumption Alliance, a telecom industry group, said 5G smartphones are already witnessing a price war due to the intense competition.
"With China set to achieve 5G coverage in more than 300 cities by the end of this year, consumers will become more inclined to buy 5G smartphones, rather than 4G smartphones," Xiang said.
The demand for 5G smartphones is the strongest in China, despite the COVID-19 disruptions in production and supply chains, according to market research company Strategy Analytics.
Chinese smartphone vendors accounted for 61 percent of the 5G smartphone shipments by the top five players during the first quarter of this year, with the majority of the volume going to the Chinese market, Strategy Analytics said in a report.
"This reflects the speed with which Chinese operators have rolled out 5G networks, as well as the underlying demand for 5G smartphones," Strategy Analytics said. "As China continues to ramp up economic activity, we expect 5G shipments to expand this year."
Wen Ku, an official from the Ministry of Industry and Information Technology, the nation's top telecom industry regulator, said last month that over 200,000 5G base stations have become operational in China, and the nation had more than 36 million 5G mobile subscribers by the end of April. Currently, more than 10,000 new 5G base stations are being built in China every week, the ministry said.