Challenge remains as nation tries to scrap absolute poverty
Share - WeChat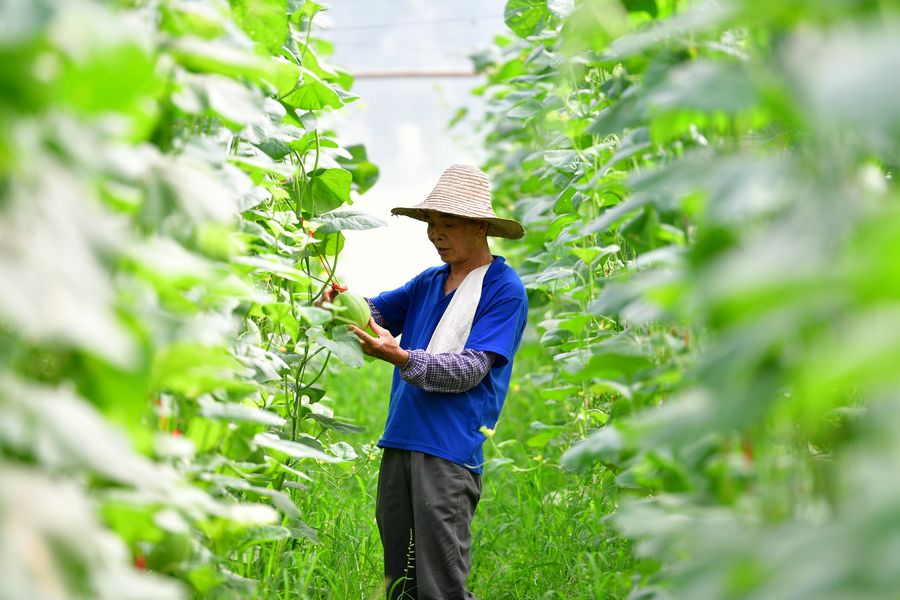 Premier casts spotlight on 600 million Chinese who earn 1,000 yuan a month

While China is close to eliminating absolute poverty, experts say figures released by Premier Li Keqiang last month show that much work needs to be done to give many Chinese people a decent life.
While speaking at a news conference after the end of the annual session of the National People's Congress in Beijing late last month, Li cast a spotlight on the scale of China's low-income population, saying about 600 million Chinese earn about 1,000 yuan ($141) per capita a month-barely enough for rent in mid-sized cities.
He lamented that the COVID-19 outbreak, which has been largely brought under control on the Chinese mainland, has made the lives of people in low-income communities even harder.
The premier was referring to the loss of jobs triggered by the widespread suspension of production and canceled overseas orders due to the pandemic.
The new figure has shed light on the size of China's vulnerable population.
"The 600 million low-income people had long hidden behind the average figures," said Yan Jirong, director of the Institute of Public Governance at Peking University.
Though their income is above the official poverty line, their lives remain difficult, and they can only maintain a basic living, not a decent life, he said.
An analysis of public income data by Beijing Normal University's China Institute for Income Distribution shows rural residents account for 75.6 percent of people earning less than 1,090 yuan a month.
Among the 600 million low-income population, 36.2 percent are in the central provinces and 34.8 percent in western regions, the Institute for Income Distribution said.
Analysis by the institute found that poor rural families are usually large, with multiple seniors and children to support.
Meanwhile, many rural workers are illiterate or dropped out of the education system before finishing primary school. Some work in self-sufficient family workshops, some are unemployed and others have never entered the job market.
Wang Sangui, director of the National Poverty Alleviation Research Institute at Renmin University of China, estimated some 40 percent of rural residents were in the low-income group, given last year's median per capita disposable income of rural residents was about 1,200 yuan a month.
"The industry is so weak in rural areas that it cannot generate enough income for rural residents," he said.
Yan added that the group may also include impoverished communities in smaller cities, where job opportunities are less abundant.
The novel coronavirus epidemic has sharply reduced foreign orders for Chinese products and caused the service sector to shrink, making jobs even scarcer, he said.
The urban poor, though entitled to State benefits, often do not have access to poverty relief programs for poverty-stricken areas, which help farmers develop skills, home-based businesses and other sources of sustainable income.
"To increase impoverished urbanites' income, jobs are the key," Yan said.
The 600 million low-income people who are grappling with relative poverty have surfaced at a time when China is winning its battle against absolute poverty.
More than 700 million Chinese have shaken off extreme poverty since the People's Republic of China was founded in 1949, official figures show.
Among them, more than 90 million have escaped poverty over the past seven years, after China started a sweeping antipoverty drive featuring tailored relief approaches.
Unbalanced development
The massive low-income population stands in stark contrast to China's status as an upper-middle-income country, whose per capita GDP exceeded $10,000 last year.
It also serves as a constant reminder that China remains the most populous developing nation on Earth, despite being the world's second-largest economy.
"We should be well aware that development is unbalanced," Wang said.
"Many big cities can rival developed countries in terms of living standards, while the vast number of rural areas still grapple with extreme poverty."
The uneven development has, over time, materialized into a widening wealth gap, which started to grow more than four decades ago as a side effect of the country's embrace of the market economy and the prioritizing of development of coastal regions.
A central bank report released last year on family assets shed some light on the disparity among city dwellers.
The report found that among some 30,000 urban families surveyed, the wealthiest 20 percent owned 63 percent of the total assets, compared with just 2.6 percent by the poorest 20 percent.
Though rural families were not surveyed, the report also shed light on a sharp urban-rural divide.
The average value of an urban family's assets was 3.17 million yuan last year, the report said. But central government figures show that by the end of 2019, more than 5 million farmers had yet to escape absolute poverty-defined as earning about 3,218 yuan a year, or just 268 yuan a month.
Experts have hailed the nation's rural revitalization strategy as a way to bridge the gap. The strategy, put forward by President Xi Jinping in late 2017, was intended as a major development plan for rural areas after absolute poverty is eradicated this year.
Wang said to revitalize the countryside, continuous efforts are needed to empower poor rural people through better education and affordable healthcare.
A better social security system is also essential for seniors, the disabled and other rural people who are unable to work, he said.
"At the same time, when making macroeconomic policies, the State should tilt toward the low-income population," he said, citing the policy of allowing vendors' stalls to appear on streets to boost local economies.
Zou Shuo contributed to this story.