Rural e-commerce drive presses ahead
Share - WeChat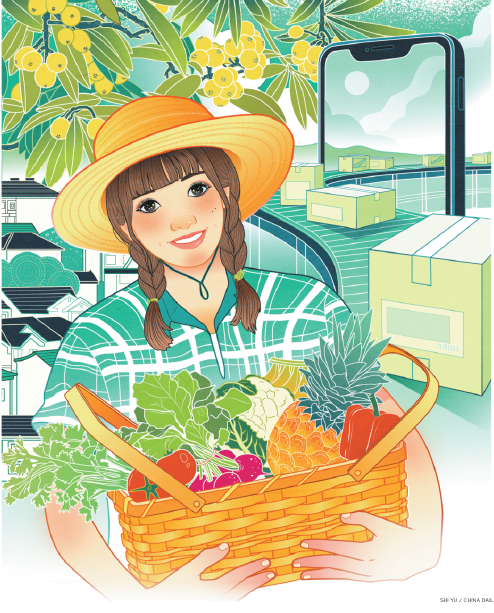 Modern transport infrastructure and the latest information technologies seen as key to development

The central government is pressing ahead with an initiative to bolster the growth of e-commerce in rural areas this year, with measures to help develop logistics and public services and offer more training courses to farmers.
A government notice published on June 1 said it will continue to energize market players in rural areas, help with the sales of agricultural products to cities and facilitate the smooth flow of industrial products to rural areas this year.
The notice, jointly issued by the ministries of finance, commerce and the State Council Leading Group Office of Poverty Alleviation and Development, said authorities must prioritize efforts to refine policies, improve infrastructure and public services and develop a good business environment for rural e-commerce to support the country's poverty reduction campaign and the rural vitalization strategy.
It is the seventh consecutive year that the central government has come up with plans to support the development of e-commerce in rural areas. The initiative has supported 1,180 counties around the country so far.
Online sales of agricultural products reached 397.5 billion yuan ($56.1 billion) last year, up 27 percent year-on-year, according to the Ministry of Commerce. The number of online sellers in rural areas reached 13.84 million, with the number of internet users exceeding 250 million, according to official figures.
Wang Bingnan, vice-minister of commerce, told a news conference last month that despite persistent input from authorities in recent years, the development of rural e-commerce still faces challenges such as unsatisfactory industry and supply chains, high logistics costs and a shortage of talent.
The latest plan highlighted the importance of establishing modern logistics systems in keeping with the development of industries in different counties and exploring the application of modern information technologies such as big data, cloud services and blockchains to enable the integrated development of different sectors.
Impoverished areas will receive support to reinforce their weak infrastructure and employ e-commerce to expand sales channels for agricultural products. Areas with good infrastructure will be given incentives to promote the industrialized development of rural e-commerce to help farmers increase their incomes and bolster their spending.
The government departments will select a host of counties around the country to pilot their own models of e-commerce development and enable their experience to be introduced to other areas. The pilot programs will be supported by a special, centrally financed fund.
To boost the development of logistics systems at county, township and village levels, the government will encourage service providers to share their resources and integrate logistics in the express delivery, trade and transport sectors while improving efficiency and lowering costs.
In developing systems for the delivery of public services, authorities will coordinate the development of services in branding, standards, quality control, financing, logistics and training, and foster a number of name brands for agricultural products, the notice said.
The plan also pledged to offer e-commerce training to rural migrant workers who have returned home, college graduates, military veterans and households living below the poverty line, including the skills needed to use livestreaming platforms and social networks to promote products.
Shen Xuefeng, a researcher at the Chinese Academy of Fiscal Sciences, said a highlight of the plan is that it gives more priority to the market playing a decisive role in the allocation of resources.
Despite its important role in improving infrastructure and offering public services, the government cannot replace the primary role of rural residents in promoting the development of e-commerce, he said.
The COVID-19 pandemic has had a severe impact on the rural economy, he said, with many agricultural businesses facing difficulties in financing, hiring and marketing.
Measures to reduce logistics costs will significantly lower their corporate burdens, he added.
"The measure to offer e-commerce training sessions to returning migrant workers, college graduates, military veterans and poor households will alleviate the pressure on the job market, which has been hit by the pandemic," Shen said.