Unmanned machines drive road building
Share - WeChat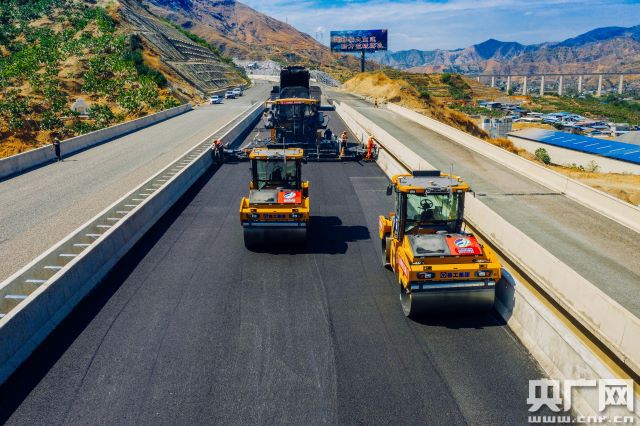 BEIJING-As China's driverless technology booms, highway construction projects have been embracing new helpers.
A fleet of unmanned road pavers and rollers were busily working on the construction of a highway recently that will connect Panzhihua in Sichuan province with Dali in Yunnan province.
Gigantic rumbling vehicles laid asphalt with the help of drivers who acted as coordinators.
Information on the surrounding environment was collected through satellite positioning systems, microwave communications, millimeter wave radar and other sensing equipment installed on the vehicles.
The information was used to help plan the optimal operation paths of the vehicles, which were connected to a remote monitoring data center that sent instructions to coordinate their work.
The unmanned technology was jointly developed by Xuzhou Construction Machinery Group, Sichuan Railway Investment Group and Tsinghua University.
The Panzhihua-Dali Highway is a key part of China's intelligent transportation construction plan, with bridges and tunnels accounting for more than 81 percent of the project. The work requires high construction specifications be achieved, such as the smoothness of sidewalks.
The "brain" of the unmanned driving system was developed by a team of researchers from Tsinghua University, who specialize in intelligent construction.
According to the team, the technology helps the unmanned operation of the construction vehicles under complex working conditions. The precision of the operations is down to a matter of centimeters, which can greatly improve construction quality and save on costs.
The unmanned vehicles can conduct real-time monitoring of the construction sites and are designed with multiple features, including automatic early warning systems, the ability to make emergency stops and avoid obstacles.
Liu Tianyun, one of the researchers, said the successful deployment of the driverless construction vehicles had helped promote the use of unmanned technology and accelerated its integration into construction work.
The Ministry of Transport issued a guideline last month, saying that China will accelerate the application of advanced technologies in road construction and road network management.
The guideline called for better use of 5G communications, high-precision positioning, edge computing and the BeiDou Navigation Satellite System in highway construction and road network management.
"With the help of the 5G network's ultrafast connectivity and low latency, we are expecting more unmanned intelligent construction sites in China," Liu said.
Xinhua