Environmental protection outlook still seen as 'grim'
Share - WeChat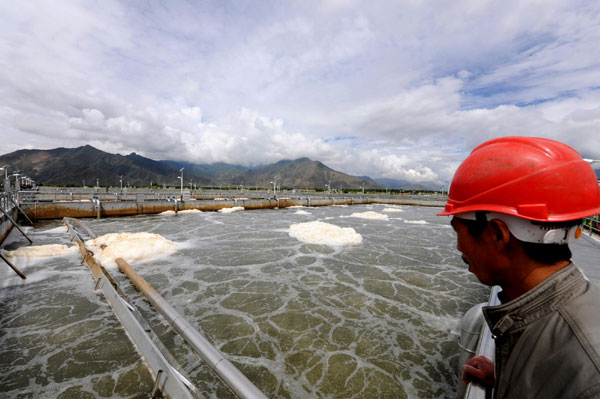 Despite marked achievements in China's environmental progress, the head of the country's top environmental agency warned of a grim environmental protection situation caused by unbalanced industrial and energy-consuming structures on Friday, World Environment Day.
The country has realized seven of its nine targets set for the 13th Five-Year Plan (2016-20) ahead of schedule, said Huang Runqiu, minister of Ecology and Environment, addressing a ceremony in Beijing.
In 2019, the country saw the ratio of surface water with quality at or above Grade III, the third highest in its five-tier quality system for surface water, increase by 8.9 percentage points from 2015. The number of days with fairly good air quality reached 82 percent in the 337 major cities across the country, up by 5.3 percentage points from 2015, he said.
Huang said, however, that the country still shoulders a heavy burden in its environmental progress.
"The country still relies on heavy and chemical industries in its industrial structure, depends on coal in energy consumption and counts on roads for transportation. These have not been changed fundamentally. Neither has the grim environmental protection situation. Environmental accidents still occur frequently," he said.
Comparing COVID-19 to a red warning light to remind mankind to protect nature, Huang stressed that China will never return to a development path that compromises the environment and will unswervingly stick to high-quality development despite challenges posed by the pandemic.
The offerings of nature, such as water and energy, are not "unconditional". "If mankind always takes the offerings for granted and pollutes and damages nature to an extent that is beyond what it can bear, we will inevitably and unmercifully bear the revenge of nature," he said.
"We will protect the ecology and environment as if they were our eyes," he said, adding the country will make proactive efforts to explore the development path that will transform lucid waters and lush mountains into valuable assets and promote the harmonious coexistence of nature and mankind.
The philosophy that lucid waters and lush mountains are invaluable assets was introduced by President Xi Jinping in his visit to Anji, Zhejiang province, in 2005, when he was provincial Party secretary.
"The COVID-19 pandemic made us even more profoundly convinced that man and nature form a community of life. We, as humans, must respect nature, follow its ways and protect it," said Fu Hua, deputy head of the Publicity Department of the Communist Party of China Central Committee, speaking at the ceremony.
He called on people to volunteer, saying that the country should make full use of volunteer services to help enhance people's sense of responsibility and encourage all of society to participate in ecological governance.