Li stresses accessibility, affordability of a vaccine
Share - WeChat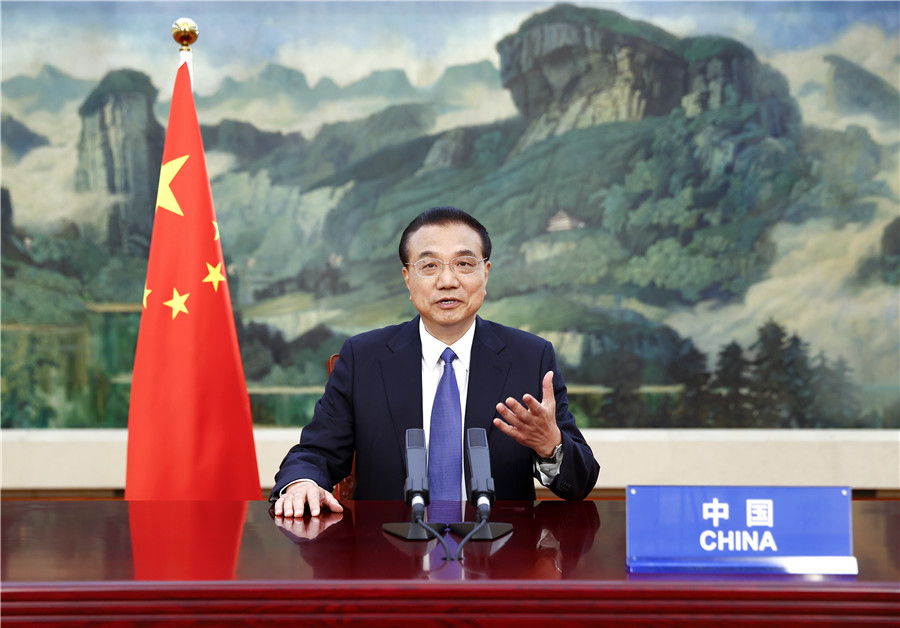 Premier Li Keqiang reiterated on Thursday China's commitment to bolstering international cooperation on the research and development of vaccines for COVID-19 and contributing to ensuring vaccine accessibility and affordability in developing countries.
Speaking at the Global Vaccine Summit via video link in Beijing, Li also extended China's support to Gavi-formerly the Global Alliance for Vaccines and Immunisation-including in the form of donations, to cope with the pandemic's challenges. The virtual summit was held in London and hosted by the British government.
China will encourage its research institutions and vaccine producers to step up coordination with Gavi, a public-private partnership created in 2000, and support its playing an important role in promoting vaccine use, he said. The premier said a vaccine will be a strong shield, and China will continue to support the World Health Organization playing a central role in coordinating vaccine research and development.
He emphasized moving forward with clinical trials of vaccines and enabling the rapid commercial use of R&D results to provide global public goods that are safe, effective and high quality.
China has always put the people first and valued the life of its people more than anything else in the face of the sudden pandemic, and managed to bring the virus under control after an arduous effort from all its people, the premier said.
However, with the pandemic still spreading globally, no country is immune and the health of people in different countries is closely connected, he said.
Li said China will continue to do its best to support anti-pandemic work in other countries, especially developing countries. China announced in May that it will provide $2 billion over two years for COVID-19 response and for economic and social development in affected countries, especially developing countries.
The virtual summit-part of Gavi's third donor pledging conference, which aimed to raise at least $7.4 billion for the next five years-attracted leaders from over 30 countries and heads of the United Nations and the WHO.
British Prime Minister Boris Johnson said at the summit that he hoped the event would be a moment for the world to come together. "I urge you to join us to fortify this lifesaving alliance and inaugurate a new era of global health cooperation, which I believe is now the most essential shared endeavor of our lifetimes," he said.
WHO Director-General Tedros Adhanom Ghebreyesus said at the summit that while a vaccine is essential, vaccines only realize their true power when they are used to protect the poorest and most vulnerable. "Our shared duty is to ensure that once a vaccine is available, it's available to everyone," he said.
Indian Prime Minister Narendra Modi called Gavi "a symbol of global solidarity, and a reminder that by helping others we can also help ourselves".
Japanese Prime Minister Shinzo Abe said Japan is committed to hosting the Olympics in 2021 as a "testament to the world's victory over COVID-19".