Measures put forth to gather momentum, jolt hog industry
Share - WeChat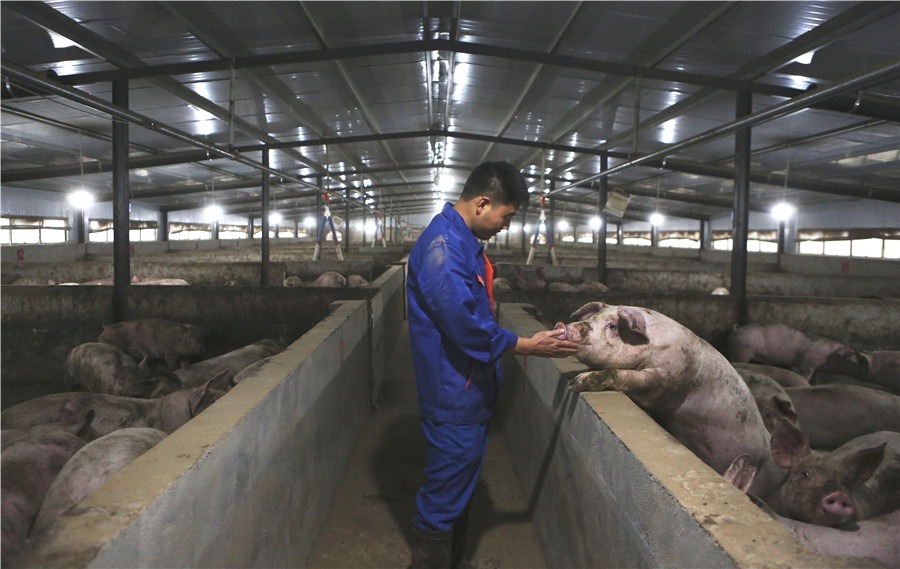 Accelerating vaccine research for swine fever in the plan of action, minister says
Top political advisers in China have proposed various measures to promote the development of the pork industry, which has been seriously affected by African swine fever, with authorities promising sustained efforts to boost recovery of pork production this year.
The supply of pork, the most consumed meat in China, has been a top concern for the government and the public. The recovery of pork production was listed as a major agricultural task on the Government Work Report this year, which was delivered by Premier Li Keqiang to the top legislature last month during the annual sessions of the top legislative body and political advisory body.
Han Changfu, minister of agriculture and rural affairs, said during the two sessions that the production of pork has been recovering following a large number of measures taken by the government, and the number of hogs in stock in China has increased for three consecutive months.
As momentum continues, it is expected that production of hogs this year will come close to levels seen before the outbreaks of African swine fever in August 2018, he said, adding that prices of pork will cease to rise sharply as the gap between supply and demand narrows.
Despite the positive trend, the ministry will continue to intensify measures to encourage pork production and control and prevent African swine fever this year, including speeding up the research and development of vaccines for the virus, Han said.
Qiao Xiaoling-a member of the National Committee of the Chinese People's Political Consultative Conference, the top advisory body, and vice-president of the Beijing Food Science Institute-suggested a national standard be drafted as quickly as possible to give clear definitions on areas where raising pigs should be banned so that local authorities will not expand such areas at will to address environmental concerns.
Although existing laws and regulations ban some areas, such as in the vicinities of water and natural reserves, from being used to build sizable pig farms to prevent environmental pollution, local authorities in some places tend to expand such areas at will or even ban raising pigs in their jurisdiction, which has been a major hurdle to pork production, she said.
Meanwhile, authorities need to define major areas for raising pigs in each provincial region so processing companies will be encouraged to gather around these areas. This could reduce the long-distance transport of live pigs, which in turn could result in a lower risk of disease spread, Qiao said.
Liu Yonghao-also a member of the CPPCC National Committee and chairman of New Hope Group, a major agricultural company in China-said more measures are needed to integrate smaller pig farms and bigger farms to improve disease control prevention and reduce the cost of production.
He also suggested that the government increase policy and financial support for pork production companies to accelerate technological innovation in pig raising, including breeding and disease control and prevention.
Vocational schools and pig enterprises can intensify cooperation to cultivate more talent urgently needed in the pork industry, he said.
Chen Hualan, a CPPCC National Committee member and a researcher at Harbin Veterinary Research Institute in Heilongjiang province, said Chinese researchers have made a lot of progress over the past year in the development of vaccines for African swine fever, a top killer in the pork industry across the world.
"We suggest related government departments, including the Ministry of Agriculture and Rural Affairs, expedite the research, development and industrialization of vaccines while following strict procedures and standards so they can be used as quickly as possible," she said.