Premier Li Keqiang Meets the Press: Full Transcript of Questions and Answers
Share - WeChat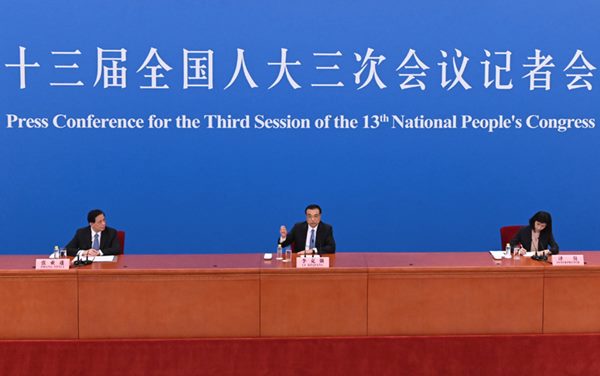 CCTV: In the Government Work Report, this year's economic policies have been spelled out. What will the government do to ensure that all these funds will be truly delivered to benefit companies, instead of just circulating within the financial sector, and bring real gains to the general public?
Premier Li: In coping with the current round of unprecedented shocks, we don't have ready experience to draw from. It's not something we can manage with ease, and we will have to blaze a trail with hard efforts. We must be creative in crafting and delivering our policies. As I said just now, our policies, which are of a sizable scale, are designed to provide vital relief to businesses and revitalize the market, with particular focus on stabilizing employment and ensuring people's livelihood. They are not focused on large infrastructure projects. This is because big changes have taken place in China's economic structure, where consumption is now the primary engine driving growth, and micro, small and medium-sized companies now provide over 90 percent of all jobs in China. So under the sizable-scale policies introduced this time, some 70 percent of the funds will be used to support the increase in people's income through direct or relatively direct means in order to spur consumption and energize the market. One big challenge we have confronted in coping with COVID-19 is that containment efforts have had a dampening effect on consumption. Hence, measures in this direction are also part of our market-oriented reform.
Second, the funds made available will all be used to support primary-level governments and businesses, and ensure people's livelihood. The increase of budget deficits and funds raised from the issuance of government bonds for COVID-19 control will all be channeled to primary-level governments. Even provincial governments will be just passers-by to these funds. Some people may ask whether primary-level governments can ensure all the funds will be put to best use. In this respect, a special transfer payment mechanism will be established to see that companies, especially smaller firms, will truly benefit from these funds, and people who live on social security schemes, subsistence allowance, unemployment benefits, old-age support and those living in difficulties will be able to benefit. Real-name records will be established, and no cooking of books or embezzlement will ever be allowed. We will keep our eyes wide open and welcome public supervision. Eventually, the delivery of these measures will have to be recognized by businesses and our people.
The Central Government will lead by example in living on a tight budget. We will cut over 50 percent of outlays on non-essential, non-obligatory expenditures at the central government level, and the money saved will be mainly used to support primary-level governments, enterprises and people's basic living needs. Governments at all levels must tighten their belts, and reject pointless formalities and spending splurges.
Just now, I talked more about boosting consumption. That doesn't mean investment is not important. We will also expand effective investment. There will be an increase of 1.6 trillion RMB yuan of special local government bonds this year, and some treasury bonds as well, with the total amount topping 2 trillion RMB yuan. They account for between 20 and 30 percent of the funds made available under the sizable-scale policies we introduced this year. The focus of the funds will be on new infrastructures and new-type urbanization and key projects for national development. We will rely on reforms in undertaking these programs and mobilize private sector investment. And the projects supported must generate good returns, and be well-calibrated and delivered according to economic laws to avoid undesirable results.