Village school in Tibet flourishes under reforms
Share - WeChat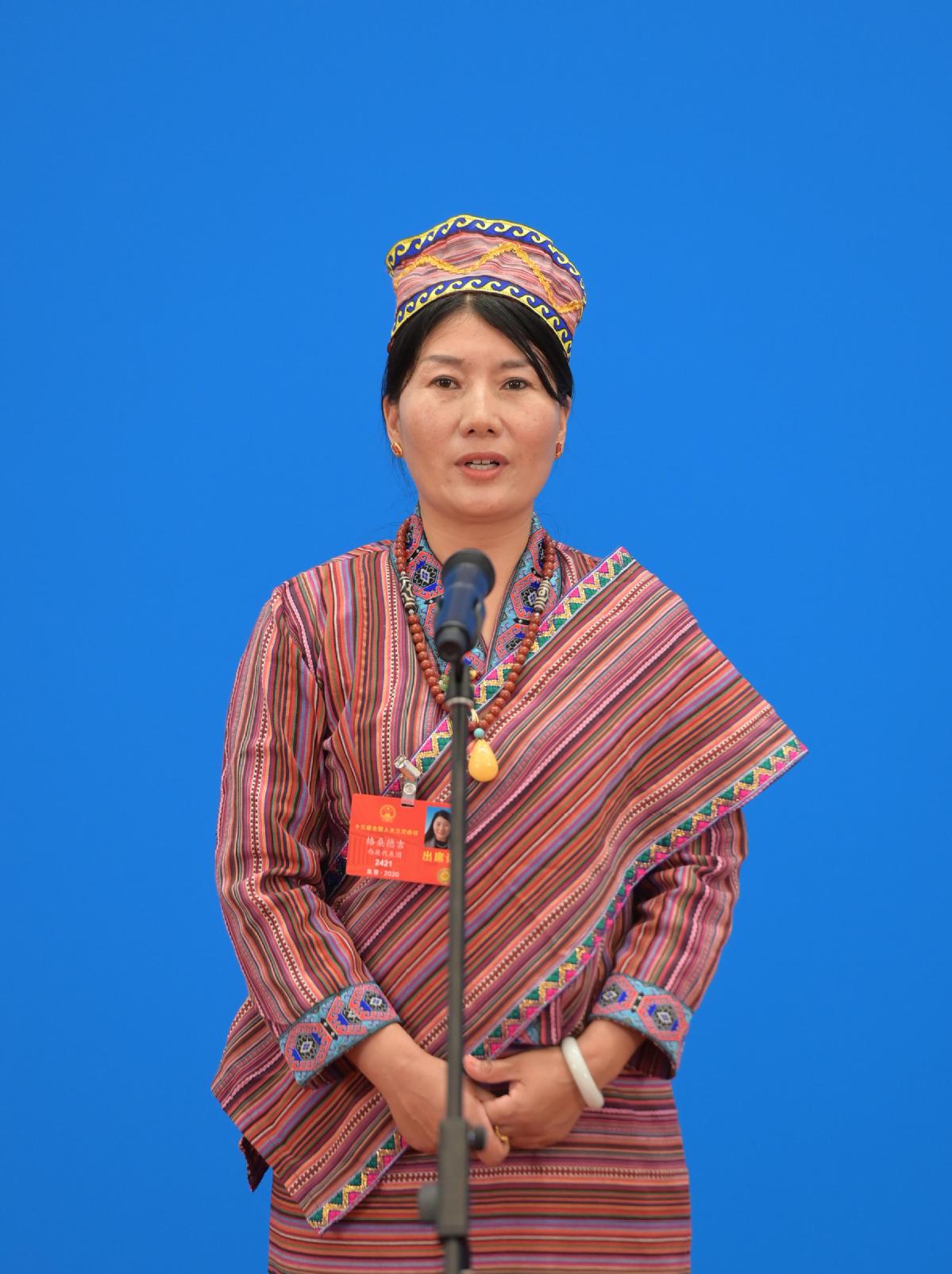 Kelsang Dekyi has relied on knowledge to change her destiny, so it's no surprise she believes education has the power to change people's lives.
A deputy to the National People's Congress, Kelsang Dekyi has taught at a primary school in Metog county, Nyingchi, in the Tibet autonomous region for 19 years.
She grew up in a village in Metog, the last county in China to have access to highways, and wants to change the lives of children growing up in remote villages.
A member of the Monba ethnic group, Kelsang Dekyi was born in 1978 into a farming family and has two younger brothers.
When she was 7, she began attending a local primary school, where the students were only taught the Mandarin and Tibetan languages and mathematics.
Educators and resources were scarce, and the dozen children at the school only had first-and second-grade textbooks.
In the mid-1980s, China started opening middle and high school classes for Tibetan students in cities outside the region with better education resources. Investment in the education of Tibetan students was also increased.
Kelsang Dekyi was one of those who benefitted. After enjoying five years of free education at a primary school in Nyingchi, she was admitted to the Tibetan class at the First High School of Yueyang in Hunan province in 1994. Four years later, she was accepted at the Nationalities College affiliated with Hebei Normal University, Shijiazhuang, Hebei province.
After graduating from the college in 2001, she returned to her hometown in the mountains and started teaching at a primary school.
"We really needed teachers there. I wanted to make some contribution to education in my hometown," she said.
However, because local villagers' educational awareness was still weak and parents wanted their children to stay at home to save on expenses and help with chores, many students were often absent from class or dropped out of school altogether. For a long time, Kelsang Dekyi's main task was to go to the villages and try to persuade students to return to school.
In 2013, the Metog Highway opened, which helped develop the local economy. As people's livelihoods improved, parents became more willing to send their children to school.
Kelsang Dekyi's school has new classrooms, dormitories, a music room, reading room and science lab.
But the improvements at the school were not only to the facilities. Better-qualified teachers from across China are going to Metog for exchange programs. Teachers from rural areas are also being given opportunities to improve their skills through study tours to other regions.
"Thanks to the steady improvement of educational resources, Tibetan students whose parents are farmers and herdsmen can enjoy 15 years of free education from kindergarten to high school, and every student at the school can be admitted to middle school," Kelsang Dekyi said.
The villagers' opinions about education have also changed. Children with a good education have helped them see that learning can open access to the outside world, she said.
"Education not only changed my life, but it has also changed the lives of the children who have grown up in the countryside like me. I feel especially fortunate to be able to do my part for the children's growth," she said.
As an NPC deputy, Kelsang Dekyi said the main issues she is interested in this year are education at the grassroots level and the inheritance and promotion of the Monba ethnic group's traditional culture.