Bigger role for TCM urged in disease control
Share - WeChat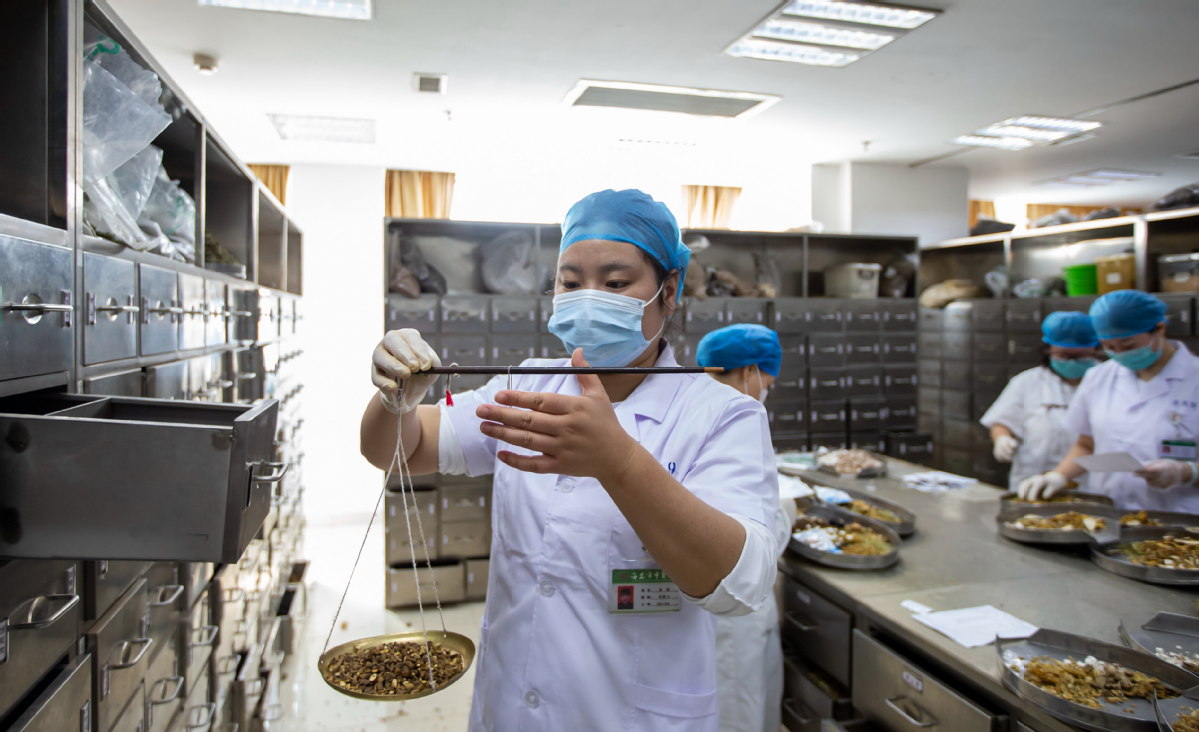 Traditional and modern medicine should be given 'equal importance'
More efforts should be made to enable traditional Chinese medicine to play a bigger role in the prevention and control of infectious diseases, top legislators and political advisers have suggested.
Zhang Boli, a deputy to the National People's Congress, the top legislature, said legislation should be improved to give more importance to the role of TCM in the prevention and control of infectious diseases and coping with major public health emergencies.
The existing Infectious Disease Prevention and Control Law and regulations on coping with major public health emergencies should be revised to eliminate healthcare loopholes, and the revisions should give TCM and modern medicine equal importance in the prevention and control of infectious diseases, he said.
"In case of public health emergencies, TCM practitioners should also be able to appear on the front line at the earliest time, and TCM hospitals should also be included as designated hospitals so patients can be treated with TCM therapies, so effective experiences can be promoted quickly," said Zhang, also president of Tianjin University of Traditional Chinese Medicine.
"TCM has played a very important role in epidemic control in Wuhan, capital of Hubei province, and the good practices should be summarized so they can contribute to an improved response to public health emergencies in the future."
Due to the lack of a vaccine and effective Western drugs to combat COVID-19, some TCM drugs and therapies were used to fight the disease in Wuhan, the Chinese city hit hardest by the pandemic. Later, they were used universally for patients in combination with modern medicine and were clinically proved to improve patients' conditions more quickly and reduce mortality rates, he said.
Despite having been practiced for thousands of years, TCM has been sidelined by rapidly developing modern medicine in China in recent years. TCM hospitals only comprise about 15 percent of the country's hospitals, and less than 9 percent of healthcare professionals in China are involved in TCM, according to Lu Chuanjian, vice-president of Guangdong Hospital of Traditional Chinese Medicine, in Guangzhou, Guangdong province.
Li Yanping, an NPC deputy and vice-president of Chongqing Traditional Chinese Medicine Hospital, said more investment is needed to improve infrastructure at TCM hospitals so they can play a more important role in prevention and control of infectious diseases, with many TCM hospitals in less developed areas in western China still poorly equipped.
Major county-level TCM hospitals should set up standard fever clinics and wards equipped with proper emergency treatment facilities so they can be transformed into wards capable of receiving patients with infectious diseases, she said.
In addition, authorities should give more support to TCM research in fighting infectious diseases to improve their control and prevention, Li said, suggesting the Ministry of Science and Technology carry out a series of major programs in the area so scientific and technological breakthroughs can be made in TCM solutions to infectious disease prevention and control.
Jiang Jian, a TCM doctor at Shuguang Hospital in Shanghai, said more efforts should be made to strengthen the building of a TCM national emergency system to cope with infectious diseases, including establishing a high-standard emergency medical team and improving related information-monitoring and warning systems.
Key research centers on the prevention and control of infectious diseases that integrate TCM and modern medicine should be set up to combine the resources of hospitals, institutes and pharmaceutical companies to improve research and capabilities in coping with infectious diseases, said Jiang, also a member of the National Committee of the Chinese People's Political Consultative Conference, the country's top political advisory body.