A pandemic's path: US hits 100K deaths
Share - WeChat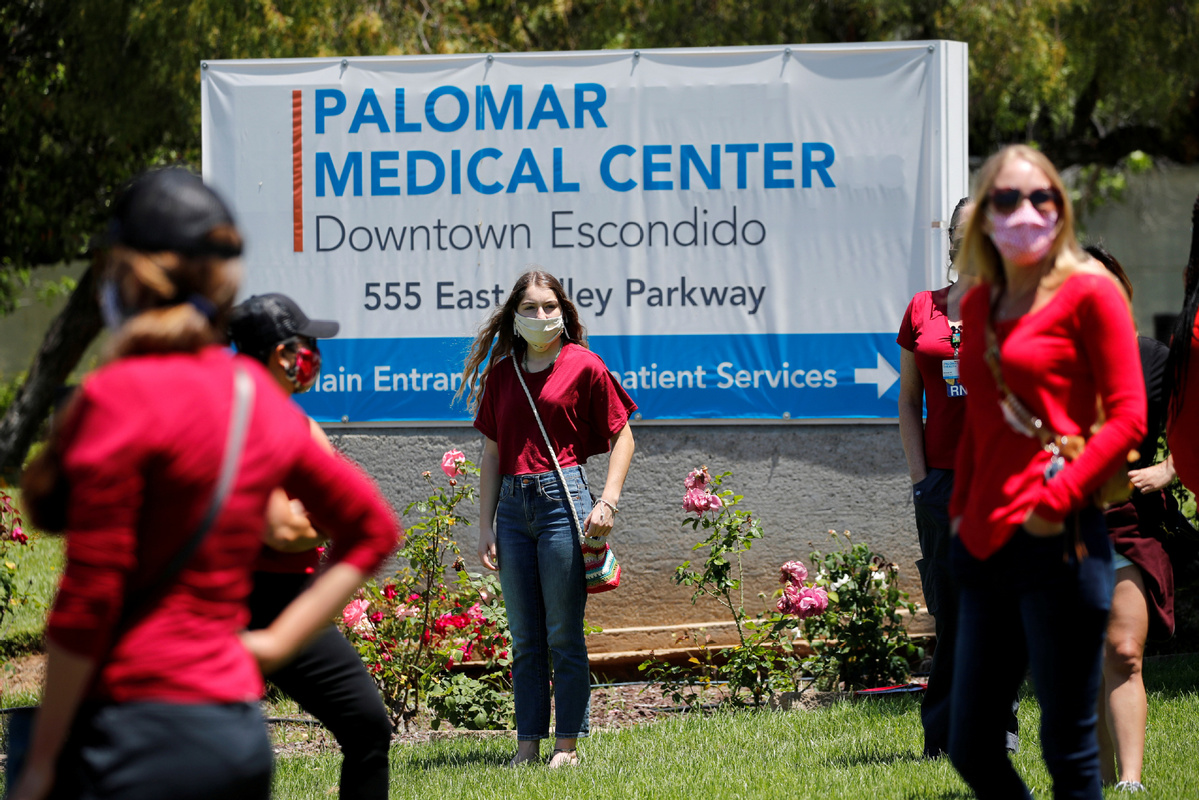 As America stands at the cusp of losing more than 100,000 residents to COVID-19, the path forward in the US in terms of fighting the novel coronavirus is far from certain.
Since Jan 20, when the first US coronavirus case was identified, more than 1.69 million infections have been recorded, according to data from Johns Hopkins University.
As several sources have pointed out, the US has less than 5 percent of the world's population but now accounts for nearly a third of all known COVID-19 deaths.
And although efforts to "flatten the curve" — reduce the growth rate of infections — have been successful on a national level, there are still 15 states where the number of cases is still rising, one more than the number of states where new cases are decreasing.
On April 24, after a weeks-long lockdown, Georgia was the first state to partially reopen, allowing restaurants, salons and gyms to serve customers, though with certain restrictions.
The result? Early data suggests that reopening has not led to a spike in cases, but infections are rising slowly and steadily with no signs of waning.
"The bad news is we are not seeing a reduction in transmission, but I don't see a spike in transmission," said Gerardo Chowell, a professor of mathematical epidemiology at Georgia State University, to CNN.
The number of coronavirus tests conducted daily in the state has quadrupled over the past month to 20,000.
"I'm proud of what we accomplished over the last several weeks, but we cannot rest on our laurels," said Georgia Governor Brian Kemp last week. "We need to further expand access to testing and we need to encourage Georgians to make it a priority."
Video footage from the Memorial Day weekend of a large, crowded "Zero Ducks Given Pool Party" at a lakeside bar in Osage Beach, Missouri, a resort area, became a flashpoint in the reopening debate. Most of the revelers in the video were not wearing face masks or practicing social distancing, in violation of state guidelines.
"It's irresponsible and dangerous to engage in such high-risk behavior just to have some fun over the extended holiday weekend," said Lyda Krewson, the mayor of St. Louis, Missouri, in a statement Tuesday.
Health officials in Kansas and Missouri urged those in the video to quarantine for two weeks or until they test negative for the coronavirus.
The rush to reopen is largely being driven by the economic toll the coronavirus pandemic has taken. US unemployment stands at 14.7 percent, the highest level since the Great Depression. Over the past nine weeks, more than 38 million Americans have filed for unemployment benefits.
In reaction, Congress and the Federal Reserve have rushed to shore up the economy. On March 3, the Fed announced an emergency interest rate cut, and has announced more measures since, including slashing its rates to zero percent on March 15 and reinstituting large-scale asset purchases.
On March 27, President Donald Trump signed the $2 trillion CARES Act into law. One major provision is the $349 billion Paycheck Protection Program (PPP), which is designed to help small businesses pay their employees for up to eight weeks. PPP funds can also be used to pay loan interest, rent or utilities. But there was controversy when some larger, public companies were found to be recipients, some of whom returned the grants and loans.
The CARES bill includes numerous provisions relating to coronavirus testing, medical supply chains, drug review, telemedicine and support for healthcare workers. In addition, most adult taxpayers received stimulus payments of $1,200 each, and the unemployed were to get an additional $600 each week until July.