'Home appliance queen' urges greater innovation
Share - WeChat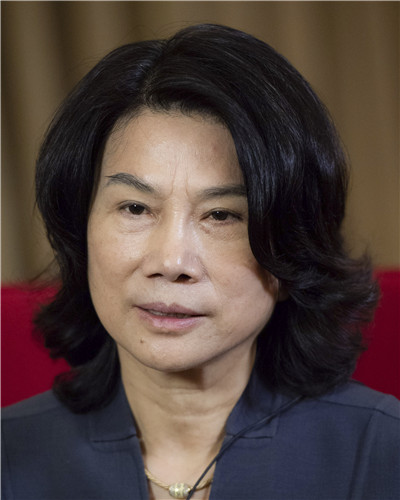 Known as China's "home appliances queen", Dong Mingzhu, the chairwoman and president of Gree Electric Appliances, is always ready to accept new challenges.
The 65-year-old entrepreneur jumped on the livestreaming bandwagon recently when the company's offline sales were severely hampered by the COVID-19 outbreak. On May 15, she made huge sales of 703 million yuan ($98.6 million) while livestreaming on the Chinese e-commerce giant JD.
Dong, also a deputy to the 13th National People's Congress, tried her first livestream on April 24 on the online video platform Douyin. However, her debut was not a success, due mainly to slow internet and her being unfamiliar with the format. She made only 220,000 yuan in sales that night.
Dong learned from her failure, and on May 10 she sold over 310 million yuan worth of home appliances during a three-hour livestream on another short video platform, Kuaishou.
Sales surpassed 100 million yuan in the first 30 minutes, as 16 million people watched Dong's livestream. Her top sellers were air conditioners and purifiers with disinfecting functions.
"We have more than 30,000 offline distributors, and I hope they can also combine online and offline sales channels after I explored this method for them," Dong said, adding that livestreaming was a new sales model that was a "win-win "for brands, manufacturers and consumers.
E-commerce through livestreaming has become a powerful sales channel for traditional industries as more consumers switch to online shopping.
Dong said she is planning to open a "Dong Mingzhu livestreaming channel" and will continue her broadcasts to bolster the brand's online presence.
Gree's revenue in the first quarter of this year was 30 billion yuan under its target due to the fallout from the pandemic, she said. However, Dong said there would be no layoffs of employees and added the company would go ahead with plans to recruit 5,000 university graduates.
Dubbed China's "Iron Lady" in business circles, Dong first joined Gree in 1990 as a saleswoman after quitting her administrative job at a government research institute in Nanjing, Jiangsu province. She was promoted to sales director in 1994 due to her outstanding sales performances. In May 2012, she was appointed chairwomen.
Dong's entrepreneurial skills have won her many business leadership awards. In 2013, she was recognized as one of the best-performing CEOs in the world by Harvard Business Review, while Fortune magazine has put her on its 50 most powerful women list several times.
"China's manufacturing industry should be more aware of the importance of innovation when facing the unexpected challenges brought by the COVID-19 pandemic," Dong said.
"More efforts should be made to strengthen the dominant position of enterprises in scientific and technological innovation."
She said with the arrival of the 5G era, more popular and cutting-edge technologies will be created and integrated into consumers' needs. Therefore, the priority for manufacturing enterprises at the moment should be their ability to innovate.
Dong said her company had ramped up efforts in intelligent manufacturing by setting up unmanned factories and using industrial robots in a variety of production cycles.
Dong said Gree will invest 1 billion yuan to make high-end medical equipment and tap into the healthcare industry.
With an investment of 20 million yuan, Zhuhai Gejian Medical Science & Technology, a subsidiary of Gree, was established on Feb 18 to produce masks, thermometers and personnel protective equipment.