Volleyball star takes passion to political realm
Share - WeChat Zhu Ting

The pride of her nation in the volleyball world, China's star spiker Zhu Ting has taken her influence to the political realm to promote sports participation and her team's fighting spirit as a member of the country's top legislature.
With her height and fame grabbing attention wherever she appears, Zhu, captain of China's all-conquering women's volleyball team, is making her debut at the annual session of the National People's Congress in a vocal way by encouraging people from all walks of life to stay united and resilient in facing challenges, just as her squad did winning glories on the volleyball court.
"Motherland first, solidarity, hard work and never say die. This is the spirit that has driven us to keep winning and this is the quality that reflects our national ethos," Zhu said during an online interview before the opening meeting of the annual session of the 13th NPC on Friday.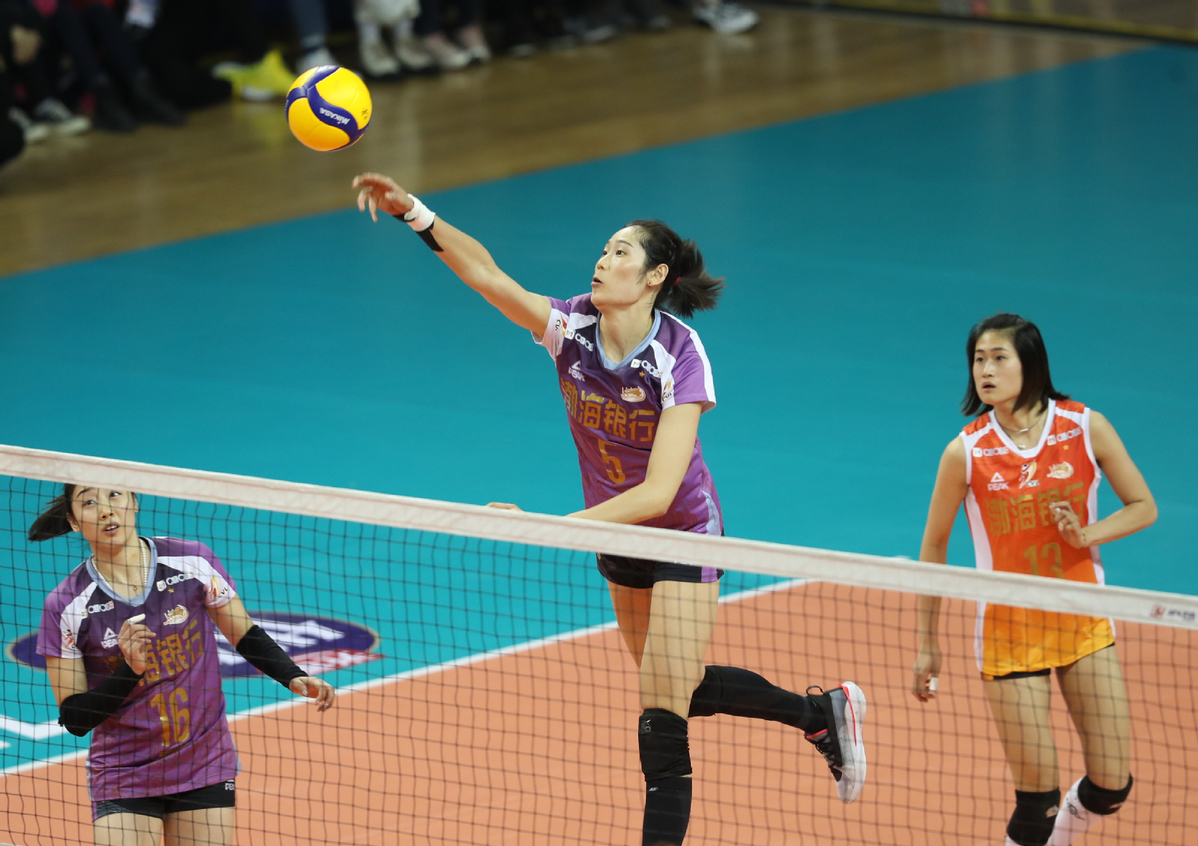 Inspired by the unswerving spirit that dates back to the 1980s when China's female team won five consecutive world titles, Zhu and her teammates have helped the squad regain international dominance after winning the Olympic tournament in 2016 and retaining the World Cup title in 2019 under the guidance of legendary coach Lang Ping.
Having long been considered a source of national pride for the Chinese people, the admirable spirit embodied by the women's team seeped into the country's battle against the COVID-19 pandemic earlier this year, with front-line medical workers drawing inspiration from Zhu and her peers.
In March when the outbreak was still ravaging China, photos of a nurse in Wuhan wearing a protective suit with a drawing of Zhu's portrait on the back went viral on Chinese social media, bringing attention from the star player who was training at the national team's camp.
"I was quite moved and felt proud of it," Zhu, 25, said of the post. "I just did what I am supposed to do as an athlete but ended up as an encouragement for them. This once again reminded us of the value and strength of the spirit."
Born to a farmer's family in Zhoukou, Henan province, Zhu didn't show any interest in sports until 2007 when she was spotted by a local physical education teacher for her exceptional height of over 1.7 meters at just 12 years of age.
Since beginning full-time training at the provincial sports school in 2008, Zhu's impressive physical condition coupled with her hardworking attitude paved the way for her sharp climb to the national team in 2013.
After helping China win its third Olympic gold medal at the 2016 Rio Games, Zhu's popularity shone through the international volleyball community as Turkish league club Vakifbank signed her to play in Europe as one of the world's highestpaid volleyball players with a reported annual salary of $1.6 million, while international media dubbing her as "Zhuperb".
Standing at 1.98 meters, Zhu, who has returned to China's domestic league club Tianjin, was hailed by her fans as a "pillar" of the national squad's campaign to defend its gold medal at next year's Tokyo Olympics, while she is committed to making a bigger contribution than just playing on the court.
"This year was my first time attending the two sessions and I want to make it count," said Zhu.
After learning about preschool physical education domestically and abroad, Zhu has prepared to call for greater attention and support to better organize and facilitate junior sports activities, especially for kindergarten children, in her suggestion to the NPC.
"Early participation in sports could help children develop healthily in both physical and mental aspects," she said.
"I hope more children choose sports because of a growing interest during their youth, not just because of their size, like I did."