TCL bets on supply chains for growth
Share - WeChat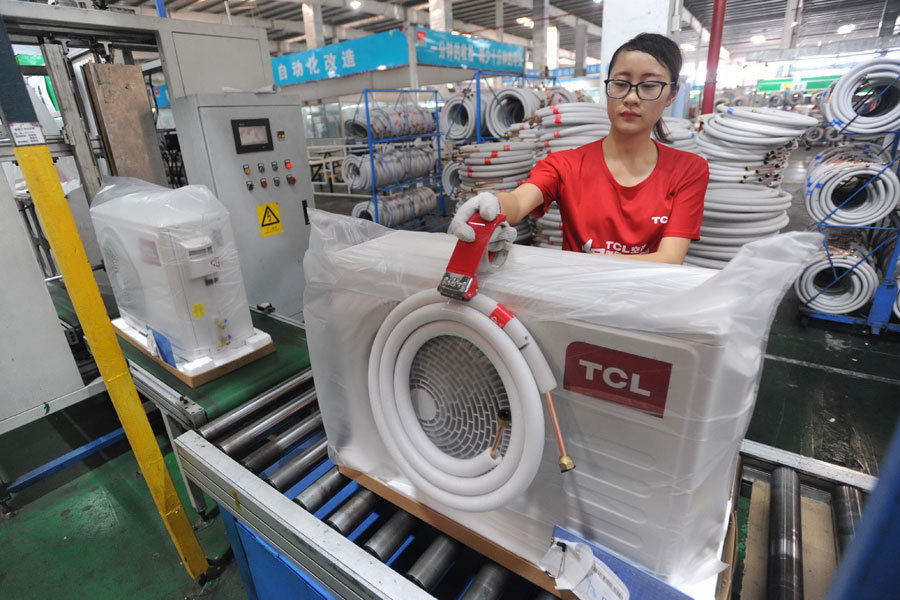 Technology giant to expand presence in key overseas markets, says chairman
TCL Technology Group Corp will ramp up efforts to establish supply chains around the world and expand its presence in Africa, Russia and South America, as part of the tech giant's broader drive to enhance core technological capabilities and global operations in the display sector, said Li Dongsheng, founder and chairman of the company.
Li, who is a deputy to the 13th National People's Congress, said although the COVID-19 outbreak had an impact on the firm's overseas business in the first quarter, its television exports increased in April on a yearly basis. "The overall overseas business is expected to grow in the second quarter compared with the same period of last year. We are confident that this upward trend will continue in the second half of this year."
TCL has also accelerated steps to establish industrial parks and plants worldwide. According to Li, the company's Vietnam TV factory began operations at the end of last year and its smart integrated manufacturing industrial park in India is expected to commence production at the end of this year.
It has also stepped up efforts to expand in North America by boosting the production capacity of large-sized TV products at its Mexico factory. Li said it is a necessity that manufacturing enterprises build an industrial chain in overseas markets.
Moreover, Chinese enterprises should establish core technological competitiveness in the field of next-generation displays. Li suggested strengthening technology cooperation with Japanese and European companies, which have a large number of leading key technologies in new display materials and equipment.
"We don't lower our operating targets for the whole year, especially the overseas business, as we hope to make up for the falling demand in overseas markets by expanding and increasing our market share in major countries and regions," Li said.
A report by research firm Sigmaintell said TCL ranked second globally in terms of TV shipments by volume in 2019, accounting for 13 percent market share worldwide, next only to South Korean tech giant Samsung.
The consultancy forecasts that TV shipments will reach 236 million units this year, down 1.8 percent on a yearly basis, while the proportion of 65-inch and above TV sets will rise by 2.6 percentage points.
In addition, Li called on China to adapt to the changes in the global economic landscape and the rules of economic globalization.
"I believe the globalization won't stop, as the economic globalization is a choice of market development, playing a vital role in promoting the global economy. Therefore, the economic globalization will certainly continue, but its form and rules will have great changes and trigger corresponding changes in the global economic pattern," Li said.
He said Chinese enterprises should comprehensively consider opening factories across the globe. "We should expand our industrial chain and supply chain to major countries and regions in the world, rather than simply selling products to them," Li said, adding that in the process of globalization, Chinese enterprises also make contributions to the economic and social development of relevant countries.
Liang Zhenpeng, a consumer electronics analyst, said the growth rate in the domestic home appliance market is dropping, so major players should accelerate steps to expand in overseas markets such as North America and South America, Africa and Europe as such markets continue to show huge growth potential in low-medium and high-end products.