Testing times for domestic LCD makers
Share - WeChat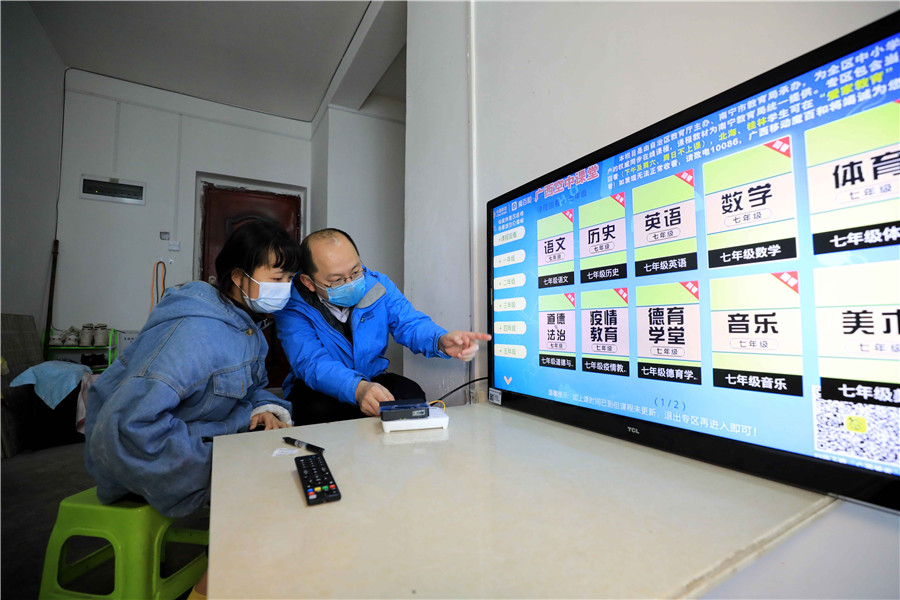 Display panel shipments to fall by 3.6% percent in first quarter on a yearly basis
Prices for display panels are expected to rise in the first quarter due to upstream supply shortages of products such as printed circuit boards and polarizers due to the outbreak of novel coronavirus, industry insiders said.
They are also concerned that the contagion in South Korea and Japan could cause disruptions in the display panel industry chain.
According to Beijing-based Sigmaintell Consulting, shipments of liquid crystal display TV panels are expected to fall by as much as 3.6 percent in the first quarter compared with the same period last year.
The epidemic pushed LCD panel prices higher last month. The consultancy said display panels between 32 to 65 inches (81 centimeters and 165 cm) all saw prices rise by between $1 and $3 per unit in February. It is expected that LCD TV panel prices will maintain their upward trend in March.
"Along with the resumption of work and production, tight supply conditions will clearly be relieved and output capacity of major display panel makers will go up in March," said Liu Shengjian, a TV panel industry specialist at Sigmaintell.
"However, we should be on the alert the increases in the number of new infections in South Korea and Japan cause disruptions in the supply chain," Liu said, adding the supply and demand of TV panels will balance up in the second quarter of this year.
Although overall sales of TV sets in the domestic market remain sluggish, demand from overseas is stronger, Liu said.
Bian Zheng, deputy director of research at AVC Revo, a unit of market consultancy firm AVC, said the reason for higher prices lies in the delayed resumption of work, and the upward trend will remain until the beginning of the second quarter.
"South Korea and Japan are major producers of semiconductors and optical materials along the display panel industry chain. Production of these materials is highly automated and not labor-intensive, so the epidemic has a limited influence," Bian said.
However, if the pandemic intensifies, logistics and transportation in the two countries are going to be affected, he said, adding COVID-19 would impact operational efficiency of the whole industry.
The Gen 11 TFT-LCD and active-matrix OLED production line of Shenzhen China Star Optoelectronics Technology, a subsidiary of consumer electronics giant TCL, began in 2018, producing a wide variety of LCD screens.
It also has a sixth-generation flexible display panel production line in Wuhan, the former epicenter of the outbreak in Hubei province. The project produces high-resolution, flexible and foldable display panels for smartphones.
The company said its Shenzhen and Huizhou plants in Guangdong province haven't been affected directly by the epidemic and its factory in Wuhan maintained normal operations during the extended Lunar New Year holiday.
It underlined that the epidemic will have an influence on global supply to some extent. Its raw material inventory can meet current production needs. Although the supply of some production materials may be delayed for a short period of time, the company has actively coordinated with its logistics channels and negotiated with strategic suppliers to ensure the supply of materials.
In addition, CSOT has implemented several measures to guarantee the safety and security of front-line staff in Wuhan. Apart from offering overtime pay or paid leave, it also provides allowances and subsidies.
Sigmaintell said global LCD TV panel shipments in 2019 stood at 283 million pieces, a slight decrease of 0.2 percent year-on-year. Meanwhile, the shipment area was 160 million square meters, an increase of 6.3 percent year-on-year.
Last year, BOE Technology Group Co Ltd-a leading Chinese supplier of display products and solutions-became the world's largest shipper of LCD TV panels for the first time.
The consultancy said the LCD TV panel production area of China's manufacturers will account for more than 50 percent of the global total this year, surpassing the South Korean competitors, who are accelerating the shutdown of large-size LCD panel production capacity.
BOE said its Gen 10.5 TFT-LCD production line launched operations in Wuhan in December. Although the annual production capacity of the plant will decline due to the epidemic, BOE will minimize the impact by adjusting operational strategy and strengthening cooperation with upstream and downstream enterprises.