Pakistani doctors have an invaluable friend
Editor's note: This news column showcases stories from around the world that bring a touch of positivity to the fight against the deadly coronavirus.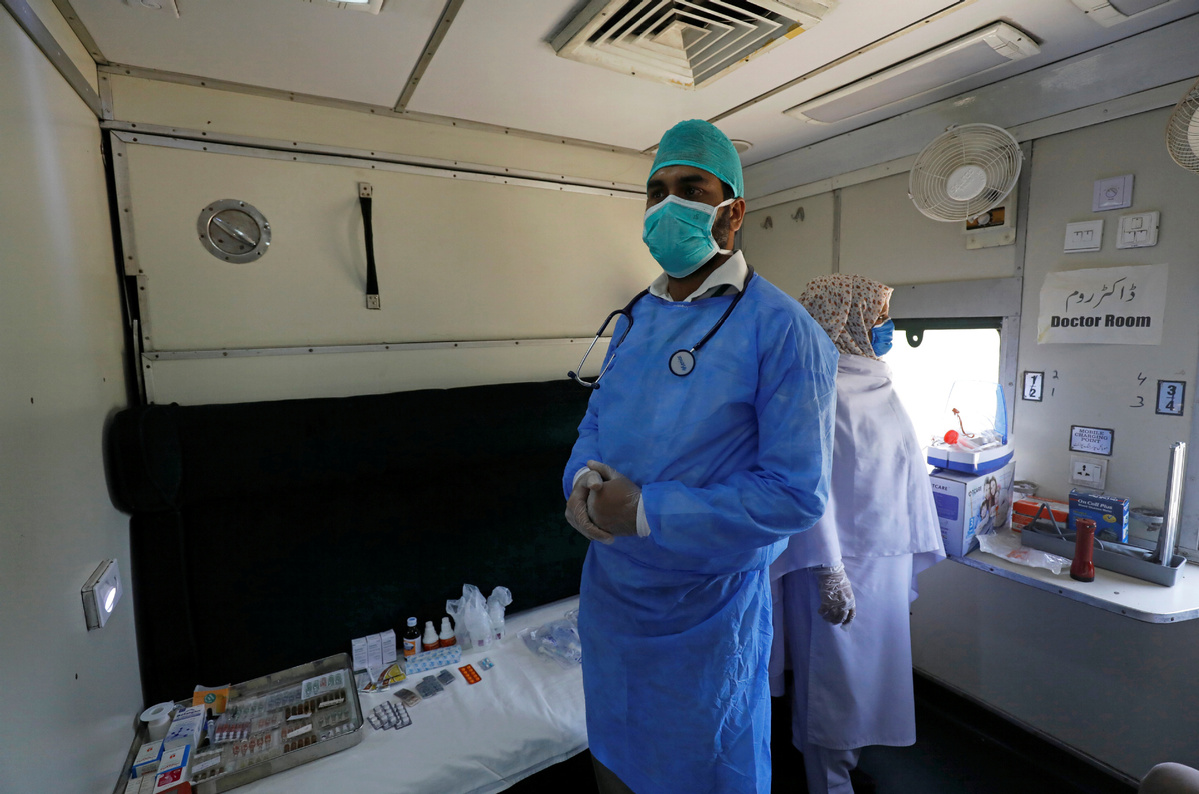 In one of the biggest hospitals in Pakistan's capital, Islamabad, Mohammad Usman carefully donned his protective suit, face mask, gloves and goggles in a changing room, before entering the isolation wards.
"Things have changed following the outbreak of COVID-19," said Usman, of the Pakistan Institute of Medical Sciences. "We have to strictly follow standard operating procedures. There's no room for a slight mistake or negligence. I have never been this careful during my career spanning two decades."
With responsibility for running the isolation wards, Usman spends most of his time among patients. In an effort to protect his family and close relatives he has shifted to a room dedicated for the doctors on each ward, "so that my family has zero chance of contracting virus through me".
Usman, giving credit to Chinese medical experts who had visited the hospital in March and passed on valuable tips to local doctors, said the hospital had changed operating procedures on advice of the first team of Chinese medical experts who were in the country between late March and April.
Doctors and paramedical staff in Pakistan face highly demanding workloads nationwide.
By Sunday the country had 40,151 confirmed cases with 873 deaths, according to Johns Hopkins University.
The Pakistan Medical Association said 260 health workers including 160 doctors had contracted COVID-19 at work. Among those who had died were Rabia Tayyab, 26, who worked in a hospital in Rawalpindi, and Mohammad Javed, a specialist at the Hayatabad Medical Complex in Peshawar.
"Most of the infected doctors had shown a growing sense of anxiety and psychological problems," said Mohammad Fazal, president of the Young Doctors Association of Pakistan. "Psychotherapists have been recruited among others to treat them. They are showing improvements."
Sense of anxiety
Sobia Ali Hina at another hospital in Islamabad Hospital, said she and her colleagues were dealing with a growing sense of anxiety and psychological problems because of exhaustion on their very long shifts.
Authorities have quarantined all medical staff on advice of the Chinese experts, and most are said to be happier.
In an effort to better contain the virus, health workers in Punjab, Pakistan's most populous province, are receiving training from another team of Chinese doctors.
"We're grateful to the Chinese government for dispatching another team of health scientists and doctors who are touring Punjab training doctors and paramedical staff the best techniques to treat patients. China's victory against COVID-19 is impressive," said Shaukat Basra, a spokesperson for the Punjab government.
The writer is a freelance journalist based in Islamabad.