AVIC's Guizhou unit bags order for FTC-2000G combat jets
Share - WeChat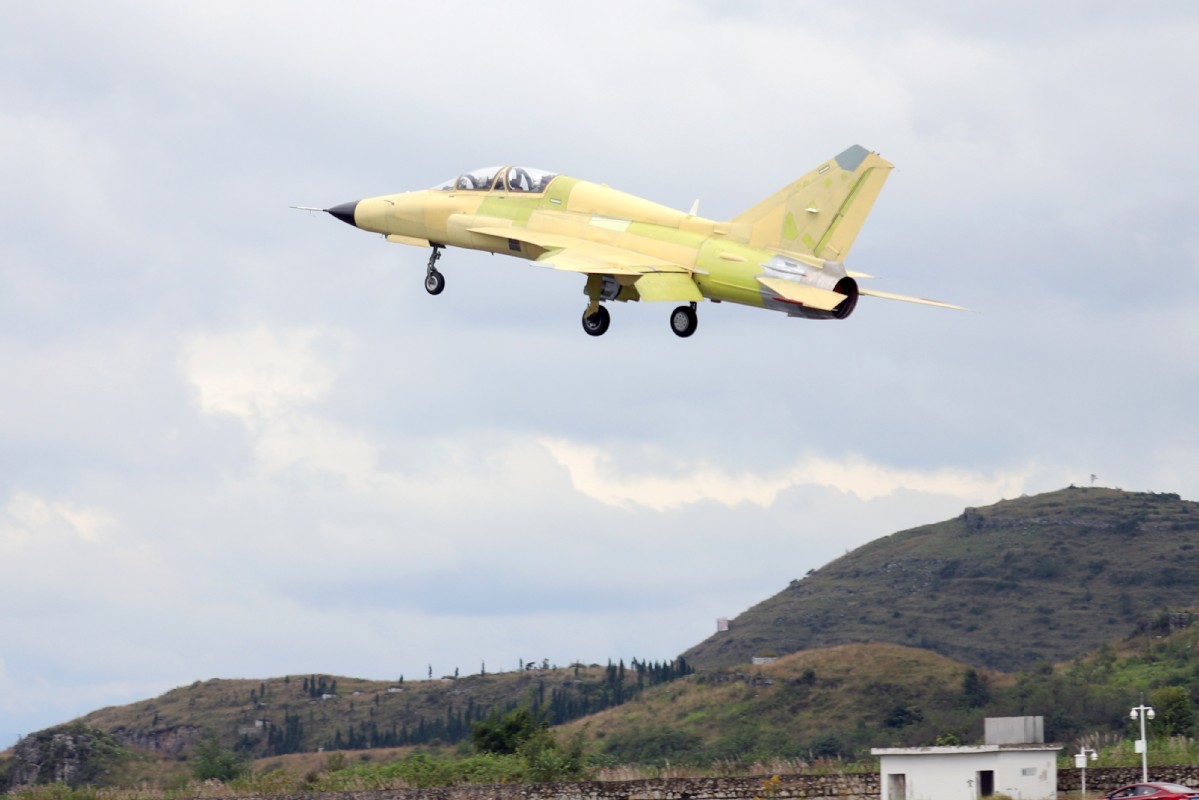 State enterprise eyes bigger presence in global arms market with aircraft deal
State-owned defense giant Aviation Industry Corp of China announced recently that it has received the first export order for its FTC-2000G multirole combat aircraft and the same will be delivered next year.
Guizhou Aviation Industry, an AVIC subsidiary in Guizhou province's Anshun, said it has signed an export contract for the FTC-2000G with an unnamed Southeast Asian nation in January. The company, which specializes in trainer planes and unmanned aircraft, said on its WeChat account that production is under way and deliveries will start in early 2021 and will be finished within a two-year period.
It did not disclose details of the deal such as how many jets are involved and the contract value.
The FTC-2000G is a fixed-wing, multirole combat plane tasked mainly with airstrikes against ground targets. It can also be used as a fighter jet or trainer aircraft, according to the AVIC subsidiary.
The twin-seat plane is a modified version of a new type of advanced training jet in the Chinese Air Force and Navy, according to company information. The jet has a maximum speed of 1.2 Mach, or 1,470 kilometers per hour, a maximum takeoff weight of 11 metric tons, a maximum flight range of 2,400 km and an operational flight ceiling of 15 km.
Equipped with modern radar and fire-control systems, it is capable of staying airborne for three hours in a single operation and can carry as much as 3 tons of missiles, rockets or bombs.
The jet made its maiden flight in September 2018 and was showcased at the 12th China International Aviation and Aerospace Exhibition in Zhuhai, Guangdong province, that year.
Senior military officers from 16 Asian and African countries have checked out the aircraft at the Guizhou Aviation Industry facility and were impressed by the jet's multifunction capability, maneuverability, mobility and good operational economy.
Hu Jianxing, FTC-2000G's chief designer, said the aircraft can perform well as an attack aircraft, fighter jet or trainer plane.
"As an attack aircraft, it features long range and strong penetration capability. If it is used as a fighter jet, it is agile and intelligent, and has good self-defense measures to survive tough combats. In the capacity of a trainer, it can fit all levels of pilots and help them to experience many scenarios during flights," he said.
With the proper equipment, the plane will also be able to perform reconnaissance or electronic-warfare operations, said Hu.
As a light-duty attack aircraft or fighter jet, the FTC-2000G is able to replace old models extensively fielded by developing countries, such as China's J-7 and the former Soviet Union's MiG-21. In the role of trainer aircraft, it can replace China's FT-7 or the British BAE Systems Hawk, and can work with AVIC's K-8 intermediate jet trainer to form an advanced training system for military pilots, according to Guizhou Aviation Industry.
The aircraft suits the requirements and combat conditions of many developing countries and is economical in operation and maintenance, said Wu Peixin, an aviation industry analyst in Beijing.
Chinese military aircraft available on the global market now cover almost all types of what may be needed in a modern aerial operation, ranging from attack helicopters and transport planes to early-warning aircraft and fighter jets.
State-owned defense conglomerates have been moving progressively toward becoming providers of world-class hardware in the international arms market.
In the past several years, they sold advanced trainer jets to Zambia, modern tanks to Thailand and Nigeria, ballistic missiles to Qatar, as well as powerful frigates and submarines to Pakistan. China-made combat drones are also popular in the market and have achieved several records in the Middle East.