China calls for joint efforts with US to battle pandemic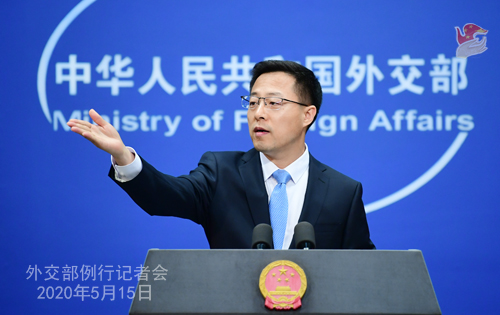 Stable development of Sino-US relations is in line with the fundamental interests of the two peoples and helps with world peace and stability, Beijing said on Friday.
At a daily news conference, Foreign Ministry spokesman Zhao Lijian called for strengthened China-US cooperation to overcome the COVID-19 pandemic as soon as possible, save people's lives and help resume business activity.
The United States needs to meet China halfway to make such cooperation happen, Zhao said.
Zhao's remarks came after US President Donald Trump said "we could cut off" relations with China, and criticized China's response to the outbreak during an interview on Thursday.
After the novel coronavirus began appearing in the US, some US politicians have been blaming China and trying to "hold China accountable" and have it pay compensation for losses caused by the pandemic.
In response, China has reiterated that people making such comments should stop trying to shift blame for their efforts in containing the pandemic and work instead toward protecting people's lives.
Also on Friday, Zhao expressed appreciation for a resolution passed by Pakistan's legislature praising China's efforts to tackle COVID-19 as well as Beijing's support for Pakistan in fighting the contagion.
The resolution said "the Senate of Pakistan rejects the baseless propaganda against China", according to Karachi-based The News International.
Pakistan's position is objective and just, and the behavior of defaming and stigmatizing other countries represents purposeful damage and disruption of international cooperation in fighting the pandemic, Zhao said.
Pakistan rallied the whole nation's efforts to provide medical supplies to China when China was at the critical stage of disease control, and China has provided Pakistan with numerous assistance for free, and encouraged its people to make donations, he said.
"Truth has shown again that China and Pakistan are true friends and good brothers through thick and thin," Zhao said.
China will continue to strengthen cooperation with the international community, including Pakistan, to combat the pandemic, the spokesman said.