Post-COVID-19 healthcare system to be improved
Share - WeChat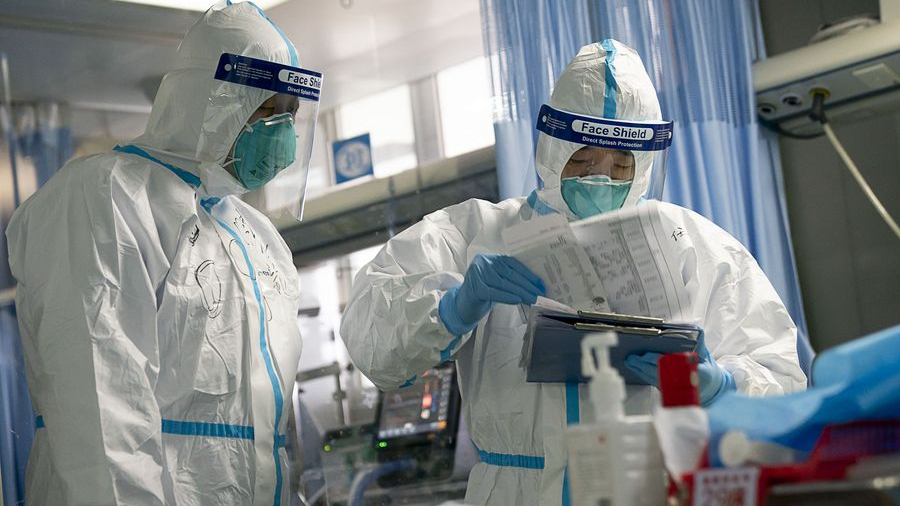 Editor's note: As this year's sessions of the National People's Congress and the National Committee of the Chinese People's Political Consultative Conference prepare to open next week, China Daily will publish a series of stories focusing on the achievements that have been made and major issues expected to be discussed at the two sessions.
Consistent efforts are needed to empower small-scale medical facilities like community health centers to better prevent future outbreaks of major infectious diseases, said a top political adviser and senior expert.
The COVID-19 outbreak has exposed some weaknesses in the public health system within communities, said Wu Hao, a member of the National Committee of the Chinese People's Political Consultative Conference, the top political advisory body.
As the largest city in Central China, Wuhan has a number of major hospitals, but the Hubei provincial capital was overwhelmed by large numbers of coronavirus patients at the early stage of the outbreak.
"It exposed the weaker capacity of local community health centers to provide medical services, which resulted in many patients unwilling to go to small-scale medical facilities for diagnosis and treatment even if they were nearby," said Wu, who is also head of an expert team focused on community epidemic control under the central leading group for COVID-19 epidemic control, and director of the Fangzhuang community health service center in Beijing.
"This resulted in mass cross-infections at major hospitals that were overwhelmed with fever patients," he said.
Wu said many community-level hospitals and clinics in China, including those in Wuhan, did not have fever clinics for reasons such as a lack of qualified personnel, forcing those with high temperatures-including some suspected infectious patients-to go to big hospitals for treatment.
China has been promoting reforms of its healthcare system in recent years, including narrowing the gap between smaller healthcare facilities and well-equipped larger public hospitals. But Wu said smaller medical institutions such as healthcare facilities in communities and rural areas are still the weak links in the overall healthcare chain.
Wu said that at the upcoming plenary session of the CPPCC National Committee-which kicks off next week in Beijing-he plans to make suggestions and proposals to improve the tiered healthcare system that gives smaller medical institutions a more important role in disease prevention, control and treatment.
"We need to empower smaller medical facilities in communities and rural areas so that they become scouts and detect signs of disease outbreak at early stages. More integration between smaller medical facilities and local disease control and prevention centers is needed so they work better together for epidemic control in cases of major public health emergencies," he said.
In addition, the latest information technology such as big data should be adopted at small-scale medical facilities to aid future epidemic control.
"With big data technology, epidemiologists can conduct investigations much more quickly to find close contacts of patients and place them in isolation, rather than having to find them via personal visits. This will prevent the spread of diseases more effectively. On the other hand, legislation is needed to protect the privacy of those having data accessed," Wu added.
Ao Hushan-another member of the CPPCC National Committee and an anesthesiologist at Fuwai Hospital in Beijing-said that the internet has played a very important role in helping fight COVID-19 in China, and helped many patients with non-COVID-19 diseases or health problems who were unwilling or unable to visit hospitals at the height of the outbreak have access to medical services.
"Integrating internet and information technology with the medical care sector brings benefits to patients and contributes to more balanced distribution of medical resources," Ao said. "I will suggest intensified efforts be made in this area, including research and development into more medical equipment that can be used for online medical care, and promoting development of private internet hospitals."
In addition, consistent efforts are needed to promote domestic R&D of high-end medical equipment, Ao said, adding that the lack of such equipment has hindered COVID-19 control in some places in China.
"For example, many domestic producers of mechanical ventilators, which are used to assist with severe COVID-19 cases, had to suspend production due to lack of supply of core parts from overseas," he said. "We need to make more efforts, including placing more importance on basic research to improve safety and reliability of domestically made medical equipment, so it can be more extensively used in hospitals and clinics."