Farmers get livestream lifeline
By ALEXIS HOOI in Beijing, ZHAO RUIXUE in Shandong and TAN YINGZI in Chongqing | China Daily Global | Updated: 2020-05-15 08:54




Share - WeChat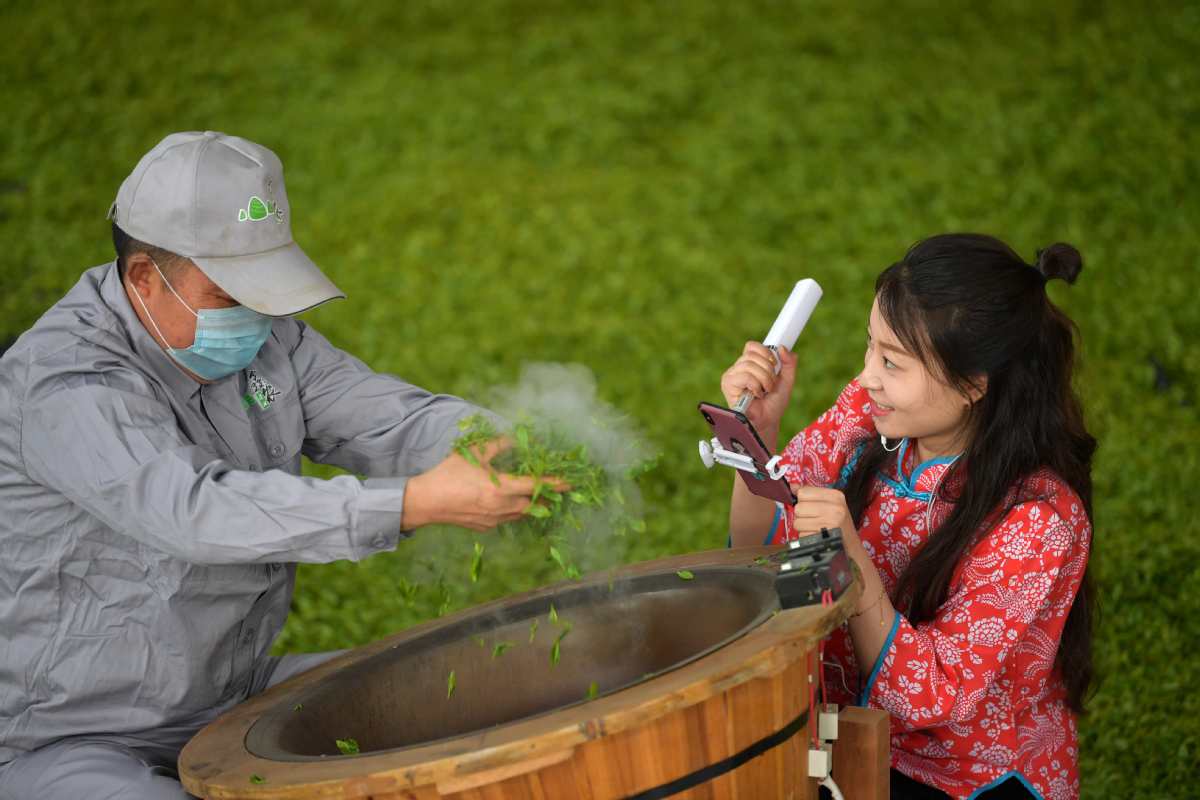 Public-private grassroots efforts tap online channels to sell products, offset COVID-19 impact
Flanked by a mound of local produce, the livestreaming host proudly held up a perfectly round orange.
"When you eat one of our navel oranges, put it to your nose first to detect its refreshing, sweet fragrance," the host said during the livestream from Hubei province. "Then you bite into it, enjoying every burst of flavor as it melts in your mouth."
This was no ordinary host, but Lu Hui, the Party secretary of Zigui county in Hubei, whose pitch at the end of March was part of grassroots efforts rolled out nationwide to spur the agricultural sector and raise farmers' incomes.
The initiative comes as communities steadily recover and move on from the devastating effects of the novel coronavirus outbreak, which disrupted crucial supply chains and daily life.
"I saw for the first time how our secretary personally went online to help promote our goods," local orange farmer Hu Jiarong said. "It was a very kind gesture and very moving.
"Our crops this year have been adversely affected by the epidemic. Now the Party secretary and committee are turning to livestreaming to help us find new markets."
The livestreaming channels-which emanate not only from Central China's Hubei, which bore the brunt of the COVID-19 impact in China, but also Chongqing in the southwest as well as provinces including Shandong in the east, Jilin in the northeast, Shanxi in the north, and Gansu in the northwest-are reaping welcome rewards in the pillar rural sector and making significant strides in the digital drive to take the country's economic development to the next stage.
The public-private effort is also bringing together major players such as e-commerce giants, videosharing sites and other social networking platforms.
Lu's Hubei navel orange pitch alone helped bring in 460,000 yuan ($64,850) in sales involving 46 metric tons of goods in the program's initial stages. A similar move by Yuan Zhengquan, the Party deputy secretary of nearby Yuan'an county, resulted in 280,000 yuan in sales of local specialties like yellow tea, Wacang rice, shiitake mushrooms and chunky beef sauce, drawing half a million viewers within an hour via the JD e-commerce platform.
During the recent May Day holiday, Yang Wenhui, secretary of the Ji'an municipal Party committee in Jilin province, walked into a live broadcast room of e-commerce portal Pinduoduo, pushing local products like ice wine, ginseng and honey. The daylong program drew more than 800,000 viewers and over 430,000 yuan in sales.
The program also involved Chinese actor and director Dapeng, a native of Ji'an.
"I make it a point to take our ice wine to friends every time I go to Beijing," said the celebrity, referring to the dessert wine made from grapes frozen on the vine, which locals refer to as their "liquid gold "because of the aroma and taste.
Jilin's livestreaming event helped fuel an almost 200 percent increase in online searches for its ice wine, while interest in the province's famed ginseng products, grown in the pristine Changbai Mountains, rose more than 150 percent, according to organizers.
In Shanxi, more than 40 officials at or above the county level of the city of Linfen gathered in a live broadcast room. Their weeklong promotion involved more than 150 enterprises and cooperatives, over 600 agricultural specialties and related products, and nearly 200 internet influencers. The huge cyber effort recorded over 42.85 million hits, with more than 80 broadcasts and total sales of nearly 32 million yuan.
Bai Gangfeng, deputy secretary-general of the Linfen municipal government, said the involvement of officials adhered to strict guidelines covering livestreams involving farms, production workshops and tourist attractions, to help promote local products and services.
"When my turn came up, I had no experience and only laughed awkwardly. Then I gradually learned how to interact with netizens," Xiangfen county head Lu Jianying said of the e-commerce experience.
Wang Ximei, deputy head of Ji county, said she watched related videos to prepare for the program, and even donned a red dress to highlight the locally grown Fuji apples.
"On trees today, roads tomorrow and tables the day after; that's what our apples can do," her jingle went.
In a double-barreled boost to anti-epidemic and anti-poverty measures, local officials in Gansu province also took to livestreaming to help promote their farmers' products. The drive hit a high in early May, when the city of Longnan's deputy Party secretary and mayor, Cui Jingyu, and deputy mayor, Li Fengchun, helped attract more than 3.2 million viewers in one day. They achieved sales of the area's agricultural and food specialties that exceeded 1 million yuan.
Longnan's results have encouraged the formation of a network of stakeholders in rural communities, from local officials hosting live broadcasts to distribution links among villages, to embrace increasingly popular ways of selling farm produce, according to city authorities.
The city's vegetable greenhouses and fruit-picking sites have since become hot spots for livestreaming of its products, ranging from cherries and walnuts to olives and medicinal plants grown in its semiarid areas.
'Smooth, rich taste'
One afternoon in late March, Gou Rui, the commissioner of the poverty alleviation mission in Wen county, led a livestreaming event that included the slogan "1,200 orders in 10 minutes!", clocking 1 million yuan in sales.
"Check out our shrimps, see how large and fresh they are. Here, have a sip of our milk; feel its smooth, rich taste," said Hu Youcheng, head of Gudao town in the city of Dongying, Shandong province.
The livestreaming program on May 7 tapped a wide range of land and marine products from Dongying, where the Yellow River flows into the Bohai Sea.
Hu and four other town officials promoted five kinds of local produce, attracting more than 200,000 viewers.
"This livestreaming promotion is a bold and impressive move," said Hu. "The integration of our agricultural industry with the e-commerce platforms has not only expanded the selling channels of our local products amid the epidemic, but also taken the brands of our products onto a larger stage."
E-commerce has become a common way for local governments across Shandong to help farmers sell products. During a livestreaming event via e-commerce portal Taobao in April, Zhang Xinwen, Party secretary of Heze, and Mayor Chen Ping invited residents to view and appreciate the local peony blooms as part of festivities to mark the "City of Peonies".
The officials also promoted 37 local specialties, from peony-infused tea to yams. The two-hour broadcast drew more than 870,000 viewers and over 16,000 orders.
Provincial authorities including agriculture, rural affairs, culture and tourism departments have also teamed up with online platforms to launch exclusive services on their apps to help local farmers promote their products across the country.
The Weishan county culture and tourism bureau put out a short video about its specialties in early April, helping to generate dozens of orders.
Chu Xin, director of the county's culture and tourism bureau, promoted the products of Weishan Lake, such as salted duck eggs, lotus leaf tea and lotus leaf cakes, in the online video.
Items under the Weishan Lake brand had been overstocked due to COVID-19 travel restrictions, and the areas experienced a significant drop in the number of visitors amid measures to fight the epidemic, Chu said.
"The e-commerce platforms helped reactivate the distribution channels," Chu said.
In Chongqing, a local newspaper even worked with e-commerce sites through a livestreaming program to bring in more officials to help businesses recover and reopen.
'Innovative model'
Cao Qingyao, the Party chief of the city's Rongchang district, garnered praise in the community for his broadcasts. On May 10, Cao introduced four local specialties: pork, folded fans, pottery and traditional Xiabu grass linen.
"Xiabu socks can really keep smells away," Cao told viewers. "I myself have been wearing these types of socks for years."
Within half an hour, more than 30,000 people watched his debut livestream.
"This really is an innovative model to expand the market for local products," Cao said. "Especially with the epidemic, it's a good way to resume business."
Liu Kun in Hubei, Han Junhong in Jilin, Sun Ruisheng in Shanxi and Ma Jingna in Gansu contributed to this story.